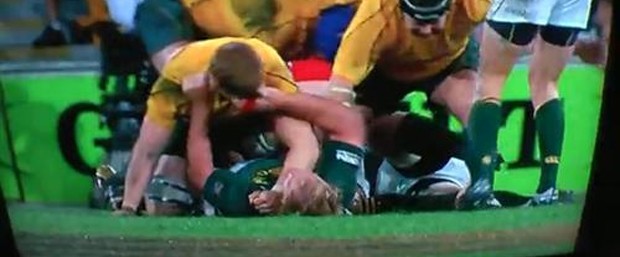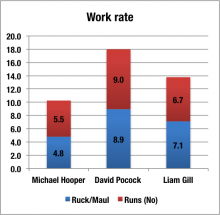 There's been a lot of buzz around the open side flanker position this week, with good cause – Australia seems to have at least 3 sevens looking the goods – the "oldest" of which is still just 24. It's being billed as the battle of the fetchers – Pocock v. Hooper v. Gill – but is it? What do the stats tells us? In my opinion, they show us three subtly different styles of play.
First – the Wallaby incumbent and Western Force Captain, David Pocock. If there's any one thing that stands out about Poey, it's his work rate. He hits more rucks and makes more runs than either of the other candidates – those runs being largely in the tight or pick and go. Watching, you can see him as the engine of that Force team.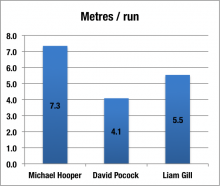 Interestingly, he's making around 25% fewer tackles than Hooper or Gill per 80 mins played (16 vs 21), but that may well be to do with the freaky amount of possession the Force have been hanging onto, cutting down the number of tackles to be made. Regardless, he still has the best completion rate of 91%. Gill also has a commendable 88% completion and Hooper 82%.
Next, Michael Hooper. What stands out is his running game. While he makes fewer total runs than either of the other two, he makes more metres, especially in the open where he averages more than 16 metres per run! Hoops busts more tackles, makes more offloads and has scored more tries per 80 mins. The ball player.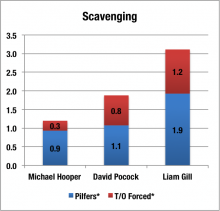 But if it's an out and out fetcher you're looking for, then the scavenger of this group is undoubtedly Liam Bradley Gill. The young Red is making almost twice the pilfers and forced turn overs of our previous champion – David Pocock, and interestingly not at the sacrifice of more penalties per 80 (Gill 1, Pocock 1.3 and Hooper 0.9).
We know there are rarely two opensides in a match day 22, so is it horses for courses? Is "good enough old enough"? Who would you choose?
| Per 80min | Michael Hooper | David Pocock | Liam Gill |
| --- | --- | --- | --- |
| 80 min games | 7.5 | 11.2 | 6.8 |
| Mins per start | 60 | 81 | 49 |
| Tries* | 0.3 | 0.2 | 0.0 |
| Tack Bust* | 1.6 | 1.3 | 0.6 |
| Offload | 1.1 | 0.5 | 0.1 |
| Ruck/Maul | 4.8 | 8.9 | 7.1 |
| Pen conceded | 0.9 | 1.3 | 1.0 |
| T/Over conceded | 1.1 | 0.7 | 1.0 |
| Miss.Tack | 1.7 | 1.0 | 1.3 |
| Pilfers* | 0.9 | 1.1 | 1.9 |
| T/O Forced* | 0.3 | 0.8 | 1.2 |
| Runs (No) | 5.5 | 9.0 | 6.7 |
| Runs (m) | 40 | 37 | 37 |
| m/run | 7.3 | 4.1 | 5.5 |
| Open runs No. | 1.1 | 1.3 | 0.9 |
| Open runs (m) | 17.3 | 11.9 | 9.9 |
| Tight runs No. | 2.5 | 5.1 | 3.1 |
| Tight runs (m) | 15.4 | 18.3 | 14.8 |
| Pick & Drive No. | 0.9 | 2.6 | 2.2 |
| Pick & Drive (m) | 2.7 | 6.6 | 8.7 |
| Tack Attempted | 20.9 | 16.2 | 20.6 |
| Tack Made No. | 17.2 | 14.8 | 18.2 |
| Tack Made (%) | 82% | 91% | 88% |
All stats provided by Sportsdata except those * supplied by Foxsports