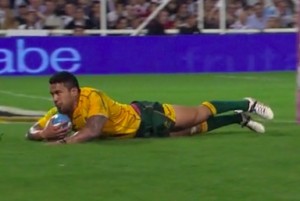 The lack of tries scored by the Wallabies in their 2012 campaign has been a sore nerve issue in Australian rugby for a while now. We all know they weren't scoring, but I don't think enough people have asked why – "Deans is crap" simply isn't good enough for me.
With the Lions tour coming up and the Wallabies looking towards an intensive three-week camp to prepare I feel now is a more than an appropriate time to dissect our tries scored statistic over Deans' tenure as Head Coach. We all know the Wallabies couldn't score tries in 2012, do the stats maybe indicate why?
We will begin with a comparison of the average number of tries scored per match by the Wallabies from 2008 through 2012. For the sake of this article all tests played against second and third-tier nations were excluded. This amounts to one test against Fiji in 2010 as well as the pool matches against the United States and Russia at the 2011 RWC. I included the 2011 Samoa test in the data here. Samoa has not been a second-tier squad for a few years now and the fact that the IRB still has them officially labeled as second-tier after the EOYT this year is both fallacious and an insult to the Samoan team. Those boys can play.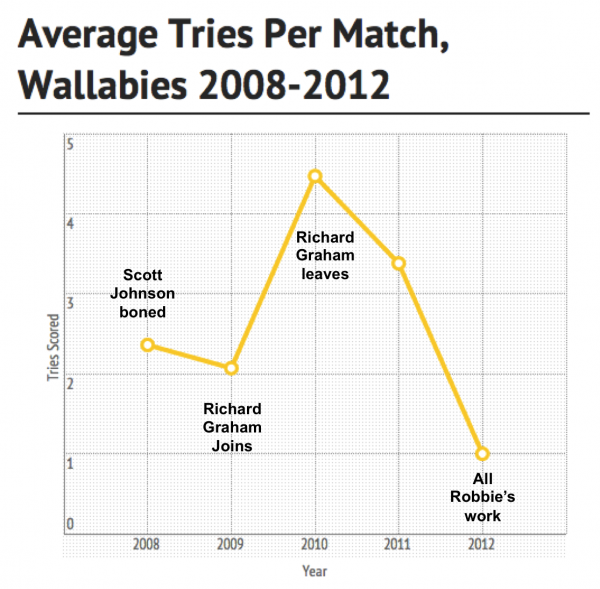 The Wallabies attack has clearly fallen off very sharply from 2010. Less tries were scored per match in 2012 than were scored in Deans' first year as head coach. Let's go back year-by-year and see if we can uncover any connection between the Wallabies coaching setup and the amount of tries scored per match.
2008
In 2008 the Wallabies average 2.36 tries per match, at the tune of 33 tries across 14 tests. Nations played were as follows: Ireland, France (3x), South Africa (3x), New Zealand (4x), Italy, England, Wales. This year Scott Johnson was removed as Attack Coach and was not replaced. In fact, Deans assumed the former role of Johnson as well as that of John Muggleton, the former specialist defense coach.
2009
In 2009 the Wallabies average 2.07 tries per match, to the tune of 29 tries across 14 tests. Nations played were as follows: Italy (2x), France, New Zealand (4x), South Africa (3x), England, Ireland, Scotland, Wales. Richard Graham was hired as a 'Skills Coach' by the Wallabies in early March 0f 2009 following his stint as Backs and then Head Coach at Aviva Premiership club Saracens.
2010
After removing the test against Fiji from the data the Wallabies averaged 4.28 tries per match, or 60 tries over 15 tests. Nations played were as follows: Fiji, England (3x), Ireland, South Africa (3x), New Zealand (4x), Wales, Italy, France. Very impressive stuff, directly coinciding with the appointment and standing of Richard Graham as 'Skills Coach'.
Graham left the Wallabies in September of 2010, before the Hong Kong match with the All Blacks and the EOYT in order to prepare with the Western Force for their upcoming Super Rugby season as their new Head Coach. There was no replacement coach installed.
2011
The rot begins. After removing the USA and Russia pool-stage tests from the data the Wallabies averaged just 2.3 tries per match in 2011. Nations played were as follows: Samoa, South Africa (3x), New Zealand (3x), Italy, Ireland, USA, Russia, Wales (2x). No replacement for Graham was on the radar at this point, even though we were scoring half as many tries as we were with him on staff as 'Skills Coach'.
2012
In 2012 the Wallabies average 1 try per match, to the tune of 15 tries over 15 tests. Nations played were as follows: Scotland, Wales (x4), New Zealand (x3), South Africa (x2), Argentina (x2), France, England, Italy. No specialist Attack/Backs coach had been installed up to this point. Nick Scrivener had been brought on as an Assistant Coach but his highest qualifications in any Backs/Attack specialist positions was in an assistant role for Australia-A and the U-21 sides.
What the Numbers Say
Surely these numbers say is that Deans is not a suitable Backs/Attack coach for the Wallabies.
The only years where the Wallabies averaged 2.5 or more tries per match was under the tutelage of Richard Graham as a specialist Skills/Attack/Backs coach. If this current trend cannot be reversed in the coming month the Wallabies will likely not beat the Lions. The coaching staff for the BIL tour will be working with what is likely to be the most competitive Wallabies pack to take the field in five or more years as well as a defense which was the most efficient at the 2011 RWC. Australia is hardly lacking quick, creative play makers in the backs right now either.
The fact is though that every single year Deans has been in charge of the Wallaby attack the average tries scored per test figure has dropped. Every single year. He is not the man to harness the attacking potential in the Wallabies and he never was.
I know that Deans has always favored a game plan focused around a dominant defense and forcing the opposition to make mistakes, then returning that mistake with interest through the counter attack. This style of play is also heavily reliant on a pair of defensively dominant centers and a rock-solid forward pack.
There are not two centers in Australia right now which could be paired at 12 and 13 who would dominate other international center pairings defensively. Much less two centers who could do that without utterly compromising the attacking potential of the back line. While our forward pack looked to be markedly improved over the past year, whether or not they will be able to shore up their play to match the BIL pack is another question entirely.
We can score tries though, 2010 is undeniable proof of this. The question is whether or not Deans is willing to relinquish his stranglehold on the Wallaby attack again. After three years of seeing Deans trying to implement the system he used with such success at the Crusaders (playing with the strongest pack in Super Rugby at the time) I have my doubts that this will happen though.
For Deans to shift to a more attack-oriented game plan would be a massive change in and of itself. For him to turn around three consecutive years of increasingly negative rugby in three weeks would be nothing short of miraculous. But if Dingo does decide to stop trying to fit the triangle block into the circular hole..what is Bernie up to next month?
As a final note, some posters on the forums seem to correlate the high amount of tries scored in 2010 to a large amount of tries leaked in 2010. Some will even go as far as to say that having a particular play-maker at 10/12 for some of these tests is the reason why. Well, let's take a quick peek: in 2008 the Wallabies leaked an average of 2.29 tries per match, 1.07 in 2009, 2.20 in 2010, 1.54 in 2011 and 1.4 in 2012. The one anomalous figure from the 2010 data set was a 7-try ass beating from the All Blacks on the 31st of July in 2010. Funny enough, a certain play-maker wasn't even on the bench for that test. With that figure removed the 2010 average drops to 1.86 tries leaked per match. I would trade an extra .3-.7 tries leaked per match for an extra 2-3 tries scored a match literally any day.