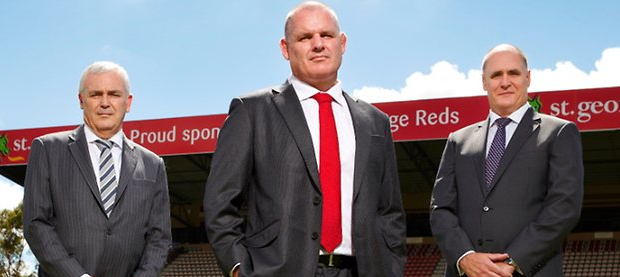 After the great feedback I got for the article on the ARU numbers (see here), overlord Gagger gave me the go ahead to look at some of the Australian super sides from the same angle.  As befits their status as champions, I shall start with the Reds, (their reports are here).  It's no secret that quite recently the QRU was in deep financial trouble, I would go so far as to say that they were pretty close to the brink.
Staving off Disaster
In fact, the finances at the Suncorp got so bad the ARU threw in some cash to stave off disaster.  The acid test figure for last year is a very low 0.44 (the QRU can pay slightly less than half its short term obligations).  This figure of 0.44 is up from a jaw-droppingly low 0.17 in 2009, reflecting the cash loan from big John and more income from bigger crowds.  Like I said last time, the ARU run at 1.85 and the Tahs are at 1.34.  The Reds have done well to get this level climbing to so quickly, but keep going as this is a real concern.
As you'd expect from a winning side with bigger crowds, revenue has jumped from a little over 18 Million in 2010 to 24.8 Million in 2011.  An increase of around 25% in a year is good in anyone's books so well done.
Cash Flow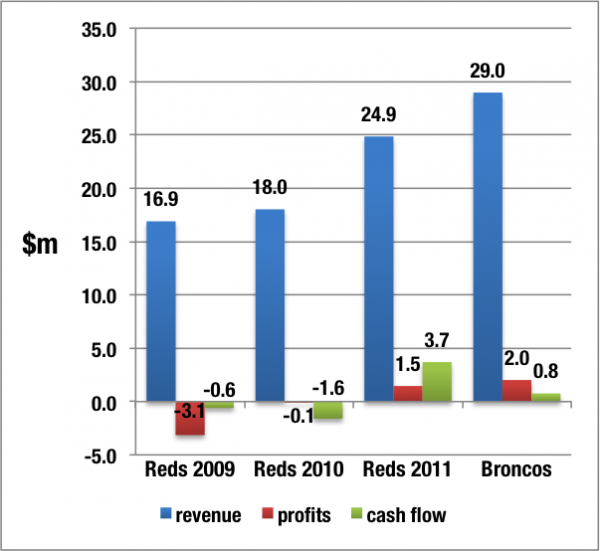 Next, the bit that keeps all CEOs awake at night – cash flow.  Poor cash flow can kill even a profitable company and it was hurting the Reds badly.  In 2009 and 2010, this was a 'concerning' (terrifyingly low) negative 600 grand and 1.6 million respectively.  That's another way of saying that in those two years, those amounts of money flowed OUT of the organization.  Thanks to a large dollop of Link, the last annual report sees this leap to a more pleasing plus 3.7 Million.  It's good that their CEO took action when needed and I imagine they'll keep moving this in the right direction.  Another "well done but don't stop now".
The last finance metric is the QRUs cash level (as distinct from cash flow).  In 2009 they had 39,000 dollars in the bank but now they have over 740,000.  This ties in with the climb in the acid test figures as the QRU puts itself on a safer financial footing and, like those figures, the cash level probably needs to go to up.  As things stand, if they got into strife for some unexpected reason (say, a terrible flood) might be forced to sell assets or ask the ARU for help again.  It's an uncertain business, sports and the reality is they need to hold more cash than firms in other markets.  Well done – keep going.
Player numbers
Like the ARU, the QRU have reported a good increase in player numbers in its patch, up by 30% (a lot at the school level).  Has there been some discussion on the need to ensure that these young guys have a good path to the top?  Does this tie in with a third tier?  I think so.  Anyway, this reflects good work by the backroom staff and indicates a good strategy.  Well done.
The Benefits of a Winning side
So what difference does a winning team make to the numbers?  Quite a bit it seems, as the graph indicates – the money comes rolling in and with it the profits, which go up from around minus 3 million in 2009 to around 1.5 million in the black last year.  Winning gets cheaper as well when the crowds get bigger.  In 2009 the win per revenue was nearly 5.7 million but last year it was 1.9 million, meaning they got quite a bit more efficient at generating wins.
Fearless Prediction
The crowds have been moving in the right direction.  I estimate that if they hold 2010 crowd levels (when they didn't make the playoffs) the finances will be at the right levels in 2 to 3 years, maybe sooner.  This is good, as relying on uncertain revenue sources is very risky.
So, what are we to make of this?  The Reds have some financial issues for sure but the way they have turned things around, especially from the dark days of 2009, is pretty impressive.  For sure the winning side really makes it easier but they have a good joined up strategy as well.  Overall, there are some concerns with the numbers but the management seems to have a grip on them and have moved them in the right direction 3 years in a row.