The Vibe
This was a Wallabies performance worthy of a world cup final and with it the men in gold have given themselves the best chance of getting to one.
Wales had done their homework on Australia and used rush defence together with flooded breakdowns to disrupt the Wallabies pattern of play. Aerial bombardment got the men in red the territory they needed and if it hadn't been for another monumental scrummaging effort from both Australian front rows they might have been able to make that pay.
Penalty swapping kept the score to 9-6 Australia's way at half time, but with only 13 men on the field, Australia defended on their line from the 55th to 68th minute without conceding a point. The defence was beyond stoic, the Wallabies making 126 tackles to Wales' 69.
Having weathered that storm and exited their half with a trademark Ashley-Cooper desperation turnover, the finishers raised the tempo of the match getting themselves back into the Welsh half. From there the scrum went back to work, earning the Wallabies all the penalties they needed to seal an epic battle.
The score
Australia 15 (Benard Foley 5 pens) defeated Wales 6 (Dan Biggar 2 pens)
Half time – 9-6
Incidents of note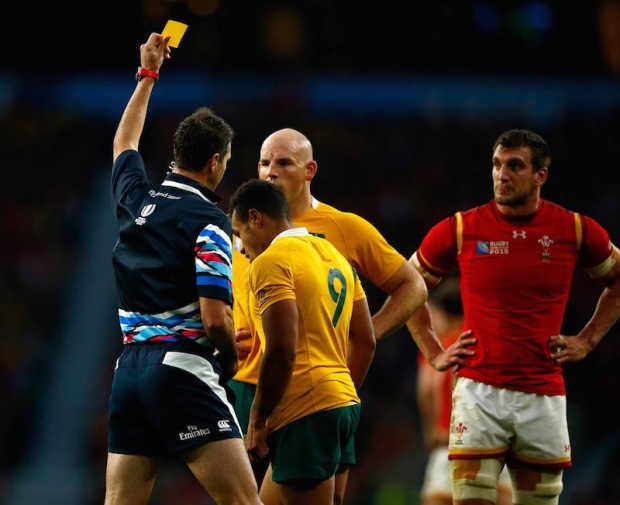 The Wallabies were looking like grinding the Welsh down in the second half until Will Genia was yellow carded for tackling the Welsh halfback as he looked to take a quick tap. Minutes later Dean Mumm was also in the bin for taking a Welsh jumper out in the air. What ensued was the most amazing 12 minutes of defence you're ever likely to see
Injuries will be a big concern. David Pocock went down with a calf injury at the beginning of the second half – exactly as Sean McMahon was replaced by Ben McCalman. This mystifying  substitution meant Pocock had to struggle on for another 10 minutes or so and he eventually had to leave the field. Another member of the walking wounded was Israel Folau who also looked like he would have left the field with his ongoing ankle injury if there had been anyone to replace him.