The Wallabies were like a rabbit in the headlights as they succumbed to searing All Black pressure in last night's Bledisloe Cup Test.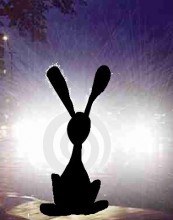 The Eden Park 'hoodoo' continues, marking a quarter of a century since a Wallaby team last gained any success at the venue.
If this was a dry run for the Rugby World Cup Final then it's done and dusted —  no contest. What it proved was that the All Blacks are, as usual, a cut above any other international side.
This performance was unbelievably clinical in its execution. These blokes were like a machine and really took their chances when they were in the offing. You'd have to say that the Wallabies choked on the big stage as the ABs put the squeeze on.
They became frustrated at their inability to score, despite having the ball for long periods. Passes were pushed and miracle balls and kicks were de rigueur. Sadly, they didn't quite come off.
I don't think it's so much that the Wallabies played really badly, it's that the All Blacks were just that good. We've got some medium howitzers in our lineup but they've got the heavy artillery — although on last night's effort we may have also struggled to beat England.
A 30–14 defeat is a bit of a pasting in anyone's language . It was actually 30–7 with five minutes to go before Rocky Elsom scored a consolation try to give the finish some respectablity.
In cricket it's 'catches win matches'. In rugby, it's goalkicking. Dan Carter had a 100 per cent success rate with his six kicks (3 conversions, 2 penalties and 1 dropped goal). In the half of the game where it really counted, James O'Connor missed 3 out of 3. He might have knocked them over from everywhere in the warmup but on the big stage, it was a fizzer. QC stepped up in the second half with two quality conversions. Not good enough.
This week, expectations were again raised way too high and despite talking the talk, we couldn't walk the walk. Sorry folks, the All Blacks aren't on the wane. They're not an over-the-hill 'Dad's Army'. David Pocock isn't as good as Richie McCaw. Quade Cooper isn't as good as Dan Carter. One day, maybe, but not any time soon.
The All Blacks' defence was just monumental. There was virtually no way through as the All Blacks' linespeed prevented time and space for the Wallabies' dangerous backs to gain any momentum.
What did we do right? I was impressed with our scrummaging. For the first time in ages against this level of opposition we didn't fold. The vaunted All Black scrum finally met its match. This is an aspect of play we've sorely missed and are going to need in the RWC — so kudos to Pato and Jim Williams.
The lineouts were efficient, winning a few of theirs but losing a couple of ours. I guess we cancelled each other out. Certainly a Pass mark.
Didn't we have a restart problem last year? Is it back? It seemed to me that we had a bit of trouble with the restarts — not a lot, but the impression was there that the ABs were more effective at this aspect of the game.
The breakdown. Yeah, we did OK. Whether it was horses for courses or not but I thought we put more troops into the ruck than we normally would. The ABs are renowned counter-ruckers but didn't have the same success rate against us as previously.
The main point of difference was go-forward. Wouldn't you just love to have blokes like Jerome Kaino or Owen 'Otto' Franks in your side? We've got big-hearted triers like the Bens — McCalman (who topped the tackle count with 12) and Alexander — but they just don't have the same level of physicality as the All Black mob. That was the problem, in tandem with the huge defence. We just couldn't get a roll on without front foot ball.
You couldn't go past Squeaky Moore, and to a lesser extent James Horwill as the pick of the forwards. Both of these guys do have the grunt needed at this level. Would the Cat, TPN and Cliffy have made a difference? Probably, but I'm not sure anyone would have halted the All Blacks juggernaut last night. At least Sharpie gets over the gain line regularly.
There will be calls for Higgers to be brought into the starting side after an impressive gig off the bench.
Digby Ioane had a quality… ummm… dig. He scored a terrific try after being given space by Kurtley Beale in the 52nd minute. It gave some hope of a fightback but sadly it didn't last.
For the All Blacks, McCaw and Carter showed why they are the two best players in the world. Nonu and Smith showed us why they're the best centre pairing in the world. The All Black tight five showed us why they're the best tight five in the world. What more can you say?
Yep, in the haka they threatened to slit our throats. In the game, they did…
All Blacks 30 (Mealamu, Nonu, Sivivatu tries, Carter 3 cons, 2 pens, drop goal) Wallabies 14 (Ioane, Elsom tries, Cooper 2 cons)
Tryscoring highlights are here.