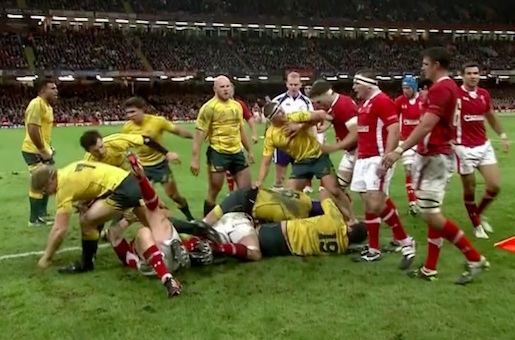 This game was the latest nadir of two once proud, rugby nations— in fact, rugby behemoths.
It should have been the Welsh regaining their Six Nations form and confidence and the Wallabies returning to playing the open rugby that their predecessors have played on the hallowed rugby turf of Cardiff.
I will use a boxing analogy, now that Quade Cooper has brought the noble art to the front of mind for many rugby fans. Last weekend's game was like two journeymen boxers, both lacking the knockout flourish or single punch; their addled, semi-conscious minds unable to conjure or even conceive a winning plan. It was a contest where defence was the only priority, boring the baying crowd with 12 rounds of nothing.
So it was in Sunday morning's game between rugby nations Australia and Wales in a covered but clearly unacceptably slippery Millennium Stadium.
It was a poor performance, by any standard, and by both teams. That it often plumbed even lower depths on occasions is, or should be, deeply embarrassing to the respective coaches and players.
Was the low water level Adam Ashley-Cooper failing to convert a simple two-on-one pass for a certain try?
Was it Kurtley Beale and Leigh Halfpenny failing with simple penalty attempts?
Was it Cuthbert bombing a try after an attack that started inside the Welsh in-goal area?
Was it Halfpenny's kick when he had only the fullback to beat and with Felatau outside him?
Was it the Welsh lock grubber kicking on the first phase after a turnover and only 15 metres from the try line and set backline outside him?
Was it Australia immediately kicking for touch after a wonderful Pocock steal in their own 22 but when the Welsh defence was still in attack?
Was it the period of more than 10 minutes in the third quarter when neither team wanted the ball?
Was it Drew Mitchell being unable or not sufficiently confident to beat the Welsh tighthead on the outside?
It was Berrick Barnes's 50th Test match. He showed immense courage to dive at Halfpenny's feet to disrupt the toe-through and a certain try. He pulled off a wonderful try-saving tackle on Cuthbert. He was secure under the numerous high balls. Otherwise, he showed that he has not learned anything from his 50 Tests. Whether he wears a Waratahs or Wallabies jersey, his first instinct is still to kick, invariably without even assessing what he is playing and then executing a poor kick then have a quick two-year-old's pout. His goalkicking has been his USP at the selection table. Why wasn't he goalkicking on Sunday?
At least the Welsh looked much better with the ball than the Wallabies. Given that the Wallabies' attack was frankly non-existent, this is not as much a compliment as a partial exoneration of blame.
The Welsh were destroyed at the breakdown by failing to commit, on occasions, any players to recycle the ball. Pocock and Robinson had a field day and at the rare, critical stages when Wales were on the attack. Robbie Deans struggled to even raise a smile when the game finished with a surprising win for the Wallabies. I believe that he knows that this is rugby in name only.
Rugby is a game that requires intelligence and nous. The Wallabies have failed to bring either to the field on this European Spring tour. A record of three tries in four games against poor to average opposition, with lucky escapes in all three wins, tells the sad story.
The Wallabies coaching staff has two defences: 'Winning is first priority. Injuries have forced us to play percentage rugby and/or the players are not implementing the game plan we give them.'
Injuries don't change the following facts:
• The fastest thing on a rugby field is still the ball, and support play is eventually impossible to defend against.
• The replacement youngster often outperforms the injured incumbent.
• The rare clever backline play (Ioane in Rosario) and intense ball-in-hand play (79th Minute in Cardiff) has been effective.
• Beale used to cut defences to ribbons.
• Ball-carrying forwards Like Palu, Dennis, Higginbotham and Hooper need to hit the line at pace to bend or break the line.
• Even replacement backs know that you have to run parallel to sidelines.
As regards game plans and implementing the plan:
• Deans has publicly criticised Barnes's 'kick first' style.
• Deans's previous Super and international rugby teams have all run the ball more than the current squad.
Finally, a win is better than a loss, unless, as a Greens voter, you know you can't win. A win is insufficient to maintain or grow rugby in Australia.
The bottom line is still the bottom line. Performances such as Sydney, Auckland, Paris, Firenze and Cardiff are destroying the game.
I look forward to a healthy discussion, then putting the LAS cue in the rack for a few weeks until Super Rugby 2012 commences, with or without Folau and/or Cooper. I wish everyone a happy Christmas break and prosperous New Year.
Follow @leftarmspinner on Twitter and become a friend of his on Facebook at www.facebook.com/leftarmspinner.