SupeRugby is over for the year, the Test season is about to start, but club rugby endures week in and week out. The September finals are within sight but there's a lot of footy, beer and sausages to be dealt with before then.
Queensland Premier Rugby

Round 11 Fixtures:

I confess I've taken my eye off the Hospital Cup comp in recent weeks, what with the Reds n' all, so I'm not sure who's doing well. Other than the Dragons that is, and the still-dominant Tigers. The GPS–University game shapes up as a good contest with implications for third-to-fifth places on the ladder. I'll leave it there, lest I look like a quidnunc (a good Scrabble word, that).
Ladder: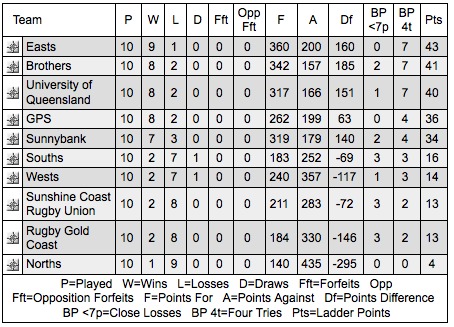 Sydney Premier Rugby

Round 15 Fixtures:
The Beasts and Wicks game will be shown live on ABC1 but this round's real showdown is the Woodies–Marlins match. Norths have a good opportunity to press their claim for a finals place; Gordon's hopes in that area expired some time ago and they're playing themselves for the rest of the year (if that's not a little too Nietzschean). The Emus at home could spoil things for the Rebels and the Students have the chance to put the aspirational Pirates to the sword. The Rats take their (Melbourne) Rebels-enhanced lineup to Merrylands and should have too much organisation for the Two Blues to counter.
Ladder: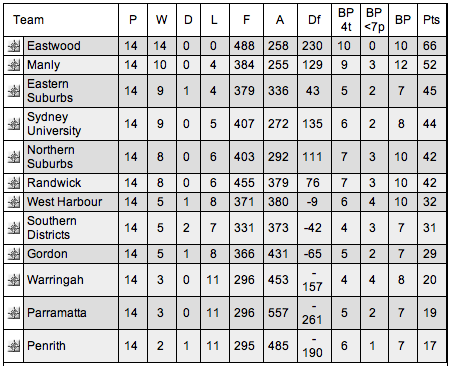 ACT & Southern NSW Premier Division

Round 15 Fixtures:

I'm trying to convince myself that the Lions look vulnerable to the Owls, but it's not really working. Let's move on. Not that long ago on an Autumn Saturday afternoon, the Royal Blues dished the Vikings, and both teams have been doing very well since then — though Royals have lost a little momentum lately. The Vikings want the points from this match to press for top spot on the table. Expect the Tricolours to give it their all against the Whites; the Whites should prevail and close the match out before the sun gets too low over the Brindabellas.
Ladder: