Are you searching for the ultimate Christmas present for the rugby-fan in your family? How about somewhere to direct your loved ones when they ask you what you want for Christmas? Well look no further – GAGR is here to help. Simply click on the pictures to see more of these truly unbelievable items.
(Claimer: all of these items are currently available on the ARU store website. I've made no details up! Hence the claimer, not a disclaimer)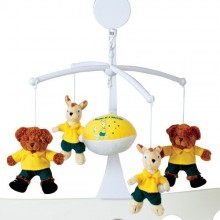 This mobile plays Brahms lullaby to "relax and entertain your mini-Wallabies" (that'd be "joeys" for the zoologists among us). It's hard to believe but these 4 small stuffed toys with string shoved into their heads while suspended from a plastic thing could go for the bargain price of $75. Some basic assembly and a bit of therapy for your Joey down the track may be required.
Kids too old for the mobile and yet too young for a mobile phone?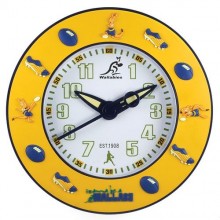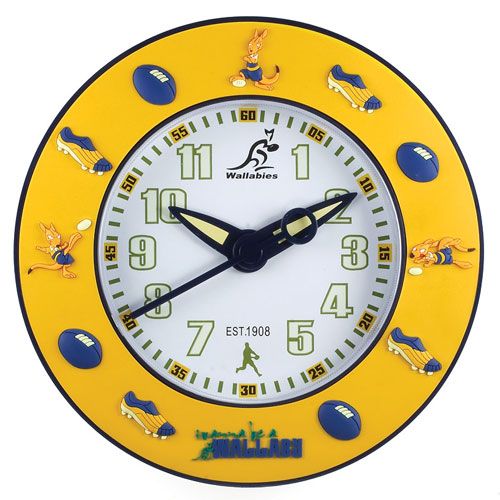 This incredible clock features quiet ticking so it won't be responsible for keeping kids awake. Of course, the ticking won't keep them up, but the nightmares over how ugly this is just might. Still, for a clock whose ONLY selling points are unidentifiable objects (& Wallaby logo) and quiet ticking? I'd expect to pay WAY more than the asking price of $35. Get in quick people. Get in quick. Fork out the $35 for this!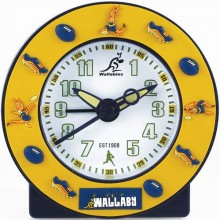 These are alarm clocks (catering to the large noise-making clock seeking market). What's great about this, is that kids need to learn how to read analogue clocks (learnin' and don't kids love to learn new stuff just for the hell of it at Christmas!), AND by the time they actually need an alarm clock because Mum and Dad don't get them out of bed anymore, they would have mobile phones with alarm clocks on them. Sure, not every family can afford a mobile phone, but they can afford the UNBELIEVABLY low price of $35. Per clock. And bugger me aren't they magnificent to look at.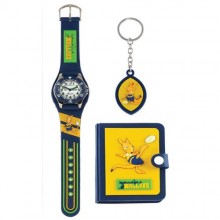 Love the idea of a clock with a big face, but find the noise-making alarm clock too cumbersome to carry with you? Well kids, back in the olden days, people wore miniature versions of those on their wrists. Digital watches came in, then mobile phones. We aren't quite up to the digital watch phase for KIDS presents, but geez I'd bet Mum & Dad would love to drop $75 on these magnificent specimens. It's MORE than a non-water-resistant watch and a cheap keyring. This comes with an autograph book too. That's right, only $75 for a watch that can't get wet, an ugly-arsed keyring, and some paper. Knock yourself out! Again, they look magnificent. (There is a $45 water-resistant watch but it doesn't come with the paper and a cheap-arsed keyring. But hey, quality costs!)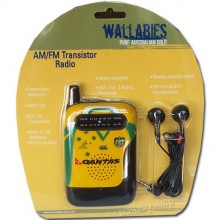 And for Dad?
How would you like a genuine water-resistant AM/FM transistor radio?! The product description on the website really sells itself.
"This jersey style Water Resistant AM/FM transistor radio is the perfect size to take to the game rain or shine. It includes quality earphones, a belt clip for easy portability, and easy adjust volume and tuning knobs"
 That's right people, you can take your RADIO to the game and tune in to AM or FM stations. You can take the earphones out and let the kids listen to AM radio! Oh hang on, no you need the earphones. These aren't Sports Ears, they're BETTER! Right? Oh, and once again, it looks magnificent. The graphics department worked overtime on this one. How much would you expect to pay for this? $5? $10? Well, you'd be wrong! This can be yours for the rock-bottom price of only $25! WOW!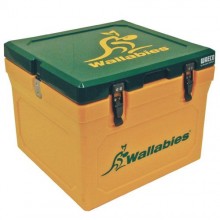 I know what you're thinking – you're thinking "Cat, I'm not a cheapskate. On top of the $150+ for the jersey, the $500+ for my season membership, I want to pay more! I want to buy something MORE expensive. Well, look no further. We have ESKYS! Or for the Kiwi's among us, Chully Buns.
22 Litres only $99, 55L for $249, and 68L for only $299!
That's right, stop shopping at Bunnings now, there are no bargains that could possibly compare. Once again, the artwork is exquisite.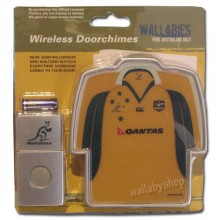 What about something for the home that EVERYONE can enjoy??
Check this out!
This unbelievable (and highly desirable item) is a door chime that can play three sounds: John Williamson singing Waltzing Matilda, a final whistle, or Standard Ding-Dong (and let me assure you gents, the lady-folk sometimes find a standard ding-dong can be immensely satisfying!). AND it has a range of 50m, so you can also use it as a pager! Albeit not a very good one. But how much would you expect to pay for what will surely be at the top of everyone's Christmas lists this year? Only $35 for a gift that will provide minutes of entertainment to the whole family!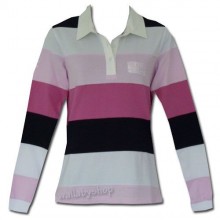 Ladies, don't think we've forgotten you. You will love getting around like a hooker in our RWC2011 Ladies Hooker Jersey. It's the only jersey with the word "Hooker" in the title available from our site, and although there is no male equivalent, and the jersey itself has no characteristics that distinguish it as a "hooker" jersey (ie: not #2 or #16) we at the ARU hope you don't take it as symbolic of the place believe women should hold in rugby.
You're also excellent cooks and can operate a canteen better than anybody's business, and someone needs to wash the jerseys. Get the hooker model while stocks last: next year we are diversifying our range to include a "price-friendly" Crackwhore range ($40 – cheaper than that watch & paper set!), and a "High-Class Escort" jersey in time for the Lions tour (only $1000 per night, but then you have to give it back).
You'll have the men eating out of your hands (and whatever else they pay for). Any increases in funding for women's rugby subsequent to the sale of the high-class escort jersey are strictly coincidental. And lets face it, incredibly unlikely.
Against all odds and logic, these items are in stock and ready to go. At the Australian Rugby Union, we stand by our merchandising motto: We may have sold out long ago, but we'll never sell out of stock!