Welcome to an afternoon addition of the Top 5. It's school holidays, the World Cup is on and I have lost all sense of day or time!! I have an alarm the tells me when the rugby is on and that's about it.
This week we take a quick look at what is going on with the NRC, recap where everyone is up to at the World Cup, meet a Japanese legend, talk rules (yes, yes … I know, laws) and check out some of the stellar quotes from some "experts".
NRC – blown wide open!
This has been an interesting season in the NRC. It has taken a bit of a back seat to the World Cup, but there have been some cracking matches and surprising results. This has meant that the competition is wide open and I have no idea who will make the finals, without looking too closely at the numbers it seems as though most teams could still be in with a chance, however slim.
On the weekend we saw the Force suffer their first loss at the hands of the Eagles. The Force still hold top spot on the ladder, and with games against Brisbane City (in WA) and Sydney (in Sydney) their chances are pretty good that they will stay there.
The Eagles have made a surge and are currently in second, but have a tough final two rounds, facing Qld Country in Queensland and the Vikings in Canberra. That's two pretty tough matches to be playing away to finish the season.
The Vikings take on Sydney and the Eagles, both at home so should remain somewhere in the to 4, I'm just not sure where.
Brisbane City currently hold onto fourth position, two points clear of Queensland Country. They play the Force in WA, which will be a tough ask, and then head to Melbourne to play the Rising.
Queensland Country are in fifth, only one point ahead of the Rising and Drua. They play the Eagles and Drua to finish the season and are still a shot at the finals.
The Rising haven't really hit the mark this year, they are sitting in sixth with 9 points, still a chance of the finals if they win and other teams ahead of them fail to make points. They play the Drua and Brisbane City in their last two matches, so it won't be easy for them.
Finally, Sydney are sitting on the bottom with just 6 points and a pretty hefty negative points difference. They are unlikely to make the finals, with matches against the Vikings and Force to come.
So what do you think the finishing order will be?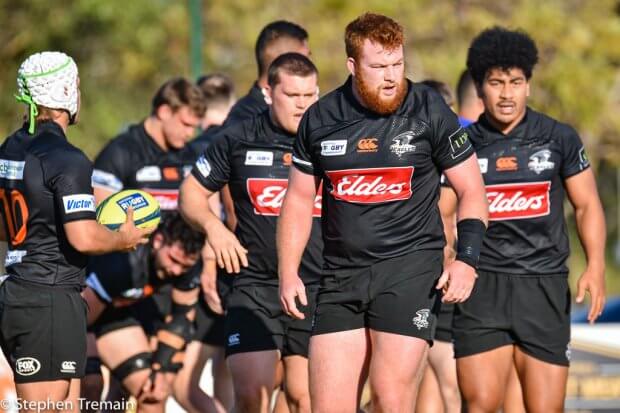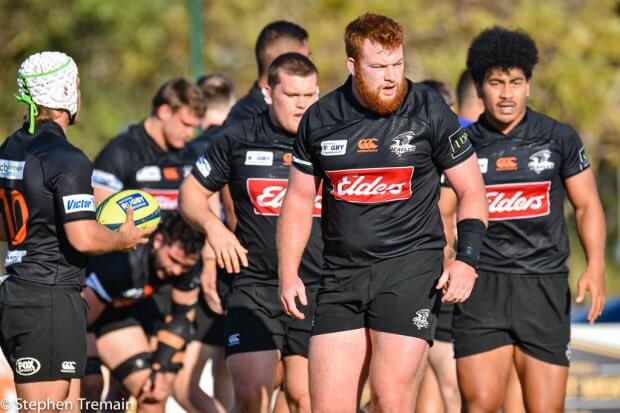 The World Cup, where do we stand so far?
This World Cup has already thrown up some really surprising results. Uruguay beating Fiji was being touted as the upset of the cup, until Japan went all 2015 on us and once again beat one of the tournament favourites, Ireland. So what is going on in each of the pools after a little over a week of competition?
Pool A
Before the tournament it was assumed that Ireland would finish top, with a toss up between Scotland and Japan to take the second spot, though I think of favoured Scotland. But Japan's victory over Ireland has thrown all that wide open. With Ireland already defeating Scotland, the only team that can remain undefeated is Japan. They take on Scotland on the 13th of October, the final match in the pool stages. To make life even tougher for Scotland, they only have a 4-day turnaround after their match against Russia before they face Japan. Japan, on the other hand, have a more comfortable 8-day break after their match against Samoa. Ireland should win the rest of their matches, Japan v Samoa could have a big impact on the top 2 in the pool as well (I bet you didn't think that would be the case two weeks ago!) and who knows what Scotland are going to do – they can be as hot and cold as the Wallabies.
Pool B
The current leaders of Pool B are Italy, with South Africa in 2nd and New Zealand in 3rd (how often do we get to say that!!) having comprehensively won both of their games so far. But that will most likely change as they play South Africa on Friday and New Zealand the following Saturday. I can't really see them winning either of those matches. This pool is probably the most predictable, New Zealand and South Africa will make the quarters, with New Zealand finishing top of the pool thanks to their first up win over South Africa. Interestingly, if New Zealand top this pool and Ireland finish second, they will meet in the first round of the finals, which is probably a tougher match than the All Blacks might have been imagining.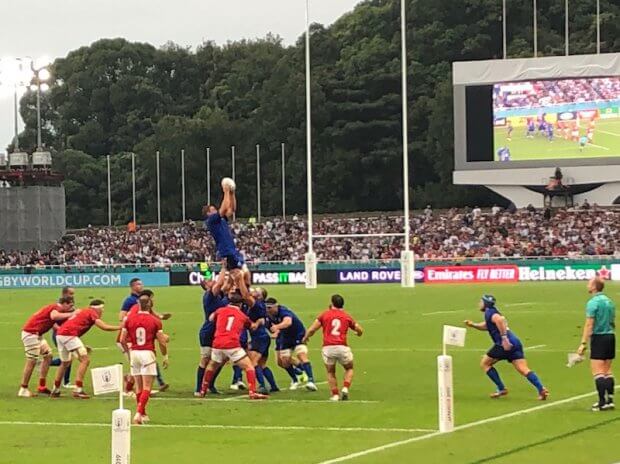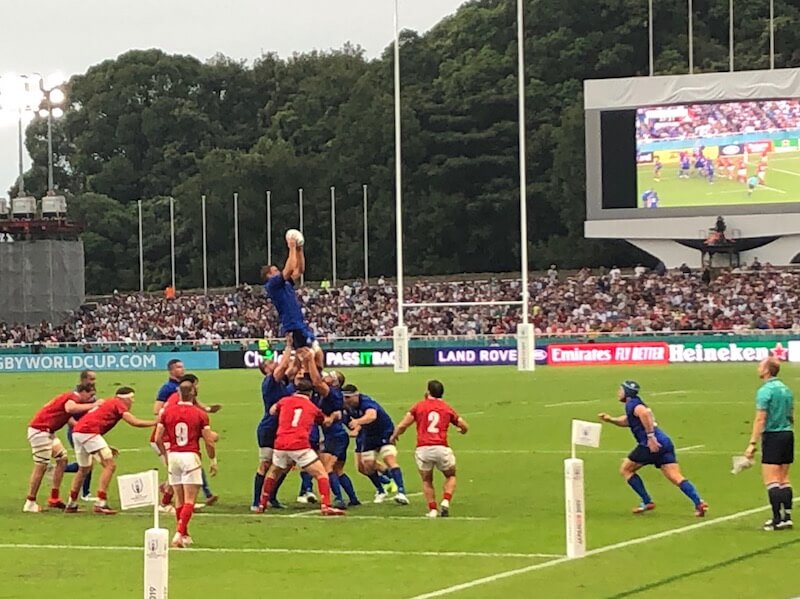 Pool C
It looks likely that England will top this pool, with France and Argentina fighting it out for second. However it may not be a foregone conclusion, as England have only played the bottom two teams and are yet to really be tested. The Pumas can be unpredictable and you can never quite be sure which French team will show up on the day, the good one or the terrible one. France have got a slight edge over Argentina, thanks to their first up win, making Argentina's match against England vital for their survival.
Pool D
This is the pool we are most invested in, given the Wallabies involvement. After Sunday's match it is likely that Wales will top the pool, unless Fiji manage to really pull something out of the bag. While it won't have an affect on who goes through to the finals, Thursday's match between Georgia and Fiji could be interesting, given Uruguay defeated Fiji and were then done over by Georgia. Australia should win their remaining matches, as should Wales, leaving them as the top 2. If the Wallabies do finish second in the pool they will take on the top team in Pool C in the first round of the finals, which is looking like England, while Wales will probably play either France or Argentina. I know which path I would rather them be on! 
Meet Bak-san
If any of you follow the Rugby World Cup twitter account (@rugbyworldcup) you might have heard of this man – Bak-san. For those who haven't, he is probably best described as the Rugby World Cup's Super Fan. He has tickets to 27 matches, and his goal is to wear the jerseys of each team over the course of the tournament. But not in the traditional sense … the jerseys will be painted on to his upper torso.
His wife is the one who actually does the painting, and she does a pretty amazing job. There are even messages on the back of some of the jerseys, such as "EDDIE WELCOME BACK" on the back of the England jersey he was 'wearing' to the England v USA match.
Read all about the man and his mission here
Or you can follow the #BakSansBack on Twitter to keep up with his adventures, as fans from all over the world are posting photos of themselves with the man at different matches.
Bak San is a very smart man
#RWC2019@rugbyworldcup@rugbyworldcupjppic.twitter.com/EvZanDzyZf

— Matt Giteau (@giteau_rugby) September 29, 2019
DECODING RUGBY LORE LAW
You are absolutely right. They were all off side, it was high, the Ref was wrong……..! Is that the answers you wanted? Now, did it make any difference to the result? Yep, I have had enough of the refereeing via social media. Most of all I am increasingly becoming more and more embarrassed to be a Wallabies fan. The whinging Aussie Rugby player and supporter is starting to emerge as a part of the accepted culture. Hugh's excellent article covers off that it was not the referee that is costing us the game. It's even well known that the alleged player who was "offside" and intercepted the Wallabies has a well-known reputation in Europe for doing exactly what he did. Get out of the line and intercept. But to me the best demonstration of how desperate and whingy the Wallabies culture has become is still, today we are reading about how Kerevi is confused about Poites' ruling and the fact that even Cheika was wanting Poite to start making hypothetical rulings because of a potential tackle that involved elements of a high tackle framework. Now, it might have only been words exclusive to my audio speakers, but I am pretty sure that Poite did explain that the issue was the forearm riding up, not the technique. He even said a forearm against the chest was fine. I am sorry, but I can't find the complexity in the issue. But let's leave it there because it's history – for all the discussion and protest it won't change the result.
Putting Cheika, his whingy cohort and the desperate social media referees to one side, the reality is in the midst of what is the showcase event for our game the headlines are being dominated for the wrong reasons. If World Rugby are wondering how they can improve the game universally it's hard to ignore dominating discussions about the Law (Sorry, to translate if you're a Cheika fan – rules not laws).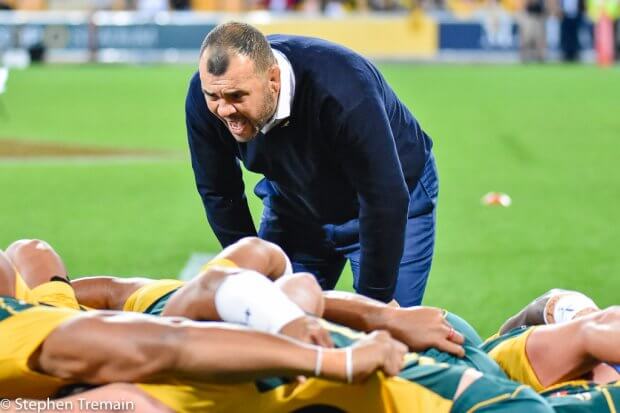 Putting it simply the Laws are too many and too complex. Trying to keep the traditional aspects of the game with the current need to protect players is simply no longer able to be balanced. More so the Laws no longer serve the game in a positive way on the majority of occasions. We want the hits, the physicality, but we want the players to be safe. Watching the exchanges between the TMO and Potie really emphasised the issues. World Rugby had obviously issued a mandate around high contact and Skeen was simply doing what he was told using his multitude of screens. But Poite being that single pair of eyes was caught off guard by Skeen and you could see the awkwardness as Poite tried to work out what Skeen was on about.
Is it time the laws were overhauled? What about the way the game is officiated? We want less TMO but we resist having a second referee on the field like the NRL. We want quick decisions but we expect refers to make complex decisions on the field that really need to be considered by a judiciary. But we don't really facilitate that process well. We hate inconsistency yet will in the same breath explain that players need to adapt to the individual interpretation of the referee in that game.
Rugby's Laws are more like rugby Lore. What is forward is not forward based on some complex physics but even though its visually forward, the key attribute that referees are required to use to make judgements, sight, is not applicable when it comes to judging if the ball travelled forward because the visual indicator that it travelled forward does not apply. So how is it supposed to be determined?
I can teach a 7 year old the majority of the AFL rules during the duration of an AFL Grand Final, but after decades of watching rugby I still am unsure about some rules.  Can you explain to me when a ball is in touch and when it's not including if a player appears to keep it in play? So far during this RWC, the ball has been out when it crossed the plane of the touch line but been in because it hasn't touched the ground outside of the field of play. Well, is it in or out if a player jumps from outside the field after the ball crosses the line but does not touch the ground and hits it back in to the field of play but he then lands outside the field of play?
But also there is that other part of the laws which is making watching some games hard. They are slow and long. Too many stoppages, kicks are just an extended rest break where time is wasted and in all scenarios that whole thing could be sped up. I believe that it's possible to have a live interchange system that can help reduce the stoppages. It would also allow for players to be treated off the field and that may even be better for their welfare.
Post RWC I hope that the Laws are made Rugby lore; relegated to history and the game is improved.  Hopefully that will help end the internationally recognised Aussie Rugby reputation of being the biggest whingers in world rugby.
At least we are ranked number one at something in Rugby!
Kids say the darndest things
I am sorry, but I cringe nearly every time this man opens his mouth. I am genuinely embarrassed that he is representing our country.
If Reece Hodge's tackle was worth a three week ban, then two Samoan players deserve 10 years.

That's the opinion of Phil Kearns as a trio of former Wallabies react to the suspension.https://t.co/nn6OeTv6uN

— FOX SPORTS Rugby (@FOXRUGBY) September 26, 2019
While many may agree with Clive's sentiment about the punishment for Hodge, his reasoning that it isn't possible to stop big players by tackling with arms (ie LEGALLY) is somewhat concerning. So is that an all clear to use no arm tackles against Vunipola?
Totally wrong decision, will have huge implications for the tournament- for me this is a yellow card and no more @ITVRugby . Has any of those making this decision ever tried stopping someone as powerful as Yato by wrapping their arms around him ?- good luck if you try that ! https://t.co/GdI3rXO0Zr

— Sir Clive Woodward (@CliveWoodward) September 25, 2019
Judging by this response, again from Sir Clive, if it was Farrell that Hodge tackled, I don't think he would have been so forgiving.
Sir Clive Woodward: 'Horrible' tackle could have ended Owen Farrell's World Cup – https://t.co/gVx7tViLIo https://t.co/ZwEetrQh22

— UK Sport24 (@UKSport24) September 27, 2019
And what would it be without Piers Morgan chiming in with some nonsense? I'm pretty sure all that match proved it that England are better at rugby than the USA.
England annihilating USA proves my long-held theory: take all the helmets & pads away, and international rugby players would beat NFL players at either sport every time. #ENGvUSA #RWC19 pic.twitter.com/PqO2HACp1h

— Piers Morgan (@piersmorgan) September 26, 2019