Welcome back to a much less cheery Top 5. Last week I said that it was up to weekend MST to worry about the All Blacks bouncing back … well sad to say they were right. But we move on, there is more to rugby life than a Wallaby loss to the All Blacks, right? This week we talk about it a little, look at what played out and consider why, we discuss NZ v AUS on the media front, look ahead to the copious amounts of rugby being played and see who has handed in their World Cup squads.
And here we are …
Welcome all of you to acceptance. As you've all experienced having been on the Wallabies supporter roller-coaster for a while now you know it's the final stage of the grief cycle.
In this session I would like to work on two key issues. Rationalising, and catastrophising. But before we get to those issue, we need to look at what caused the relapse.
Did you stick to the lessons of last week? Did you employ what you had learned? Did you trust the things that worked for you?
From what I witnessed, sadly, you lost your focus, forgot all the lessons and all the progress you had made and regressed to the old bad habits.
Rain, like the dew issue we have talked about so many, many times is not an enemy or an issue that you can't overcome. But it really was the trigger for your downfall.
Last week we were all really impressed with your performance.  You showed you had learned so much and really stuck to the new techniques and learnings. We were proud. You stuck to it showing belief in the new ways and we could see you building in confidence and even building on what was working.
I was really impressed that even afterwards you stayed grounded knowing it was a first step in a longer process. Even "mouthy" Michael showed self-restraint and wasn't his usual commotional* self.
Now, let's go back over what happened and see if I have the version of events and story correct?
Now I am sorry, but from what I witnessed I will have to start off being brutally honest. The game was lost from the moment the Anthems ended. The rain had triggered an excessively irrational response in conjunction with your tendency to catastrophise about the All Blacks and their potential abilities. I understand past experience would fuel this but we have talked about working on one game at a time. From there you tried to do something you were unprepared for and the things you were doing were all things that had not worked in the past.
Let's consider last week. You kicked less. You kept the ball in hand retaining possession. The forwards really worked well and were dominant.
Now, I am figuring the rain made you think that none of that would work. You seemed to walk away from all the things that both worked for you and you learned last week. Why?
The rain. You were irrational about the potential effects of the rain and you catastrophised. You fell in to the old trap of thinking based on the past. You should have believed more in last week.
When Genia came on the ball was being thrown about like a hot potato. It certainly showed that the handling worries of the past are in the past. But we didn't trust in last weeks ability to hold the ball. You didn't back yourself. The errors that did come were pressure errors because you were taking risks chasing the game. This amongst so much other available evidence about the difference in both games should be enough to clearly show what happened. What you have is new and it can work. But it's immature and only a single variation of it.
This is one of those occasions where you learn all the things not to do and also what happens when you fail to stick to the things that work for you. You simply regressed and fell in to the old traps.
Let's write this off as a big lesson learned. Last week it showed we are capable of so much more than we showed on Saturday.
Let's not sook about it. Yes, it was embarrassing but you certainly don't need a translator to understand what happened. You're not the only one that doesn't like the rain.
* Soon to be recognised and ratified by the Oxford English dictionary to mean "a person who causes a commotion as a result of uncontrolled emotional responses"
WHAT HAPPENED?
That's the question we are all trying to answer. Based on the score board and most of the visuals you would been forgiven for thinking the Kiwis dominated the game.
Having a look at the stats it tells of a game that was relatively even. Possession was 50/50, territory was 52/48 for the Kiwi's. Even the set piece was relatively even. The Kiwi's ran 48 more meters, had 5 more runs with 6 less passes and forced the Wallabies to make an extra 14 tackles.
Where the stats numbers deviate are really only around the defenders beaten / tackles missed numbers where the Wallabies were relatively poor. A 78% tackle success rate tells the story.
But nothing in the stats explains the points difference.
We have seen these sorts of stats from the Wallabies in the past. The Wallabies over the last few seasons have had the stats in their favour but seem to do a lot of work with the ball for little to no yield. The symptoms have been the same. Lots of work, struggling to score and they defensively start struggling to maintain the pace as a by-product and it gets messy. I attribute the defensive issues to the loss of structure as they start playing "hectic ball" and get themselves caught out of position.
Genia came on in the seconded half and showed that the Wallabies did have the skills to play ball in hand in the conditions. But he also demonstrated the "hectic ball", which we have seen on many occasions now, again prove that it produces very little when it comes to the scoreboard.
The odd game out here is the game where there were close to the right selections and combinations. They worked as a team and executed a game plan and made it work. It was simple but effective and you could see what they were trying to achieve.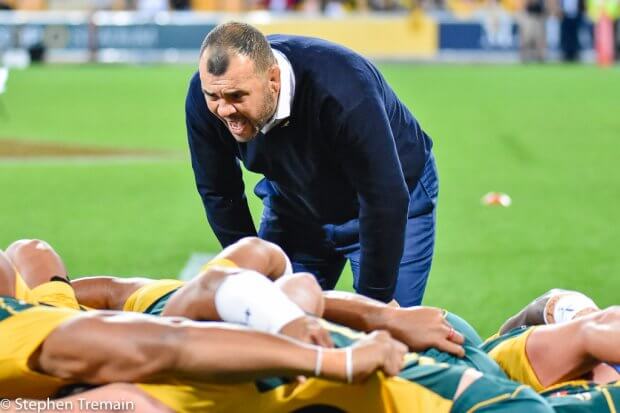 One issue that does need to be considered by the Wallabies coaching regime is the need to work on how to cover some skill deficiencies of some players. Lealiifano's goal kicking is an obvious one but we have others that can kick so it can be covered. Our 6,7,8 combination is another one the selectors may need to be brave about and take a chance on.
I don't believe it's all a lost cause. One remaining game will make it hard to further "road test" the game plan that worked. But there is a hope that some hard work on the training paddock, we gel quickly in the early rounds of the Rugby World Cup and we have a touch of luck.
But, in hindsight Rugby Australia may be kicking themselves for not putting the current coaching and selection regime in place earlier.
DID YOU ENJOY THE WALK DOWN THE OLD TOWN ROAD?
Click bait, trending, traffic. Once that whistle had blown on the Wallabies victory over the All Blacks it took less than 24 hours for the spotlight to be shifted off the Wallabies success to be all about the refereeing.
Personally, for once I was hoping that the Wallabies supporters and especially the Aussie media would not get sucked in to the stupidity of an argument about the refereeing and just hold the high ground not letting the spotlight be shifted from the positivity of a good Wallabies performance while it lasted.
Aussie rugby desperately needs some positives about the on-field performances especially running in to the Rugby World Cup. We want more of the Aussie public on board so we need good news stories. Even if it's as simple as a Wallabies "break through" story to build off. The Aussie public has certainly heard on many occasions Cheika complain enough about the referees in the past so any chance to move on is a positive.
We all know the Kiwi press like to niggle the Aussies. We have seen it with "clown gate" and in the end its just extraneous hyperbole that's just to promote the All Blacks cause.
Finally, and ironically, Cheika was unusually reserved with his post-match comments and avoided the refereeing debate.
The Kiwi press fired the first volley soon after the game trying to drag the whole focus away from the Wallabies on to the refereeing and baiting Wallabies supporters and media alike.
For those that don't know the Old Town Road story  it's a real good example how success, with some luck and good planning, social media skill and targeted marketing of a manufactured product can yield good returns.
By mid-week. Led by the Aussie media it was all about the refereeing. Who committed what crimes and went unpunished.
Sadly, from my point of view the Kiwi's had successfully baited the Aussie media in to a media war which was on their terms. Let's face it, Aussie rugby, with Cheika's assistance has the reputation as whingers and being full of excuses; especially when it comes to refereeing. So entering the debate would have most thinking along the lines of "doth protest too much, methinks".

Late on in the week the Aussies started to focus more of the game reporting about the "panicked selections" of the All Blacks and how the Wallabies are world beaters off the back of a single win.
From where I stand RA should have been pushing the Wallabies story as a stepping stone only and with the opportunity to leave the Kiwi press and rugby supports looking like whingers for once would have been fantastic.
But alas, just like our team, our media and supporters don't learn the lessons either.
For me, the ledger is split 50/50. Both teams showed they got one right and one wrong and home ground advantage seem to be the difference. Both have stepped up and showed they are capable.
The key take-away for me is if us Aussies cannot keep falling in to the same traps. We seem capable, but can be our own worst enemy.
The weeks ahead and beyond
Super Rugby is just a memory, the Rugby Championship is done and dusted and the Bledisloe is gone for another year. Luckily there is a bucketload of rugby coming up soon. So let's take a look at what is coming up so we can all start planning our viewing schedule.
First up there are the remaining International matches, warm up matches for the various nations in preparation for the World Cup.
24 August
Scotland v France  Referee: Wayne Barnes (England)
England v Ireland  Referee: Jaco Peyper (South Africa)
Canada v Leinster
Tonga v Western Force
Uruguay v Sudamérica XV
27 August
Georgia v Southern Kings
Russia v Jersey Reds
30 August
France   v Italy Referee: Matthew Carley (England)
Canada v BC All-Stars
Uruguay v Brazil
31 August
New Zealand Heartland XV v Samoa   Referee: Paul Williams (New Zealand)
Fiji v Tonga   Referee: Ben O'Keeffe (New Zealand)
Wales v Ireland   Referee: Romain Poite (France)
Georgia v Scotland   Referee: Pascal Gaüzère (France)
Namibia v Southern Kings
6 September
Japan v South Africa   Referee: Nic Berry (Australia)
Scotland v Georgia   Referee: Romain Poite (France)
England v Italy  Referee: Ben O'Keeffe (New Zealand)
7 September
New Zealand v Tonga   Referee: Angus Gardner (Australia)
Randwick v Argentina
Australia v Samoa    Referee: Paul Williams (New Zealand)
Ireland v Wales    Referee: Mathieu Raynal (France)
Canada v United States   Referee: Alexandre Ruiz (France)
Namibia v Southern Kings
Uruguay v Argentina XV
Some of these games are being shown through Foxtel and some are being streamed, best to check closer to the days. It's good to see some of the referees also getting in their warm up matches before the WC.
But it isn't just International rugby coming up. Here in Oz, the NRC will get under way on August 31 (yes, that is not this weekend but the next) with four matches on the one day.
Round 1
Saturday 31 August
12:00 NSW Country v Sydney
13:30 Melbourne Rising v Canberra Vikings
15:00 Brisbane City v Fijian Drua
15:00 (WA time) Western Force v Queensland Country
Round 2
Saturday 7 September
15:00 (Fiji time) Fijian Drua v Western Force
15:30 (Adelaide time) Melbourne Rising v NSW Country,
Sunday 8 September
13:00 Brisbane City v Sydney
15:00 Queensland Country v Canberra Vikings
Round 3
Saturday 14 September
12:00 Sydney v Queensland Country
14:00 Canberra Vikings v Brisbane City
16:00 NSW Country v Fijian Drua
Sunday 15 September
15:00pm (WA time) Western Force v Melbourne Rising
Obviously the NRC keeps going beyond the first 3 rounds, but by this point we are up to the big dance, yep the start of the Rugby World Cup.
The World Cup gets under way on Friday September 20 with Japan taking on Russia at 20:45 AEST. For the next month or so after that there will be more rugby than you can shake a stick at!
Here is a quick summary of what we consider to be the "must watch" matches. Yes, there are a lot of them, and if you're anything like us you'll be watching more than just what is listed here.
Saturday 21 September
14:45 AEST Australia v Fiji
17:15 AEST France v Argentina
19:45 AEST New Zealand v South Africa
Sunday 22 September
17:45 AEST Ireland V Scotland
Wednesday 25 September
15:15 AEST Fiji V Uruguay 
Saturday 28 September
17:15 AEST Japan V Ireland
Sunday 29 September
17:45 AEST Australia V Wales
Thursday 3 October
15:15 AEST Georgia V Fiji
Saturday 5 October
15:15 AEST Australia V Uruguay 
Saturday 5 October
18:00 AEST England V Argentina
Wednesday 9 October
20:45 AEST Wales V Fiji 
Friday 11 October
21:15 AEST Australia V Georgia 
Saturday 12 October
19:15 AEST England V France 
Sunday 13 October
19:15 AEST Wales V Uruguay
21:45 AEST Japan V Scotland 
Speaking of the World Cup …
Given that it is only 31 sleeps until the start of the Cup, it's not surprising to see Nations start naming their squads.
England have named their squad, with Mike Brown a surprising omission. Interestingly, Joe Marler has been included, despite retiring from International rugby last year, however he made himself available again and will now be heading off to the World Cup.
England World Cup Squad
Forwards
Dan Cole, Luke Cowan-Dickie, Tom Curry, Ellis Genge, Jamie George, Maro Itoje, George Kruis, Joe Launchbury, Courtney Lawes, Lewis Ludlam, Joe Marler, Kyle Sinckler, Jack Singleton, Sam Underhill, Billy Vunipola, Mako Vunipola, Mark Wilson
Backs
Joe Cokanasiga, Elliot Daly, Owen Farrell, George Ford, Piers Francis, Willi Heinz, Jonathan Josep, Jonny May, Ruaridh McConnochie*, Jack Nowell, Henry Slade, Manu Tuilagi, Anthony Watson, Ben Youngs
Italy have also named their 31-man squad, with Sergio Parisse Captaining the squad and making it to his 5th World Cup. 23 out of the 31 named players are making their World Cup debut.
Italy World Cup Squad
Forwards
Simone Ferrari, Andrea Lovotti, Tiziano Pasquali, Nicola Quaglio, Marco Riccioni, Federico Zani, Luca Bigi, Oliviero Fabiani, Leonardo Ghiraldini, Dean Budd, Federico Ruzza, David Sisi, Alessandro Zanni, Maxime Mbanda, Sebastian Negri, Sergio Parisse (captain) Jake Polledri, Abraham Steyn.
Backs
Callum Braley, Guglielmo Palazzani, Tito Tebaldi, Tommaso Allan, Carlo Canna, Tommaso Benvenuti, Michele Campagnaro, Luca Morisi, Mattia Bellini, Giulio Bisegni, Jayden Hayward, Matteo Minozzi, Edoardo Padovani.
Fiji have named a 32 man squad, with one player still to be omitted before the tournament.
Fiji Rugby World Cup 2019 squad*
Forwards
Mesulame Dolokoto, Samuel Matavesi, Ratu Vere Vugakoto, Campese Ma'afu, Eroni Mawi, Peni Ravai, Lee-Roy Atalifo, Manasa Saulo, Kalivati Tawake, Tevita Cavubati, Leone Nakarawa, Api Ratuniyarawa, Tevita Ratuva, Semi Kunatani, Viliame Mata, Mosese Voka, Dominiko Waqaniburotu, Peceli Yato.
Backs
Frank Lomani, Nikola Matawalu, Henry Seniloli, Levani Botia, Jale Vatubua, Ben Volavola, Vereniki Goneva, Filipo Nakosi, Waisea Nayacalevu, Semi Radradra, Josua Tuisova, Joshua Matavesi, Alivereti Veitokani, Kini Murimurivalu.
* One player to be cut before tournament
Many countries still have training squads of between 35-45 listed, but we expect more and more lists to start popping up. New Zealand will announce their squad one week from tomorrow.
Speaking of World Cup squads, it probably comes as no surprise that Michael Cheika has said he is willing to pick players for the squad who were not part of the Rugby Championship squad. Interesting, given it means bringing in someone who hasn't spent the time with the other players in the lead up. But on the up side – it could mean we get another 6 in the squad. There has been a lot of media talk about the possible inclusion of Will Skelton too. I guess we will have to wait until Friday when the squad is named to find out.