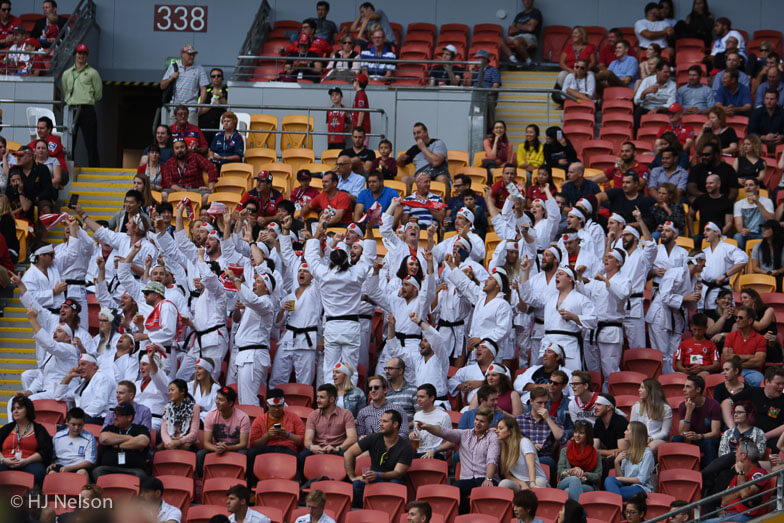 Welcome to the post-Easter edition of the Top 5. Thankfully the focus was back on the rugby this weekend, with some cracking games. This we take a bit of a look at where the Wallabies could be heading, question some decisions that have been made and give you some of the usual stuff too.
The Good, The Bad and The Ugly
Good – Wins in South Africa are not easy to come by. I even read one comment saying that the Rebels losses over there can almost be written off, as it's more than likely most Aussie teams will have the same fate. So for not one but two teams to get wins in South Africa in the same round is great for Aussie rugby. I believe that the last time that happened was in 2006. As an added bonus, it really pissed off the South Africans!
Bad – If you didn't know, it was wet in Sydney. Really wet apparently. The commentators made sure to mention it …. About a thousand times!! Every time someone dropped the ball – "It's dewy out there tonight" then five minutes later "That wet ball is giving them trouble". The funny thing was, from all reports it didn't rain in Sydney on Saturday. So where did all the talk of it being wet come from? I get that the ground can get dewy (I believe that is one of Kafer's favourite topics) but they were talking as if there had been a significant downpour. But worse than that, why can't the players handle a damp ball? Have they never played in the rain? Have they never encountered a dewy pitch in all their years playing rugby? It may have been wet, but I wish the commentators would stop using that as an excuse for their poor ball control.
Ugly – Back to injuries, the Brumbies look set to lose Josh Mann-Rae for the season with a serious, and very possibly a career ending knee injury. I've spoken to Bongo many times over recent years and he is a great guy, it would be such a shame for his career to end in this way. As disappointed as I am about Mann-Rae, I am bloody angry about the other injury news from the Brumbies, which is that Pocock STILL hasn't fully recovered from his calf injury. The injury that was initially picked up during pre-season Wallabies camp. The camp where players were made to do sprints after the Christmas break, before they were fully conditioned and instead of being with their teammates getting fit for the season.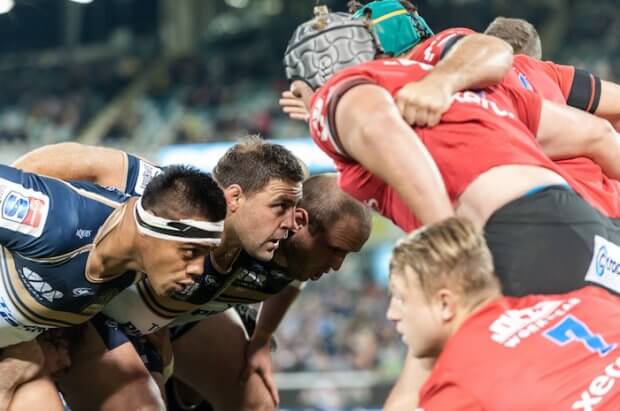 Report Card
Rebels D: For the second week in a row the Rebels attacking backline failed to fire. Meakes' try came after some solid work in the 22 by the forwards and Hodge looked to be let through by the Tahs defence, but they again really didn't look that threatening with ball in hand. Once again poor discipline that cost the Rebels, something I have been saying a lot recently. Some of the players showed a lack of ability in the thinking area too, with 40 seconds left on the clock and trailing by 3 points, Ruru put up a very poor box kick which the chaser couldn't get to. One of the basics of rugby – you can't score if you don't have the ball. They were only let off because the Waratahs knocked it on.
Waratahs C+: The Waratahs got the win, but in a lot of areas they didn't really outshine the Rebels. They were stronger with ball in hand and looked more dangerous, but I wouldn't call it convincing. If I told someone who didn't know much about rugby that these were the top two Aussie teams, it wouldn't have painted a good picture for the game. Handling was a bit of an issue for the Tahs as well as the Rebels (but only because it was wet apparently), but when it counted their "star" players stood up higher than those of the Rebels.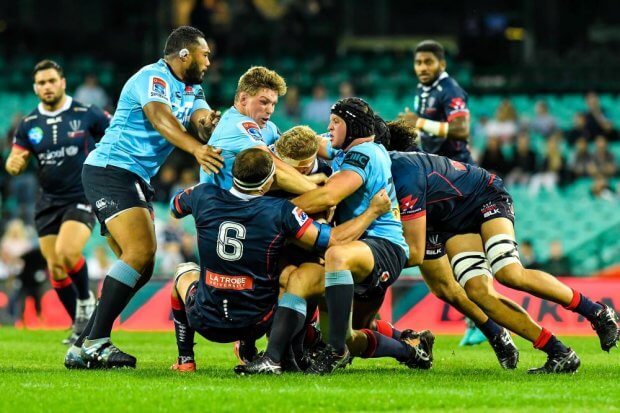 Reds A-: The Reds had the Sharks on the back foot right from the outset with a quick try. They were helped out by the Sharks appalling handling, but that doesn't take away from the great game by the Reds. McDermott again showed why people are talking about him as a future Wallaby, he is quick and snipey with ball in hand (but 5 tackles and 4 missed tackles dampens that a bit) and controls the play well. The Reds had a good tackle rate, were disciplined when it counted and scored some very well worked tries.
Brumbies A: I gave the Brumbies a slight edge over the Reds purely based on their defensive effort. It was massive! They won the game with only 34% possession and even less territory, looking dangerous nearly every time they actually had the ball. Some poor options didn't help, a terrible pass from Christian Lealiifano nearly led to a try after it was intercepted and they got a little lucky that the Stormers kept refusing to take shots at goal from penalties. But they finally showed that they can play a whole game and not capitulate when things get tough.
Wallaby RDO's
Let's see how our minute tracker is going after this week. TK is still leading the way, with Kerevi and Banks close behind. It will be interesting to see how things change in the second half of the season.
This week we had a number of Wallabies stand up to be noticed, though they aren't the big names you'd expect. The entire Brumbies front row matched wit with an all Springbok front row, Banks showed the talent we know he is capable of, Rodda put in another huge shift, Kerevi had another good one and Joe Powell really stood out for the second week in a row. For a number 9 to make 14 tackles in a match shows he can defend as well as run the attack. That's three more tackles in 60 minutes as the other three starting scrum halves made combined.
Blotted his copy book – Coleman didn't have much impact in this match. He looked tired at the end, barely making it to a jog for the last couple of minutes and the lack of urgency with which he went after the loose ball at the end was terrible. He casually bent down to pick it up while Hooper and Miller raced out to dive on the ball. I understand that he was probably exhausted, but if that's the case perhaps Wessels should have looked at bringing him off.
Mixed bag – Foley had a very hit and miss match. He started terribly with two touch finders missing the mark completely, but he came back and did what he needed to do. It wasn't a brilliant flashy performance, it rarely is from Foley, but he showed more composure when it counted than his counterpart did.
One player I do want to add into the Wallaby conversation in Rory Arnold. He is having a very good season, and his match against the Stormers put him head and shoulders above some of his rivals. He made a HUGE 24 tackles, disrupted plenty of rolling mauls, charged down a kick and scored a try and offloaded like a back to set up another. Surely Cheika and co can't ignore a performance like that, especially when our preferred starting lock was basically walking at the end of the match, while after playing a full 80 Arnold was still giving it his all.
When it comes to the Wallabies and the "others" conversation there comes a point where it's justifiable that you end up segueing into whether the Wallabies train will make it to Tokyo for the RWC without derailing on the way. It is hard to ignore that beyond the trees, just over the horizon can we see the flickering of distant lightning flashes. We can even hear the distant rumble; but we choose to ignore it hoping it will pass us by. Stepping back and objectively examining what arguably should be a successful weekend for Aussie Rugby it's hard to feel convinced that collectively we have enough of anything that we can cobble into a consistently competitive team. Sure, we might be able to put together a decent team on paper, but even accepting that is accurate, beyond the first 15 the depth question is glaring. Especially when it comes to key positions like hooker, flyhalf and inside centre.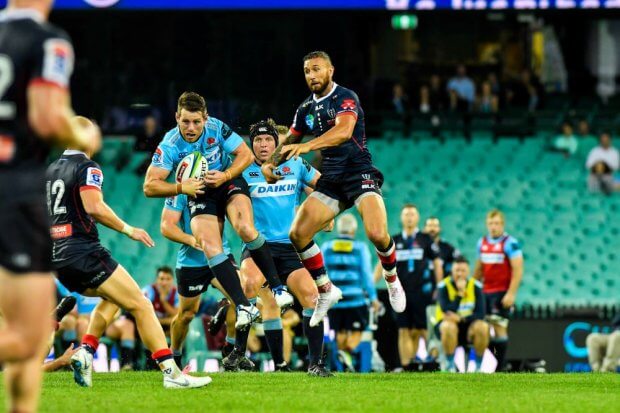 The performances over the weekend really highlighted some deficiencies. The Brumbies won on good defence but the question of why they struggled to get out of their 22 is an elephant in the room. They suffered the same issue last season and it's still not rectified. The Rebels still can't stop imploding once they are put under pressure. I believe it's also fair to say that the backline that RA bought and bolted on the old Force team to make it competitive has not fixed the performance issues. Like that Ferrari you can't really afford, while its blowing away the Datsun 180B's at the lights and looking the goods, once the traffic gets heavy, conditions aren't perfect or the 180B turns out to be a Porsche or AMG Merc, it's quickly put away in the garage to "protect" it just like a show pony.  As for the Tahs, although they got it together in the second half, it certainly didn't instil a sense of confidence in that performance nor mitigate the fact that the execution of basic fundamentals and maintaining focus at times seem to be a challenge to them.
The Reds did well against a really, really poor Sharks team. Kudos for getting the win away but with the Sharks being so poor, the Reds should be concerned by the skinny winning margin considering the Sharks were making fair effort to lose the game.
On top of all the Aussie teams underperforming, we can't ignore the "Izzy" issue that will now drag on to May at least. How destabilising and how much damage it could do is still unknown. The distraction is the other issue. With the "Izzy" saga a hot media topic and a contentious social issue the conversations are being diverted away from the game but not in a good way, nor far enough away.
Then we have the Wallabies coaching saga slowly simmering away in the background. A clueless Cheika's experimenting on lower skilled Colts players to help him with a game plan. All of this while the Wallabies are still without an attack coach.
Oh, but wait, there's more. Injuries. We saw Genia taken off on the weekend after getting crunched, we have Pocock still suffering the consequences of the Wallabies new fitness regime and players still need to get through another half season of Super Rugby yet.
Between the Aussie teams performance issues, impending Wallabies selection pantomime, Wallabies coaching gaps, the potential of injuries (and the Wallabies strength and conditioning program potentially being a risk to players!) and the "Izzy" saga to play out, all while RA is trying to renew sponsors and workout the future of Super Rugby, it's all the elements one would want if you were writing an over the top soap opera or producing a reality show.
The Wallabies getting to the RWC 2019 in reasonable shape could be a victory in itself. Let alone actually getting out on the field and performing.
Whoops! Did they shoot the cash cow?
It is really hard to miss the irony when you see the media reports about the biggest Super Rugby crowd so far this season. 27K+ rabid Moondog fans turned out on the weekend to support their soon the be extinct team.
Apparently bums on seats is important to the financial viability of Aussie teams, so we keep getting told. So when you look at the recent reporting around the axing of the Sunwolves, and read that they draw some of the biggest crowds when they play here in Australia it does raise questions about the decision to cut them. The proposed  new round robin competition will see less home games for Aussie rugby teams so when you take out a team that draws large crowds it makes no financial sense.
Now, I could be well off the mark here, but I believe that some of the rational from SANZAAR was that the still to be ratified "World League" would provide the additional revenue to compensate. With the "World League" on thin ice and Moondogs attracting crowds of 27K+ and with room to grow its supporter base post RWC 2019 that's being held in Japan, someone other than SANZAAR is going to make some decent money out of the carcass of the Moondogs post 2020.
I can't help but wonder if both the NZRU and RA now having second thoughts and wondering if they have accidently shot their cash cow. The revenue from bums on seats is one thing, but those companies that are willing to kick in sponsorship dollars also like bums on seats and eyes on TV's. Right now Aussie teams have Japanese linked sponsorships but how long will it last when the Sunwolves are reincarnated and their supporters pack has no interest in Super Rugby?
What is odd, and it's certainly a way of hedging your bets, is that many of the Japanese rugby teams have signed agreements with NZ Super rugby teams. At this point I haven't heard if any Aussie teams have managed to partner up, but most likely we are late to the party again; or are we? There is hope that Global Rapid Rugby might be the new kennel for the Moondogs in the future but there is nothing formalised yet.
I can't help but have a chuckle to myself as I write. Crowds of 27k+ are like a fantasy come true for Aussie rugby. Crowds that size being the atmosphere that attract people to our game and it's what we desperately need.
But in the same thought process I look at the number, 27K and think, not many years ago that was a good crowd in Canberra, healthy for Sydney, and average crowd in Brisbane.
Alas, what Super Rugby bringeth, it has taken away more. But I fear those who make the decisions may again be ruing another ill-considered decision due to the lure of what they thought was more easy quick cash.
Our Picks
Try of the week: This may not be the flashiest try, but it shows how an accurate kick in attack can be a deadly weapon. I hope the Aussie 10's study this move, no speculation involved, a pure kick pass.
Forwards being backs: After Folau Fianga'a showing the way last week, this week a number of forwards have jumped on the bandwagon.
First up, Warren Whitely channelling his inner fly half.
Next, Tom Cusack putting in a clearing kick. I think his motivation for this kick was that he was sick of tackling. Seriously, he looks buggered!
Finally, the tallest forward of them all offloading and spinning out of tackles like a winger.
Try saver of the week: While I could pick any number of tackles from the Brumbies v Stormers match, I went with this one from the recent Women's Sevens in Kitakyushu. Everything about this is just awesome to watch.
What a tackle! Unbelievable from @EnglandRugby's Emma Uren. #Kitakyushu7s pic.twitter.com/2zCWCulvl1

— World Rugby Sevens (@WorldRugby7s) 20 April 2019