If you weren't glued to Twitter on Sunday morning you would have missed something the news outlets will be sensationalising and analysing over the days to come.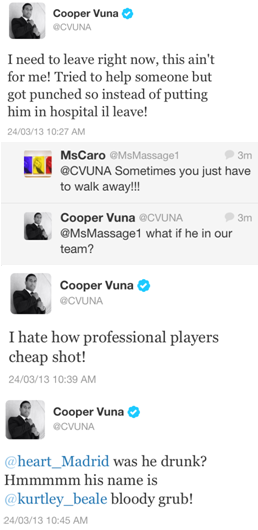 We have chosen to simply post the tweets as they happened and you can form your own views.
The tweets were deleted about half an hour after they were posted, and I assume this was done at the behest of his teammates and/or Melbourne Rebels management
It will be interesting to see where the Rebels organisational culture falls on this when punishment is meted out.
Who will be punished more harshly?
The player who walked away after being punched by a teammate, but who talked about it publicly?
Or the (implied intoxicated) person who punched a teammate who walked away?
What are your thoughts?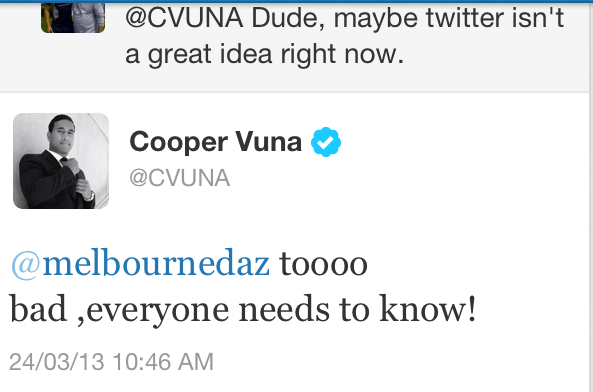 * Edit: This is the response to GAGR's own Melbourne Daz during the exchange.
Update:
Media Release, 24 March 2013
OFFICIAL STATEMENT FROM THE MELBOURNE REBELS

The Melbourne Rebels would like to respond to reports of an incident between players following the team's bus trip home to their hotel in Umhlanga.
The Club is treating this matter as serious and a full internal investigation has begun with the players involved.
Therefore, the Club cannot provide any further comment until the internal investigation is completed.
The Club will be fully co-operative to any media request as per the Club's media policy at the conclusion of this investigation.
No other parties were involved.
END