In 2013 I'll be doing the Social Pages a little differently. In the past I have tried to post something from each franchise and the Wallabies in each post. This has meant that I've had to leave out a LOT of great stuff from some players and franchises while including some mundane stuff from others (see Tahs' Season 2012 tweets). This year's Social Pages will be done as needed and by team, including occasional international editions.
If you like the Social Pages, I encourage you to get behind them: share the post on Facebook, tweet the post on Twitter, follow our players on Twitter, send me Tweet tip-offs… anything to contribute to this site which gives everyday fans (both women and men) a voice in rugby. And now to the fun stuff…
---
Dear Waratweeter

From the bottom of my Social-Pages-heart, thank you.

Thank you for encouraging your players to be on Twitter; thank you for showing the Waratahs organisation that has real people with real personalities working there; and thank you for having a sense of humour.

To the players, thanks for interacting with people on twitter and for showing that you're good guys. Oh yeah, and thanks for the shirtless photo opportunities – they're ACE!

Cat
My Social Pages Mission, as regular readers of the Social Pages know, is to discuss the major social issues in Australian rugby. In the past we've looked at how rugby players challenge gender norms; how they show their progressive feminism in a way that is meaningful to them; and how our little warriors cast off the shackles of masculine oppression and stand against societal expectations of hetero-normative behaviour.
In a style that should be familiar to "readers" of the Triple M website, we do this mostly showing pictures of hot shirtless men and using fancy, yet flimsily related words. Or as I call it: Education Through Objectification.
In the past week the Waratahs have provided us with an abundance of "educational opportunities"
Today's lesson: the sexualisation of athletes
Readers of the Social Pages who have been with me from the start (both of you) will likely have Quade Cooper's challenge to sport's hegemonic masculinity imprinted onto your collective retinas; what has been seen cannot be unseen.
For years discussions on the achievements of female athletes have been overlooked in the media in favour of covering women's sport using images of those same athletes posed in bikinis for the titillation disguised as "awareness raising" and "fundraising" (you may remember the Golden Girls calendars of the 1990s?). The Waratahs have had enough of this blatant inequality: they're fighting fire with fire!
The Waratahs have nuded up for charity just in time for Christmas, positioning their newest, brightest and shiniest Christmas balls front and centre (for a charitable cause*, of course). It's hard to tell who posted the photos first, especially given how many people tweeted them to me within a four-minute period, but I'll put most of the credit to Pat McCutcheon (@PatMcCutch) — mostly because I'm a sucker for a man whose name can also act as an instruction.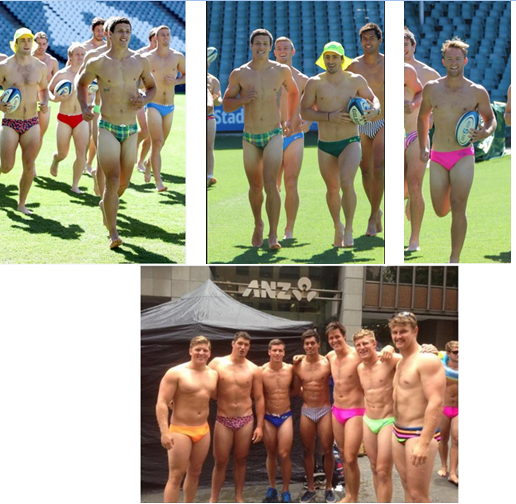 Now for the interactive component of the post: correctly identify all athletes in all photos. There is no prize, other than the joy of zooming in using "identifying players" as your excuse.
Want to know more about the man with the tan lines? There's more here.
The Tongatahs
Alongside the Biltong Brumbies, it seems we now have the Tongatahs. Welcome to rugby Israel!
I think Israel Folau's trampoline is just out of shot here. Freakish athleticism.
RT "@IzzyFolau: Enjoyed my first day at training with the @NSWWaratahs boys!! Great bunch of guys! #GoTahs" pic.twitter.com/RZUu3LL1

— NSW Waratahs (@NSWWaratahs) December 6, 2012
*Because it is for charity, here is the link to the news item. Although the event has passed, there is a link at the bottom for more information. See? I'm a creep, but I have a heart.
Merry ChrisTahs!!
My Rebel-loving family members will have no doubt downloaded "my" Laurie Weeks' Christmas Card.  Not to be outdone, our favourite rugby couple, Swoop & the Rooster, have posted a couple of pics for our festive season.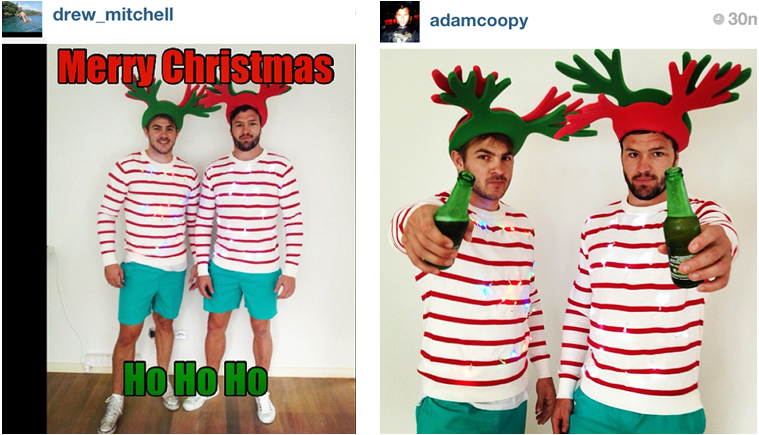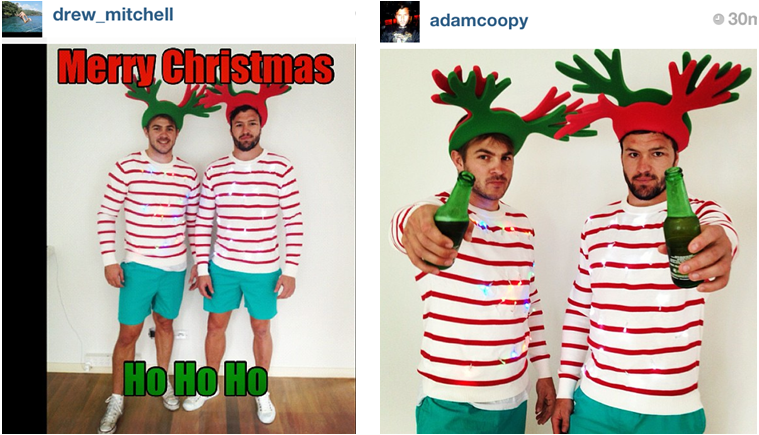 Seriously – how ADORABLE are these guys?!
Have I missed anything?