Hello Cobbers, I hope we're feeling fighting fit, peachy keen and pumped for another week.
As usual, the weekend just gone threw up enough permutations to baffle the best of us in terms of what it means for the Super competition table and the outcomes as we all eye off the impending finals.
But one incident in particular did grab my attention not just in and of itself, but also in the modern context of head injury, safety, CTE and simply concern over 'high' and dangerous contact in general. In Friday night's match between the Queensland Reds and the Otago Highlanders in New Zealand, Reds lock Connor Vest suffered a broken neck as a direct result of not just one, but two illegal contacts. Connor Vest was carrying the ball, moving at speed and with good body height when Landers No2 Andrew Makalio pulled a no-arms 'tackle' from Vest's right side, which caused Vest to begin falling and then Landers No6 Shannon Frizell came from Vest's left, also with what arguably looks to be a no arms tackle given his lead shoulder arm is behind his back, and Frizell drives his shoulder into Vest's head.
New Zealand's own stuff.co provides the clip below which is most insightful:
https://www.stuff.co.nz/sport/rugby/super-rugby/300891148/reds-seething-after-lock-connor-vest-breaks-neck-against-highlanders
Interestingly, but unsurprisingly given other contentious events in play during the match were not reviewed either (such as the blatant forward pass and the knock-on prior to the Landers 4th try), neither the referee, the TMO or the TV Production teams elected to show or watch replays of the incident that left Vest prone on the ground and clearly needing assistance. As such, there were no cards of the yellow or red varieties handed out to either Makalio or Frizell at the time. Clearly there was 'nothing to see here'. And I note that as of midday Monday 29 May 2023, there is STILL 'nothing to see here' given there has been no citation of Makalio or Frizell.
However as even the most cursory look at the pic below or the clip above will show, clearly there bloody well was something to see there. The end result was that while Vest walked off under his own steam, he does have a confirmed fracture to C7, ongoing uncertainty as to C6 & C8 and thus has some serious career and life decisions to make in coming weeks. Naturally, we all wish Connor and his family and loved ones all the very best in whatever they choose to do.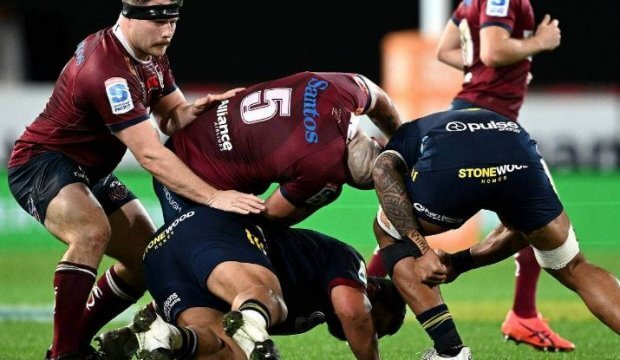 However, by the middle of Sunday afternoon, the aspect of this incident that caught my attention was the question about at what point do actions on a footy field become potential actions in a courtroom? From the reactions on a few sites and articles about the interwebs, it is pretty clear there's a lot of confusion about the difference between what happens on a footy field and what could be taken off the footy field. So, I'm aiming to shine a bit of light on this and discuss the situation from the NSW/Australian legal perspective a little bit here today.
Before I go any further, I want to be clear I am using this incident to discuss generalities and how they pertain to the law in NSW; this isn't legal advice. Nor am I calling for Andrew Makalio or Shannon Frizell to be charged or pursued outside the rugby world with anything. That'll take its own course and isn't for me to say. And besides, while Australia and New Zealand are pretty similar, the legal processes in Kiwiland are their own, different from Australia and NSW, and so I'll leave that be.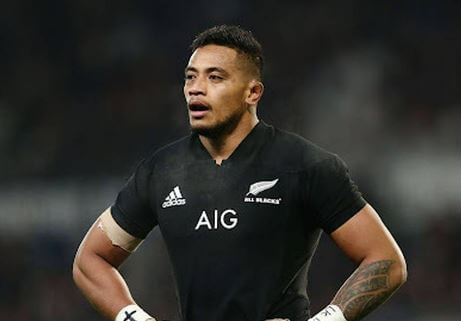 But from the NSW perspective, firstly the regular day-to-day laws that we all live under in society are not somehow blocked or suspended by an invisible wall when we agree to play sport, not even a sport that includes aggressive contact. However, the argument that willing participation in a sport means you consented to what may then happen in the course of that sport is nonetheless quite strong. In the case of R v Stanley (unreported, NSWCCA, 7 April 1995), the NSW Court of Criminal Appeal reaffirmed that willing participation in a sport means the participant gives implied consent to acts that are envisioned by the rules and intended nature of the game. However the court also found that the defence of consent does not apply to intentional and malicious acts of violence that are outside the rules.
This idea that simple participation does not include consenting to foul play was articulated some time ago in the 1971 case of McNamara v Duncan which established that implied consent to the risks of a sport did not extend to a malicious elbow to the head, no matter how common such acts were in the game in question (in that case AFL). In terms of NSW, these were the principles applied when former Cronulla-Sutherland league captain Steve Rogers successfully sued Mark Bugden and Canterbury-Bankstown RL after a shocking 'swinging-arm' tackle broke Rogers jaw in 1985.
In NSW, the criminal scenario for assault is covered by section 61 of the Crimes Act (1900). The general principle is that any act by which a person intentionally or recklessly causes another to apprehend the infliction of immediate and unlawful violence, on themselves by another, is an assault. And that act is tested against a bar that the prosecution must prove the charge 'beyond reasonable doubt'. Note that definition doesn't require actual contact or violence to occur. It is merely the fear that such violence is imminent that constitutes the assault. Traditionally, 'battery' is the actual infliction of unlawful force on another which is why we used to hear of the charge "assault and battery". But the word "assault" has come to be accepted for both offences (for the nerds – DPP v JWH (unrep NSWSC, 17 Oct 1997)).
Generally speaking, the next 'step up' in severity is a charge of assault occasioning actual bodily harm under section 59 of the Crimes Act and again in general terms that then graduates up to good 'ol fashioned grievous bodily harm (GBH) under section 33(1) of the same Crimes Act. For GBH, the elements to consider are:
• The accused caused grievous bodily harm to another, and
• The accused intended to (or acted with reckless disregard to) cause grievous bodily harm.
In civil realms (which is a personal action and not a state criminal charge) the evidence bar is a lot lower: prove beyond the balance of probabilities. And the action (or 'charge' if you will) is that one legal entity (person/company/group) sues another legal entity (person/company/group) for something like battery which in this situation would undoubtedly include an exacerbating element of 'recklessness' in that the accused knew the dangers and chose to continue their actions regardless.
So in simple terms, the questions we must ask ourselves then are:
• Was a 'harm' done?
• Did the accused intend, or act with reckless disregard to, that harm?
If the answer to both questions is 'yes', then we have the elements of the offence proved depending on the evidentiary bar, the court and the specific accusation/charge elements.
"Was harm done?" cannot be asked in simple isolation. We must ask that question in the context did Connor Vest give implied consent to some harm being done given the nature of playing a known brutal, professional sport? We have already answered that as 'yes'. But does that consent extend to a broken neck resulting from blatantly illegal 'tackles'? Obviously a rational person would say no to that. But where is the delineation between the two ends of the spectrum? One may perhaps argue that if the injury was sustained in a manner that was within the laws and/or general nature of the game, that implied consent held true. But in this context of not just one, but two no arms 'tackles', that then led to a broken neck, did Connor Vest give consent to that? Hmmmm…
And secondly, with regards to intent, while I do not suggest the Landers players were deliberately intent on breaking Connor Vest's neck, is Shannon Frizell's decision to deliver a clearly no arms tackle in the vicinity of an opposing player's head, particularly when considered alongside all the brouhaha regarding head/high contact in the last 2yrs, defensible as somehow NOT reckless? Can anyone even remotely involved with our game say they do not have heightened awareness of head/high-contact issues these days? So how is a no arms 'tackle' that makes direct contact with the head, in such a manner as that, NOT reckless?
It's an interesting discussion and one that is a long way from being resolved. From a personal perspective, I accept I can get hurt playing rugby and I have the injuries from over +40yrs of play to prove it (like many others). But a life-altering and career-ending injury for a professional athlete, inflicted from not just one but two blatantly illegal and reckless acts, that were then not even reviewed by officialdom? That's arguably reckless indifference and is a completely different story in my mind.
Your thoughts?
Nutta's Aussie Super Team of the Week:
1. Matt Gibbon – great scrummage and around-ground gravy.
2. Matt Faessler – cementing himself as the Aussie no2.
3. Sam Talakai – had a great game against a first rate opponent and a pie to boot.
4. Matt Philip – his workrate in his return match was top notch.
5. Angus Blyth – was certainly not guilty of playing 'in his shell' in his return match.
6. Josh Kemeny – had a great game and scored a good try.
7. Brad Wilkin – what is it with the Rebels and red heads?
8. Harry Wilson – I can't see how EJ can leave him out.
9. Ryan Louwrens – played a really dangerous game.
10. Tom Lynagh – is starting to show elements of his father's poise.
11. Dylan Pietsch – worked really hard particularly off the ball.
12. James O'Connor – some nice touches.
13. Sam Spink – a two pie night out and he goes from strength to strength.
14. Mark Nawaqanitawase – absolutely he made some errors, but his good stuff overcame that.
15. Andrew Kellaway – showed brains and class.
16. Jordan Ulese – played the best game I've seen him play in ages.
17. James Slipper – Mr Reliable. May be moving back to Tight Head for the Wobbs?
18. Zane Nonggorr – played easily his best game in a Reds jersey yet.
19. Josh Canham – gets his 2nd jersey from me and gets a little better each week.
20. Lopeti Faifua – came on early for Vest and played a monster of a game.
21. Tate McDermott – gets in a bit on default given other Aussie 9s weren't that strong.
22. Max Burey – continues to show some great touches in a losing side.
23. Sticky Ikitau – can hold his head up in an otherwise disjointed side.
Player of the Week:
We saw two absolute pillars of Welsh rugby retire in the last week in Justin Tipuric and Alun Wyn Jones, interestingly only some 4mths before the World Cup commences.
Clwb Rygbi Trebannws junior, Justin Tipuric graduated to Aberavon RFC at Port Talbot in 2007 and from there to the Ospreys in 2009. He made his debut for Wales against Argentina in 2011 and went on to score 11 tries in 93 Tests for the Three Feathers. He also toured with the 2013, 2017 and 2021 British and Irish Lions.
Alun Wyn Jones retires as the world's most-capped rugby union player, with 158 caps for Wales and 12 for the British & Irish Lions. Naturally this means he is also the most capped Welsh player but interestingly he is 2nd for caps as Welsh captain (behind Sam Warburton). Learning his rugby at Oystermouth Primary School and playing for Mumbles as a junior, he played for Swansea from 2004, Ospreys from 2005, made his debut for Wales in 2006 (also against Argentina) and in between then and now made 4x BIL tours and 4x World Cups.
Both men retire as monuments to the game.
But for me, my vote this week goes to the Blue Mountains Rugby Women's Team who are not just a grand little band in and of themselves, but represent the enthusiasm, growth and above all the POTENTIAL for women's rugby in this country.
Honestly, after watching about 8 enthusiastic but clearly uncertain women come together only a couple of weeks ago on a freezing night at Lapstone Oval in the Blue Mountains (west of Sydney), I for one doubted they would get far given the circumstances. But the growth in numbers, enthusiasm and level of progression in skill and play has needed to be seen to be believed.
And from such humble beginnings scarcely a month past, they mustered enough for an internal 7s hit-out a fortnight ago (inaugural squad pic below) and then +20 ladies took the field only last Saturday night, after 1st grade and under the lights, for a raucously supported game of 10s. And believe me, they left no one in doubt, either on the field or the sidelines, that they were not there to just have a tickle and giggle. They are playing for real.
After seeing what this motley collection of mums, students, wives, youngsters and 'the slightly more mature' from touch footy, Austag, x-fit, athletics and all manner of other backgrounds are putting together between them, the future is beyond bright for where not just they, but embryonic groups of women players like them all over the country, can go.
Go girls. Run hard. Tackle brave. Don't just wear some boots, but fill your boots. And make "Saturday is rugby day" yours just as much as the fellas.
So there you have it folks. There's a bit to chew on over breakfast or coffee. Feel free to comment below.