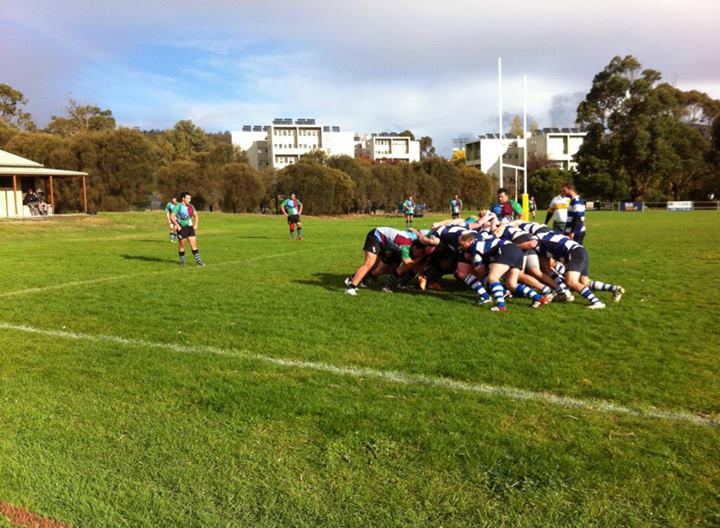 Grand final rematch marks Quins dominance early
Round one of the Tasmanian Statewide Rugby Union competition saw the headline match being a grand final rematch between 2013 premiers Hobart Harlequins and the 2012 premiers Taroona Penguins.
The Taroona scrum was dominant early, coupled with solid phase play provided good field position to provide a three point lead to Taroona though the boot of Christo Le Grange.
Quins took their attacking opportunities in the Taroona 22 taking the lead with the first try of the match under the posts. Taroona were opportunistic having tight head prop Sam Graves intercept and dot down over the line to keep the contest close. In true Harlequins style, a quickfire return try saw the score at oranges as 12-8.
A tightly fought contest in the first half seemed reminiscent of the 2013 clashes of these two sides, but in the championship minutes Quins took a strangle-hold with a try off the kick off, followed by another two tries bringing the score to 36-8.
The lads in blue and white were down but not out, with skipper Rhys Watts rallying the forwards to build phases and cross the line himself. A further two tried added saw the Penguins get close but not close enough with the final score at 36-27.
Celebrating their 50th year the Devonport Bulls travelled to Eady St to try and avenge a semi-finals exit in 2013. Glenorchy Stags' pack had different ideas, grinding in an early try and delivering effective scrummaging resulting in a penalty try.
Devonport were well served by kicker Connor Mack, keeping the score board ticking and Devonport in the match, going into half time down 13-6.
Glenorchy continued to pressure after the break with another try, Devonport this time responding through debutant Brett Bentley and a penalty try for an infringement close to the line. Another Mack penalty brought the score to 18-16 with 15 minutes to play.
In the final minutes Devonport sealed their first win at Eady St since 2007 with a try to Ben Toganivalu and a final Mack penalty to see them win from behind 24-18.
The big improvers of the 2013 season the Eastern Suburb Roosters continued on their upward trajectory with an away win against Launceston Bees 69-5. Easts demonstrated class by completing this with a bare 15 men and go to the top of the ladder on points differential.
The other Hobart derby saw University Red Men pip Hobart Hutchins Lions 10-7 and the final match in the north saw the Burnie Emus host the Australian Maritime College Vikings with the visitors coming away victorious 28-10.
Round 1 scores:
Harlequins 36 def Taroona 27
Devonport 24 def Glenorchy 18
Eastern Suburbs 69 def Launceston 5
University 10 def Hobart Hutchins Lions 7
AMC Vikings 28 def Burnie 10
Ladder at the end of round 1:
| | | | | | | | | |
| --- | --- | --- | --- | --- | --- | --- | --- | --- |
| Team | W | D | L | F | A | BP | % | PTS |
| Eastern Suburbs | 1 | 0 | 0 | 69 | 5 | 1 | 1380.00 | 5 |
| AMC Vikings | 1 | 0 | 0 | 28 | 10 | 1 | 280.00 | 5 |
| Harlequins | 1 | 0 | 0 | 36 | 27 | 1 | 133.33 | 5 |
| University | 1 | 0 | 0 | 10 | 7 | 0 | 142.86 | 4 |
| Devonport | 1 | 0 | 0 | 24 | 18 | 0 | 133.33 | 4 |
| =Taroona | 0 | 0 | 1 | 27 | 36 | 1 | 75.00 | 1 |
| =Glenorchy | 0 | 0 | 1 | 18 | 24 | 1 | 75.00 | 1 |
| Hobart Hutchins Lions | 0 | 0 | 1 | 7 | 10 | 1 | 70.00 | 1 |
| Burnie | 0 | 0 | 1 | 10 | 28 | 0 | 35.71 | 0 |
| Launceston | 0 | 0 | 1 | 5 | 69 | 0 | 7.25 | 0 |