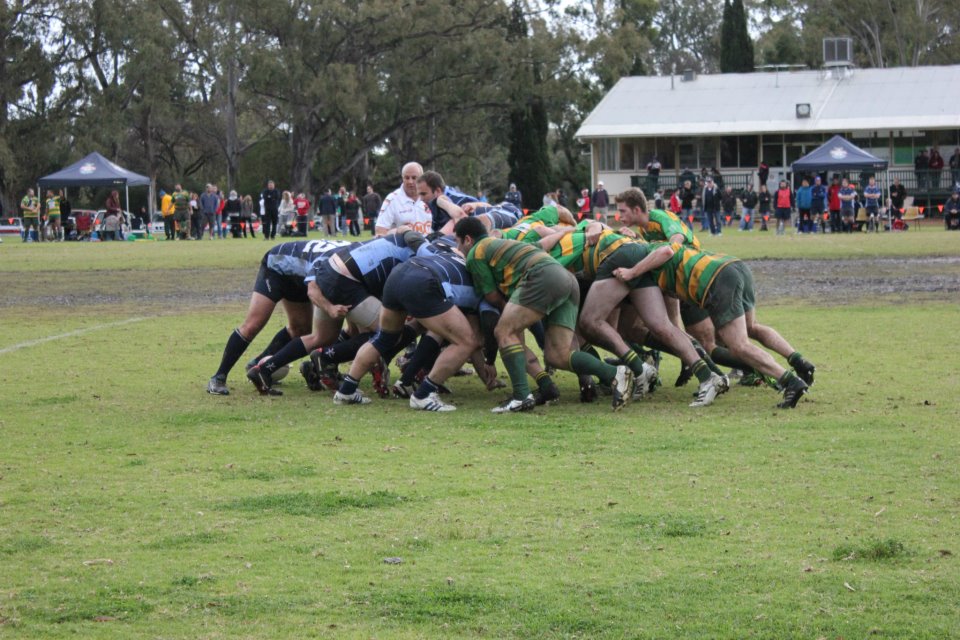 After an interrupted couple of weeks, Rugby in SA came back in a big way. There were quite a few comprehensive wins this week, as a number of competitors made big statements. Let's get straight into it.
Round 8 – 14/06/2014
Match of the Week: Burnside 62 def Woodville 21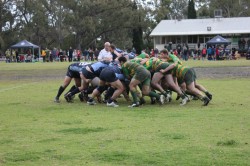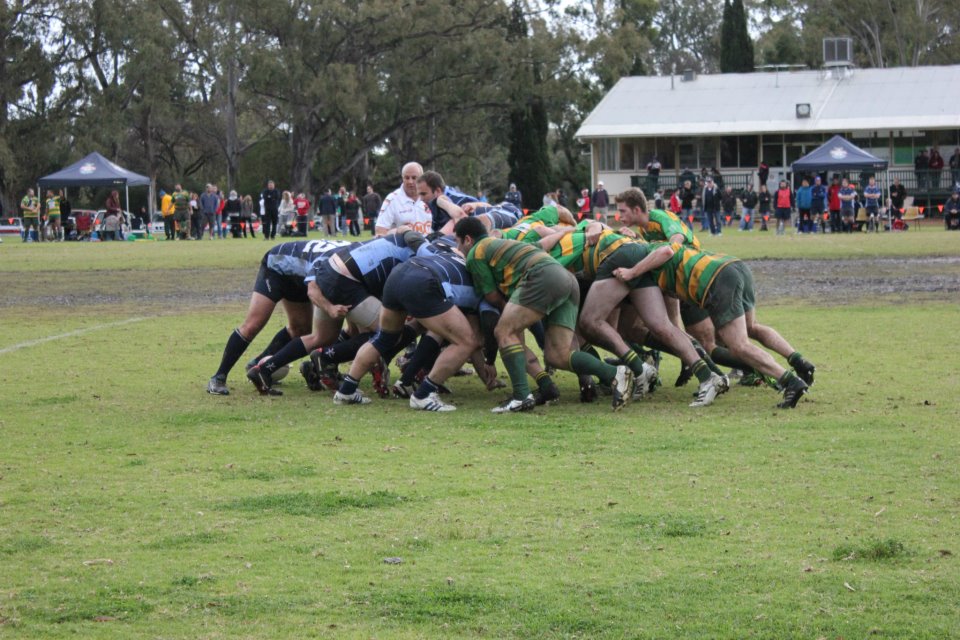 In this one it was second-place Burnside taking on a Woodville team still desperately searching for their first win of their season at Parkinson Oval. Despite the rain from the previous few days, the game was a spectacle of attacking, fast rugby, albeit with quite a few mistakes from both sides. Burnside were looking to close the gap between them and the undefeated Old Collegians team, while Woodville were just looking to get their season up and running.
The first half was intense. Despite Woodville dominating both possession and territory, the mistakes they continually made hurt them. Dropped balls, missed tackles and silly penalties were again the trouble for the Wasps. Despite scoring first through first year winger Louis Adcock, as well as through star fullback John Finnie, Woodville trailed going into the half thanks to some solid forward play and good running out wide from Burnside. The boys in blue were able to sustain much of the pressure Woodville threw at them, before capitalizing on any mistakes through smart kicking and speed out wide.
The second half was a different story however, as Woodville tired and Burnside began to capitalise. Some excellent play from Centre Mac Heaney led the way for Burnside, scoring a hatrick as the attack flowed steadily and space was found, again, out wide. While Woodville's forwards were able to hold their own, playing a physical, heavy running brand of rugby, the team cohesion was simply not there. It seems that the injuries to key players are still impacting the Wasps, as a consistent game plan was hard to see. Burnside will be happy with their style of play, using the ball intelligently and capitalizing on the vast majority of the opportunities they were able to create.
Captain Shane Hunt had a strong game for Woodville, as he attempted to will his team to victory with some impressive tackling and strong support play. Ryan Gatehouse had a good game out wide, especially in the first half, while John Finnie continued to dazzle with his speed and agility. For Burnside it was Blair Marshall playing well on the counter attack, with Dan Hartman proving strong in the forwards.
Other Matches:
Brighton 43 def Southern Suburbs 7
Brighton have had an up and down start to their season, but with them sitting in fourth place with a game in hand, they were looking to make a statement as they attempt to climb back into top 2 contention. With Southern Suburbs themselves in the finals debate, the game at Brighton Oval was looking like a good one.
Unfortunately for Souths, it was Brighton who held sway here. With some punishing forward play setting a solid platform; the Tigers were able to do most of their damage in close. Dan Naylor, playing number 8, was huge in carrying the ball forward, scoring two tries himself and providing much needed forward momentum. Similarly, the veteran Logan Brown had a solid game, anchoring the scrum and bullying the ball forward.
While Southern Suburbs attempted to use their speed out wide, their efforts were thwarted by the solid Brighton defense. Jayden Watene was good at scrum half, scoring their lone try, as Steve Stanojevic and George Tilley provided support up front.
For Brighton, flyhalf Clayton Collier had a good game, scoring a try and kicking for territory well. Logan Brown, flanker Robert Stratham, No9 Dermot O'Rourke and fullback Nathan Satala each scored a try.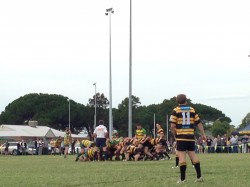 Old Collegians 68 def Onkaparinga 19
Onkaparinga travelled to Tregenza Oval this week to take on an undefeated Old Collegians side in fine form. Despite their best efforts, Onkaparinga were never really able to get into this one. Old Colls manage to dominate a lot of the ball here, using their possession wisely as they placed some smart kicks and took control of the territory.
The Old Collegians team stuck to their highly successful game plan once again, as the well-drilled squad continued to switch their point of attack from wing to wing, never allowing the Onkaparinga defense a chance to rest. The results were evident, with the damage again being done out wide by Old Coll's flying outside backs. Winger Chris Bartlett scored a couple, as did Centre Delano Leen.
Onkaparinga were kept competitive by the play of halfback Troy Doughty, used was his usual sniping self around the rucks, scoring a pair of tries himself. Mistakes cost Onkas in this one, as did their discipline. The frustration of Old Collegians high-pressure line speed led to a number of knock-ons that threw Onkas out of rhythm.
All in all it was another comprehensive win for the leaders of the competition, as they seek to build their lead over second place Burnside. Front rowers Timothy Dawes and Jon Collins, flanker Gary Mann, No8 Bernie Van Altena, No9 Rory Sheppard, Centre Paddy Macklin and fullback Will Sadler rounded out the try scorers for Old Collegians. For Onkaparinga, No4 Emosi Veron was the other try scorer, with fullback Kurt McKinley kicking a couple of conversions.
Port Adelaide Bye
Second Grade
Adelaide University 33 def Brighton 15
Burnside 48 def Woodville 5
Old Collegians 31 def Onkaparinga 12
Elizabeth 29 def Port Adelaide 7
Women's Premier Grade
Woodville 15 def Burnside 14
Onkaparinga 39 def Old Collegians 31
Southern Suburbs Bye
Third Grade
Brighton 36 def Southern Suburbs 3
Adelaide University 23 def Burnside 21
Old Collegians 22 def Onkaparinga 5
Barossa 51 def North Torrens 0
Fourth Grade
Port Adelaide/North Torrens 29 def Elizabeth 21
Onkaparinga 39 def Old Collegians 10
Adelaide University 22 def Burnside 21
Brighton Bye
Coopers Premier Grade Ladder
| | | | | | | | | | | |
| --- | --- | --- | --- | --- | --- | --- | --- | --- | --- | --- |
|   Team | P | W | D | L | F | A | Df | BP 4t | BP <7p | Pts |
| Old Collegians | 8 | 8 | 0 | 0 | 380 | 66 | 314 | 7 | 0 | 39 |
| Burnside | 8 | 6 | 0 | 2 | 236 | 175 | 61 | 5 | 1 | 30 |
| Port Adelaide | 8 | 4 | 0 | 4 | 167 | 198 | -31 | 5 | 1 | 22 |
| Brighton | 7 | 4 | 0 | 3 | 170 | 135 | 35 | 4 | 1 | 21 |
| Onkaparinga | 7 | 4 | 0 | 3 | 158 | 192 | -34 | 3 | 0 | 19 |
| Southern Suburbs | 8 | 4 | 0 | 4 | 108 | 169 | -61 | 3 | 0 | 19 |
| Woodville | 8 | 1 | 0 | 7 | 122 | 246 | -124 | 1 | 3 | 8 |
| Barossa | 8 | 0 | 0 | 8 | 0 | 160 | -160 | 0 | 0 | 0 |
Next Round's Fixtures
| | | | |
| --- | --- | --- | --- |
| Home Team | v | Location | Time |
| Onkaparinga | Brighton | Wilfred Taylor Reserve / 1 | 3:20pm |
| Southern Suburbs | Old Collegians | Bailey Reserve / 1 | 3:20pm |
| Woodville | Barossa | TBC | Forfeit – Barossa withdrawn from Comp |
| Burnside | Port Adelaide | Parkinson Oval / 1 | 3:20pm |