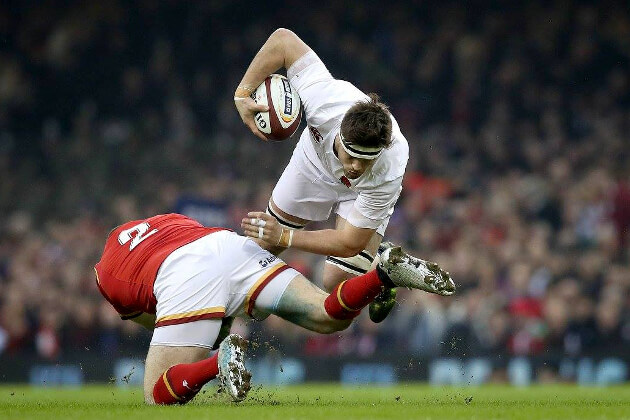 We take a look back at the second round of this year's Six Nations including bizarre tactics, refereeing decisions and the rising stars up north.
Italy creating more work for themselves
Italy creating more work for themselves
For eighty minutes against Ireland the Italians stuck to their tactic of kicking the ball infield instead of into touch. This invited a lot of pressure on them as this year's edition of Joe Schmidt's Ireland team are willing runners with the ball.
It was mentioned in commentary midway through the game that the top nine players on the tackle count were all Italian. It's no wonder that they faded in the last ten minutes of the game as the Irish ran rampant.
This Italian side just aren't fit enough to play that kind of game especially with talismanic captain Parisse nursing a knock during the week. What makes it even more bizarre is not only the fact that Ireland's lineout struggled against Scotland last week but they also had two hookers on debut.
Conor O'Shea is obviously trying to change the Italian style of play but on the evidence of this weekend they're some way off being able to execute as he'd wish. However O'Shea has a history of turning unfancied teams into competitive outfits that play attractive rugby. Maybe Saturday was just part of the growing pains.
---
Ref watch
Casual observes may have noticed a disparity between referee Jackson's treatment of infringements close to the line by Italy and Ireland.
In the opening 25 minutes Italy repeatedly infringed close to their own line desperately trying to keep the Irish out. This earned them a team warning for their antics but no yellow card.
Skip forward a couple of minutes and Italy apply their first bit of pressure on the Irish line. A five metre lineout is caught and driven and the Irish collapse. The immediate decision is penalty try and a yellow card, no warning was issued.
On the surface this may look like yet another example of referring inconsistency but Jackson's application of the laws was spot on.
In the case of an infringement close to the line if the officials feel a try would have been scored if not for the foul play then the referee must award a penalty try and yellow card the offender if they can be identified. Dave Ryan was duly identified and dispatched to the bin.
Jackson got it spot on, a good example of some excellent refereeing.
Another interesting refereeing decision was made in the game in Paris as Scottish ten Russell put the ball out between the French 10 metre and 22. The ball bounced a ways down the touchline and French took a quick throw from within their own 22. Spedding hoofed the ball up the line but was a little perplexed to see the lineout awarded from where he kicked the ball.
France were correctly deemed to have carried the ball back into their own 22 and therefore kicking it straight into touch resulted in the lineout being from where he kicked it rather than from where it crossed touch. Another piece of good officiating there.
---
Trivia
It's been 15 years since an Irish player scored a hat trick in the Six Nations. No prizes for guess who, Brian O'Driscoll of course, against Scotland. Just like buses you wait ages for and two come along together. Both CJ Stander and Craig Gilroy notched up hat tricks against Italy.
Ornel Gega became the first Albanian born player to play in the Six Nations when he ran out for Italy against Ireland.
Ireland had two hookers on debut in Rome. Captain Rory Best handed in his sick note before the captain's run meaning that Niall Scannell got the starting berth while James Tracy was flown in and made an appearance from the bench.
England have now won 16 tests on the trot and with Italy and Scotland coming up they may well be on 18 in a row when they face Ireland in Dublin for a shot at New Zealand's Tier 1 world record.
In the opening two rounds there have been 28 tries compared to 20 tries last year. Only one team have picked up a bonus point due to tries scored. It could be argued that Italy's performance has been as impactful as the introduction of bonus points.
---
Rising Stars
Each year the Six Nations throws up some new talents on the world stage since the last tournament and this year is no exception.
The first of these is Garry Ringrose, outside centre. He reads the game well and has a some pace about him. He's come a long way from the kid who couldn't get into his school's first fifteen. His try against Italy was reminiscent of one Brain O'Driscoll scored in Paris to announce his arrival to the world.
Another new name to look out for is Elliot Daly of England who had his first start in a test match in November.  He collected a flat pass from Farrell, then evaded the despairing tackle attempt by Cuthbert to dive over in the corner and seal an unlikely victory. He's also pretty handy with the boot.
Some other names to look out for are Ross Moriarty of Wales who's filling their number eight shirt with distinction in his first run-on Six Nations' games, Zander Ferguson the 21 year-old Scottish tight head prop of whom great things are expected, and late-blooming French flanker Kevin Gourdon.
---
England – impressively unimpressive
The most impressive aspect of England's defence of their title thus far is how they've managed to avoid defeat. Both France and Wales had chances to knock them over. Wales really should have completed the job but for a poor kick that lead to the winning try.
This England team may not be setting the world alight so far but they have a grit about them that was missing before Eddie Jones took charge. They'll be glad to get back to HQ where games against Italy and Scotland may allow them to restore confidence ahead of their trip to Dublin. Jones will also be happy to welcome back Billy Vunipola as Nathan Hughes, who was expected to shine this year, has not been up to par.
---
Winners and losers
England are the big winners from round 2. They notched up another win while denting Wales' title hopes at the same time.
Ireland got their challenge back on course with a thumping win in Rome. They may still rue their slip up at Murrayfield but they need to focus on what's ahead now.
France have had two tight games decided at the death. This week they came out on the right side of the result. A win in Dublin would see them right in the hunt for the title.
Scotland will be pretty happy with a win from their opening two games. Still it could have been even better if they'd found a little extra at the end in Paris.
Wales really should have made it two from two. If they'd closed the game out it would be England hoping for them to falter not vice versa.
With the rest of the games so close Italy's results really do stick out this year, even more so than previous years. Conor O'Shea is trying to implement a new style and blood new players but it feels like they've already been cut adrift and are heading for yet another wooden spoon.