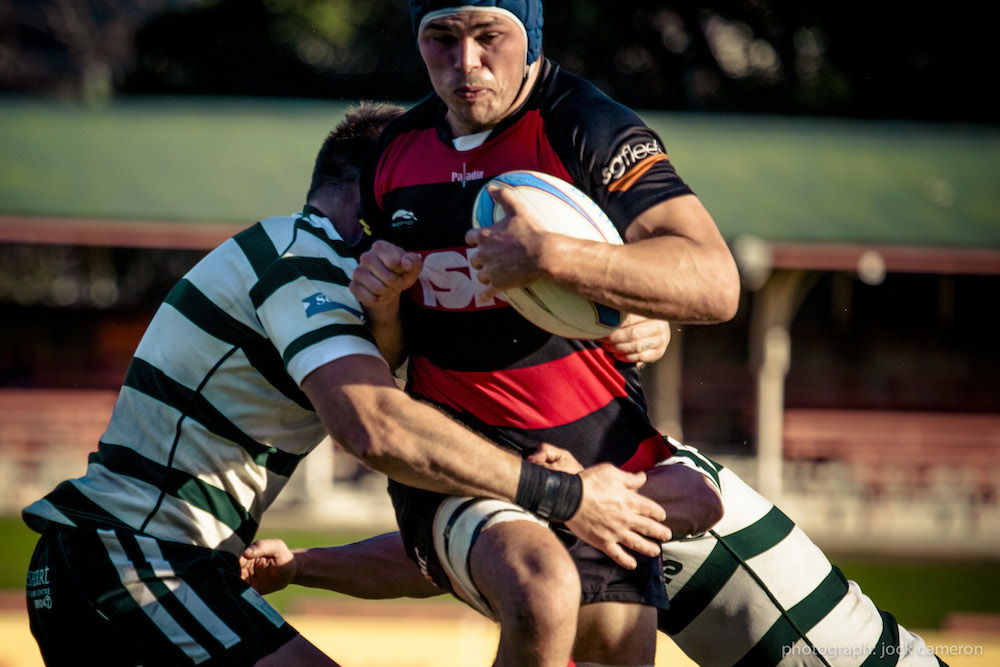 The Galloping Greens have snapped a three-game losing streak, grabbing a 15-5 away win over Parramatta in a tightly-contested tussle that sees them rise to fifth on the table.
Words by Ben Harrison
Instrumental in the two-tries-to-one win was Randwick head coach Wade Kelly's decision to play livewire winger Ethan Ford at flyhalf in place of the injured David Horwitz. It proved a master stroke, as the new pivot yesterday directed his team around the park superbly and provided strength in the midfield defence.
"We really concentrated on maintaining possession and ball security this week and it showed today," said Ford after the game.  "We still aren't where we want to be but we made less mistakes and competed more so that's a positive and I guess that's what got us the win in the end. Hopefully we can carry that form into next week against the Beasties."
Booming Wicks' prop Toa Asa was also outstanding for his side, scoring a barnstorming try and threatening the defence as he consistently made the advantage line. Said Asa, "We were a bit scrappy today, full credit to Parramatta they were very good. We're very pleased to come away with the points today though."
Opposing flyhalf Parramatta's Sam Yakopo was extraordinary in a beaten side, showing some excellent touches and a must-improved kicking game.
"Our discipline really let us down, we dropped too much drop ball and missed tackles," he said.  "We defended the whole game and made it hard on ourselves."
In a low-scoring affair, it was Parramatta who got on the score sheet first, when captain Andrew Cox finished off some brilliant lead up work by Yakopo to cross in the corner in the 15th minute.
It took only seven minutes for the Galloping Greens to hit back through Toa Asa, with the human wrecking ball scattering the Parramatta defenders as he ran 20 metres to score next to the posts.  Liam Windon made short work of the conversion, giving Randwick a 7-5 lead.
The Two Blues were hampered in the first half with an injury to exciting prospect Josh Kaifa.
The second half started in much the same way as the first, with both sides not afraid to test the edges of their opponent's defensive. It took only five minutes for Randwick to get their second try, courtesy of lightning winger Nathan Roye, who crossed in the corner.
A string of penalties hurt Parramatta's chances of a comeback, gifting easy territory to a Randwick side that is really starting to hit its stride. A ruck infringement against Parra's Canadian international Evan Olmstead gifted Windon and easy penalty goal and allowed the fullback to take the score to 15-5, securing his side its third win for the season, and helping them leapfrog Parramatta on the competition ladder to rise two places to fifth.
The Two Blues will next week be out to make amends when they take on Southern Districts at Forshaw Rugby Park, while Randwick hosts to Eastern Suburbs at Coogee.
Randwick 15 (Toa Asa, Nathan Roye tries; Liam Windon con, pen) d Parramatta 5 (Andrew Cox try) at Merrylands RSL Rugby Park.
The Pirates made up for last week's controversial loss to Warringah by thumping Southern Districts 49-14. Henry Seavula was superb for Wests, crossing for three tries and displaying a strong control on the match.  Dave Harvey was also a stand out, scoring a total of 24 points and helping Wests bag in bonus point away win what was a big outing for his side over an in form Rebels outfit.
West Harbour 49 (Henry Seavula 3, Cohan Masson, Tom Games, Dave Harvey tries; Dave Harvey 5 cons, 3 pens) d Southern Districts 14 (Jed Holloway, Ben Connolly tries; Rohan Saifoloi 2 cons) at Forshaw Rugby Park.
The Marlins continued their undefeated season and with a 40-19 crushing of Gordon. League convert Dane Chisolm was outstanding for Manly, making several breaks and kicking five conversions. Terry Preston was the best in a beaten side, crossing for two tries. The bonus-point win sees Manly sit three points clear of second-placed Warringah at the top of the table.
Manly 49 (Joh Fakai 2, Alex Northam 2, Mitch Lewis, Harry Bergelin tries; Dane Chisolm 5 cons) d Gordon 19 (Terry Preston 2, Matt McDougall tries; Terry Preston 2 cons) at Manly Oval.
Sydney Uni went to work against a spirited Penrith side, winning 61-21. The Students were dominant, running in 10 tries to three to secure the bonus-point win. James Dargaville had an outing to remember, picking up four tries and terrorising the Emus' defence. Dan Kelly also turned in a strong performance, crossing for a try and kicking five goals.
Sydney University 61 (James Dargaville 4, Sam Talakai, Harry Marples, David Dillon, Patrick McCutcheon, Fandell, Dan Kelly tries; Dan Kelly 4 cons, pen) d Penrith 21 (John Waititi, Malakai Zelezniak, Jerome McKenzie tries; Robbie Mate 3 cons) at University Oval No. 1.
Warringah have again come from behind to snatch a win, bagging victory against Norths by 22-17. The Rats trailled 12-7 at half-time but fought back strongly to grab the competition points in the dying stages. Flyers wingers Harry Jones and Sireli Tagicakibau both crossed for tries and Holmes brothers Josh and Luke were instrumental for the Rats, guiding them to their seventh win of the season.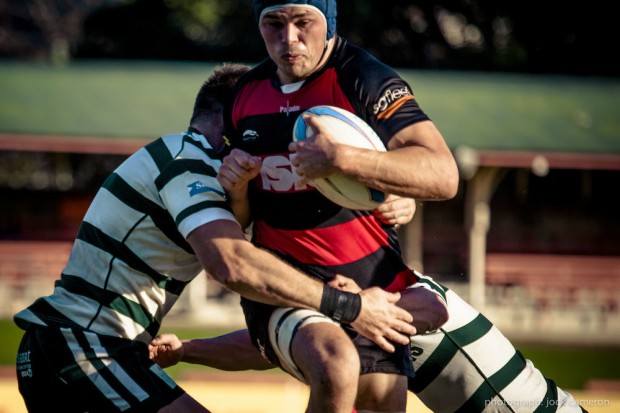 Warringah 22 (Luke Holmes, Harry Jones, Sireli Tagicakibau tries; Hamish Angus 2 cons, 1 pen) d Northern Suburbs 17 (Cam Crawford, Tom Redden, Wolf tries; Jack grant con) at North Sydney Oval.
In the upset of the round, Eastern Suburbs has claimed a big scalp by overcoming Eastwood. The Beasties knocked off last year's runners-up 51-21 in a much-needed boost to their season. Henry Hudson was one of the best on the field, clockwork in his kicking. The Beasties will look to take their much-needed confidence into next week when they take on Randwick at Coogee.
Eastern Suburbs 51 (Will Paterson 2, Richard Stanford, Darcy Ecrich, Damon Anderson, Gab Bassmore tries; Henry Hudson 6 cons, 3 pens) d Eastwood 21 (Pierre Hola, Tom Hill tries; Pierre Hola con, 3 pens) at TG Millner.
  Team

P

W

D

L

F

A

Df

BP 4t

BP <7p

BP

Pts

Manly

8

8

0

0

312

126

186

7

0

7

39

Warringah

8

7

0

1

253

197

56

6

0

6

34

Sydney University

8

6

0

2

302

145

157

5

2

7

31

Eastwood

8

6

0

2

287

210

77

5

1

6

30

Randwick

8

4

0

4

186

154

32

2

3

5

21

Southern Districts

8

4

0

4

212

245

-33

4

1

5

21

Parramatta

8

3

0

5

202

242

-40

5

1

6

18

West Harbour

8

3

0

5

256

245

11

4

1

5

17

Eastern Suburbs

8

3

0

5

170

231

-61

3

1

4

16

Northern Suburbs

8

2

0

6

147

227

-80

0

2

2

10

Gordon

8

2

0

6

126

283

-157

0

0

0

8

Penrith

8

0

0

8

210

358

-148

5

2

7

7

 P=Played   W=Wins   D=Draws   L=Losses   F=Points For   A=Points Against   Df=Points Difference   BP 4t=Four Tries   BP <7p=Close Losses   BP=Total Bonus Points   Pts=Ladder Points