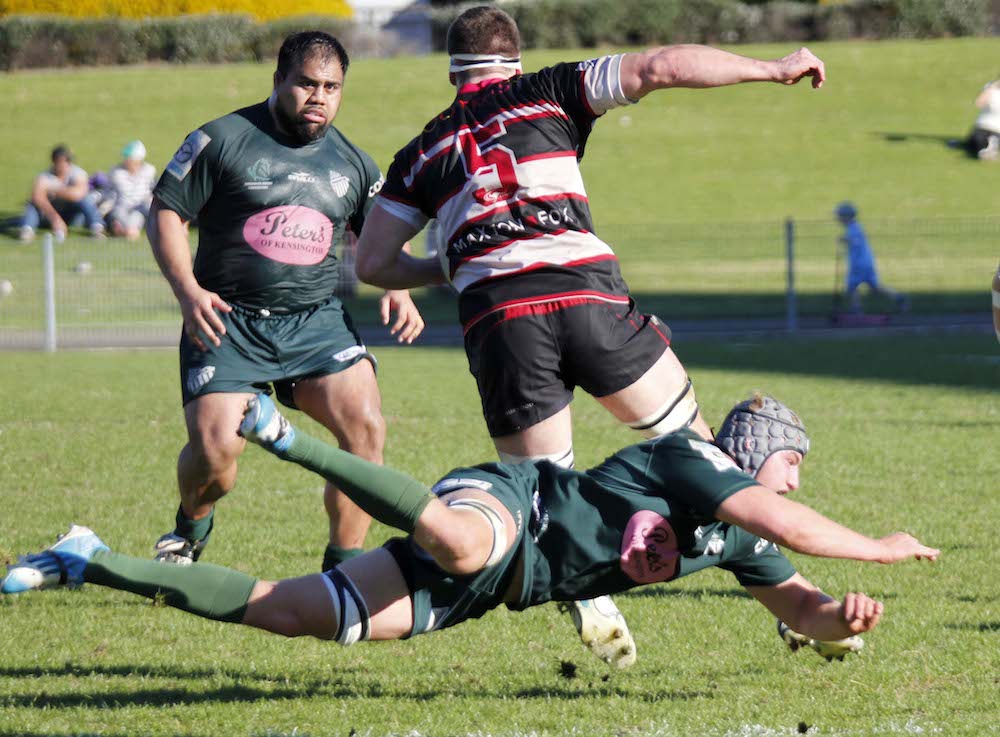 Randwick has come out on top of West Harbour, overcoming the Pirates in their Round 13 Magners Shute Shield clash at Concord Oval yesterday.
By Ben Harrison
Also grabbing wins on Saturday were Sydney University, Eastwood, Southern Districts and Warringah, with Manly taking the honours in today's afternoon encounter with Parramatta.
The 38-26 scoreline is the Galloping Greens' sixth win of the season and lifts them to fifth on the overall table.  Although the Pirates came out on top 26-22 when the teams first met in Round 6, yesterday's loss is their second in as many weeks and they now sit in eighth overall, two places out of finals contention.
Randwick prop Tristan Goodbody crossed for a double and was ecstatic with his side's performance.
"I don't get to score many, so to get a double I'm stoked!  It's not just my try though, the team got me in the position for me to put the
finishing touches on it."
The modest big bopper claimed he gets a lot of extra attention for his try scoring. "The boys give it to me about being a bit of a seagull, which basically is someone who waits out on the fringes for the ball near the line!"
Hitting back after last weekend's 24-19 loss to Warringah, Goodbody noted it was important they keep the consistency going. "It is really pleasing to hit back after the tough loss last week.  Our scrums where a bit iffy but I thought we dominated the lineout, which is good.
"We had to cut down on our errors and I thought we did that today.  We just need to keep the ball rolling and really maintain the efforts from today and build consistency."
Another stand out in his side's win was Harry Boileau.  "It was a good day for us. We talked about a few simple things we needed to fix in order to make up for last weekend's loss at Rat Park," said Boileau.  "I'm very happy with my performance today after last week, it's a big confidence boost that's for sure."
Harry also praised the effort of his newly appointed captain Toa Asa, who was exceptional in their win. "Toa was everywhere, he is inspirational the way he leads from the front and really laid a platform for me to work off."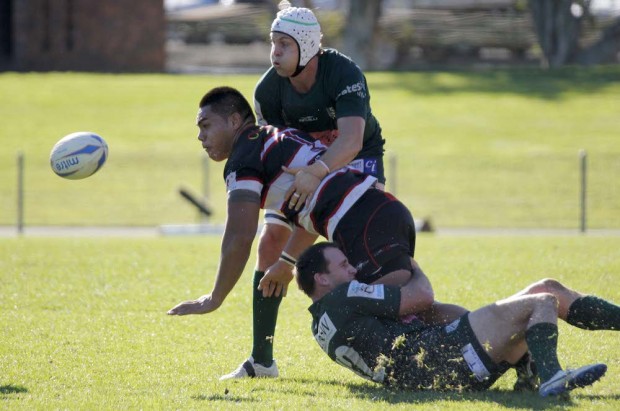 West Harbour flanker Cohen Masson was disappointed by his side's lack of ball control but made certain there where positives to build on after the loss. "We've been lacking a lot of consistency the whole year, we switch off at crucial times and we just simply cannot do that. I though we ran the ball well though when our passes stuck and really showed the pace in our side so we can build off that."
"We need to be strong for the entire 80 minutes. If we are any chance of being up there with the likes of Manly and Uni, we need to compete for the entire match. Cutting down on errors and silly penalties is a must and when we do that we can make a push for the top six".
The match kicked off at 1pm to accommodate the Test match and it was West Harbour who got the scoreboard ticking first through try-scoring machine Usaia O'Sullivan, who took an intercept to run 80 metres untouched. But Goodbody crossed soon after for the Wicks for his first of the day, and Ethan Ford picked up a try just before half-time, to give the Galloping Greens a 14-7 half-time lead.
It did not take long for the big prop to get the ball rolling again after the break, with Goodbody crossing for his second just 10 minutes into the second half. The razzle dazzle was out when the Pirates picked up their first five-pointer of the second period, with Joel Brooks finishing off a superb back line move to finish off a contender for try of the season.  But just as Wests started to gain some momentum, Sam Figg grabbed one for the Wicks against the run of play.  O'Sullivan picked up his second of the afternoon, beating numerous defenders and really showcasing his elite footwork.
Debutant for the day, Randwick fullback Andrew Deegan stepped up and slotted a 40 metre penalty goal before Pirates' flanker Cohen Masson burst the defensive line to score in the corner.
With five minutes remaining, Ford completed his brace, giving the Wicks some breathing space which they held on to for the win. Deegan was in superb form with the boot, kicking six out of six and finishing with 13 points in the bonus-point win.
Randwick will next host a red hot Eastwood side at Coogee, while West Harbour will travel to Sydney University to take on the Students.
Randwick 38 (Ethan Ford 2, Tristan Goodbody 2, Sam Figg tries; Andrew Deegan 5 cons, pen) d West Harbour 26 (Usaia O'Sullivan 2, Joel Brooks, Cohen Masson tries; Sai Vakarau con, Alofa Alofa 2 cons) at Concord Oval.
The Students continued their last surge for title contention with a superb second-half performance to shut out Norths at North Sydney Oval. Uni led by just one point at the halfway mark however strong performances from speed machines Jack Macklin and James Dargaville secured the bonus-point win for last year's champions, against a spirited effort from Norths, who really took it to the Students' pack.  The win sees the Students move up to fourth overall, three points behind Warringah and Eastwood, who both sit on 52 competition points.
Sydney University 39 (Jack Macklin 2, James Dargaville 2, Henry Clunies-Ross, James Nonu Carling tries; James Macklin 3 cons, pen) d Northern Suburbs 19 (Ben Matwijow, Richard Woolf, Michael O'Hea tries; Jack Grant 2 cons) at North Sydney Oval.
The Woods made it three wins on the bounce with a 55-10 rout over a non-the-less spirited Gordon side. The Eastwood back line proved too strong for the Highlanders, with Mick Snowden, Michael McDougall and John Grant each bagging a double in the nine-try win.  The win sees them sit second overall, ahead of Warringah only by points difference.
Eastwood 55 (Mick Snowden 2, Michael McDougall 2, John Grant 2, Ben Batger, Nick Batger, Penalty try; Ben Batger 5 con) d Gordon 10 (Matt McDougall try; Terry Preston con, pen) at TG Millner Field.
The Rebels held off a strong Penrith side to run out 20-point winners. A host of changes saw Penrith stay close with Souths until the end in an entertaining game-cum-try scoring marathon that saw both sides pick up a bonus point.
Southern Districts 44 (Jono Hayes 2, Marcus Carbone 2, Faleula Finau, Ollie Samuela tries; Rohan Saifoloi 4 cons, 2 pens) d Penrith 22 (Sione Pusi'aki Fifita, Pita Tapou, N Tauafao, Wise Torua tries; Robbie Mate con) at Forshaw Rugby Park.
In the late game, a strong-finishing Warringah outfit held out Eastern Suburbs to take the win by a 15-point margin. The Rats were aggressive particulary at the breakdown, with Martin Collins backing up his efforts from last week to cross for another try.
Warringah 26 (Martin Collins, Boyd Killingworth tries; Hamish Angus 2 cons, 4 pens) d Eastern Suburbs 11 (Archie King try; Warwick Percival 2 pens) at Pittwater Rugby Park.
The final match of Round 13 between leader Manly and Parramatta took place this afternoon, with the Marlins scraping home with a 28-15 home win over their western rival. The Manly Oval encounter was a fiery one and played in front of a healthy crowd out to enjoy Sunday afternoon action.  Although the visitors notched up two tries, the giant Manly pack proved too strong for the Two Blues, who none the less showed enough promise to suggest they will prove a handful as the season progresses.
Manly 28 (Greg Peterson, Lui Siale, Maile Hingano tries; Dane Chisholm 3 pens, 2 cons) d Parramatta 15 (Larry Hermans, Taqele Naiyaravoro tries; Tom Woods con, Chris Nay pen) at North Sydney Oval.
Magners Shute Shield ladder (after 13 rounds)
  Team
P
W
D
L
F
A
Df
BP 4t
BP <7p
BP
Pts
Manly
13
13
0
0
534
214
320
11
0
11
63
Warringah
13
11
0
2
392
307
85
7
0
7
51
Eastwood
13
10
0
3
497
327
170
10
1
11
51
Sydney University
13
9
1
3
461
258
203
8
2
10
48
Randwick
13
6
1
6
304
307
-3
3
4
7
33
Parramatta
13
6
0
7
354
400
-46
8
1
9
33
Southern Districts
13
6
0
7
344
372
-28
6
2
8
32
West Harbour
13
5
0
8
383
378
5
7
1
8
28
Eastern Suburbs
13
4
0
9
267
388
-121
4
2
6
22
Northern Suburbs
13
3
0
10
286
397
-111
4
3
7
19
Penrith
13
1
0
12
337
568
-231
8
2
10
14
Gordon
13
3
0
10
219
462
-243
1
0
1
13
 P=Played   W=Wins   D=Draws   L=Losses   F=Points For   A=Points Against   Df=Points Difference   BP 4t=Four Tries   BP <7p=Close Losses   BP=Total Bonus Points   Pts=Ladder Points