In the lead up to this first Wallabies versus England test in Brisbane, Dan Cole the England tight head spoke about how his side had completely re-built their scrum from the ground up.
England undoubtedly came out on top of the refereeing points decision in Brisbane, winning three penalties to one with a Yellow Card on Scott Sio to boot. Joe Marler wasn't there, but just how different was the England scrum?
Let's have a look at the scrum analysis leading up to and including Sio's card to see.
---
35:00 England THP Cole penalised for hinging
It takes an age until the first scrum but here it is.

In some ways this is an easy article because there are actually only two types of scrums in it.
This first type we see the most and here are its key characteristics:
Note the angle between Cole's (near side England prop) thighs and his back. It's an acute angle because he's essentially absorbed all of Sio's forward momentum by hinging – hence the penalty. Also remember how it pops his bum into the air as it happens.
Note how Cole's bind changes from impact to collapse. It goes from long to short and pulling Sio down and in.
Note Sio's left foot – it stays planted from the engagement and doesn't chase up.
It's all very straight forward and a carbon copy of what Cole did against Sio in the world cup pool match; Cole knows Sio and the Australian pack are anxious to win the engagement and he's determined not to give that to them, even at risk of a penalty. This time it goes against him.
---
39:42 Sio penalised for collapsing scrum
Just four minutes later we have a carbon copy, even though the angle of the camera is from the top of the scrum.

Again, note Cole hinging back. Note how Sio's left foot doesn't move and as a result he is over-balanced forward (extended). This makes it easy for Cole's right bind to pull Sio down and in. What's different though is this time the referee team penalise Sio for collapsing, not Cole.
---
51:04 Australia penalised for wheeling scrum
We don't always look at reset scrums for the storyline, but this is an exception. Here's the reset scrum before the wheel.
Seen that before? That's right, same as the previous two.
Poite has been put in a corner – he can't keep having the scrum collapse or someone's going to have to pay. He's clearly hovering over who to blame though – it's been one penalty apiece. So he re-sets.
If Poite is in a quandary, so is Sio. He's trying to stay square and go forward, but by doing so he's being dropped to the dirt. If he doesn't go forward he loses the engagement, and if he chases his left foot up too far in an effort to balance better, he either drives too early or sets himself up to go backwards later.
This is where the second type of scrum appears, and it's again familiar from the World Cup – just that it's using Mako Vunipola as a protagonist at loose head, not Joe Marler.
It's the bore and wheel. Vunipola monsters Holmes from the side (note how he drops his bind to do so) destabilising the tight head anchor of the Wallaby scrum.
Cole doesn't drop Sio, but instead holds him and together with the rest of the England pack walks around the Aussie loose head – Sio is the one player who stays relatively still.
While Poite is clearly confused, you can tell which side walks the scrum around by looking at the final frames of the gif. Which of these two packs below looks like it's trying to go sideways?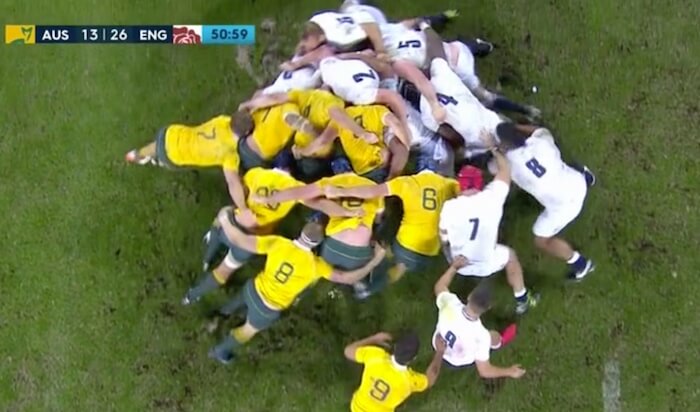 England haven't actually done this to fox a walk around penalty, they've done it to simulate dominance over Sio; while from above we can see Sio is the pin in the wheel, to the ref at ground level it can look like the scrum coming through Sio's side.
The effect England want is for Poite to think that first Sio has gone down, and then after the reset he's gone backwards.
And the plan comes together in the very next scrum
---
53:40 Sio Yellow Carded
First, the reset that Cole drops; watch him drop back and in.

Poite has had enough. He warns the two to keep the scrum up, and clearly has an eye on Sio.
Which sets us up perfectly for the bore and wheel:

Note the height of Sio and how far forward his foot is compared to the first scrums. He's now paranoid about being dropped by Cole.
Instead, Vunipola comes through the side of Holmes and the whole England pack drives through onto Moore and a poorly balanced Sio, who move backwards and sideways under the pressure.
Job done by England and it's bye bye Sio.
---
So what?
At this point you can choose your own adventure – you can rant about the blatant illegality of the England pack and a misguided referee team (whinge), or you can join the queue of those lining up to blame it on Sio's inexperience. I'll leave that to you.
For England, they must surely be high-fiving on a plan that could not have worked better.
For the Wallabies, they'll no doubt be looking at personnel changes that you would think would make it difficult for Cole to keep playing the same trick. They'll also be working on getting back to a tighter drive that shears Vunipola off should he decide to angle out through the bore and wheel.
Bring on Melbourne.