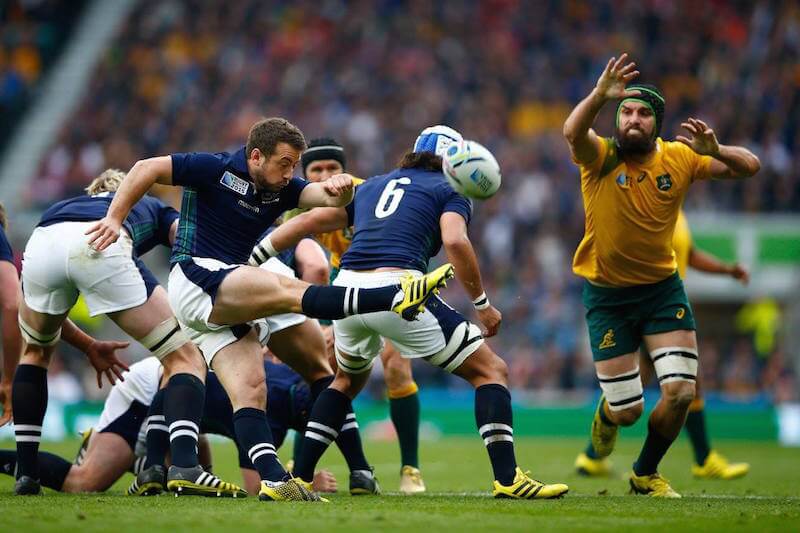 "Used up our 'Get Out of Gaol' Card" (Bernard Foley)
Have to be happy with the win even if it was winning "ugly".
The Wallabies were almost outworked by Scotland who was behind in most of the key statistics.
The Wallabies had the most of Possession (55%) and Territory (62%) and showed the better running game: 112 runs for 345m and 17 Defenders Beaten compared to Scotland's 79 runs for 250m and 10 Defenders beaten.
Both side tackled well with the Wallabies an impressive 86 from 96 attempts (90%) and Scotland 117 from 134 attempts (87%).
Mauls, Lineouts and Scrums were fairly even, however, the Wallabies' scrum showing none of the improvement that's been developing over the past few games.

Of concern again was the Wallabies 17 Turnovers conceded against Scotland's 8.
Neither team developed any form of ruck dominance with Wallabies winning 80 from 83 (96%) and Scotland 60 from 62 (97%).  However, from the start, and for lengthy periods during the game, the Wallabies lacked speed and intensity and were simply outmuscled, and frequently out-numbered, by the hard-working Scots.  The Wallabies certainly missed Pocock's work rate, and turn over capability (10TOW in his 3 pool games), earning only 3 TOW against Scotland's 5 TOW.
Remember:
Early means 1st or 2nd of player's team AFTER the ball carrier has been tackled and brought to ground.
Impact means active engagement: strong physical contact, changed shape of ruck, clean-out, protecting ball etc. (more than hand on someone's bum or arriving after the hard work has been done).  Yes it's subjective – but as I collect all data at least it's consistent.
Impact DOES NOT equate to Effectiveness. I've concluded that coming up with an effectiveness measure is just too hard in the time that I have available – but open to suggestions.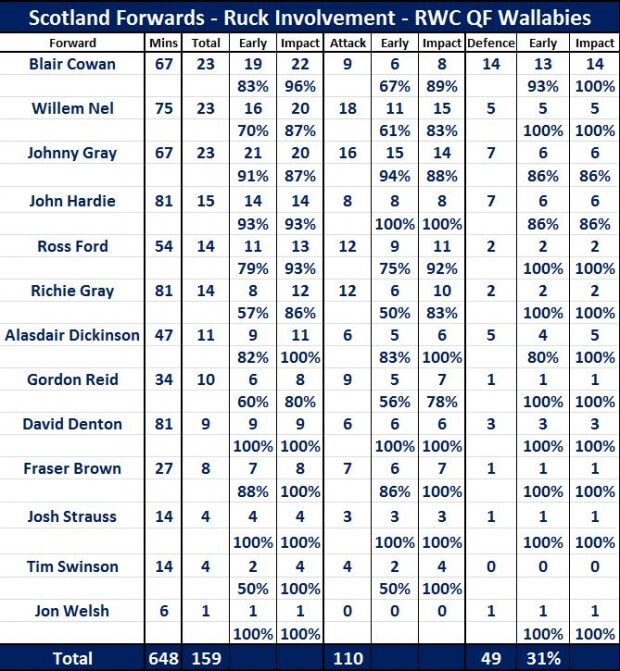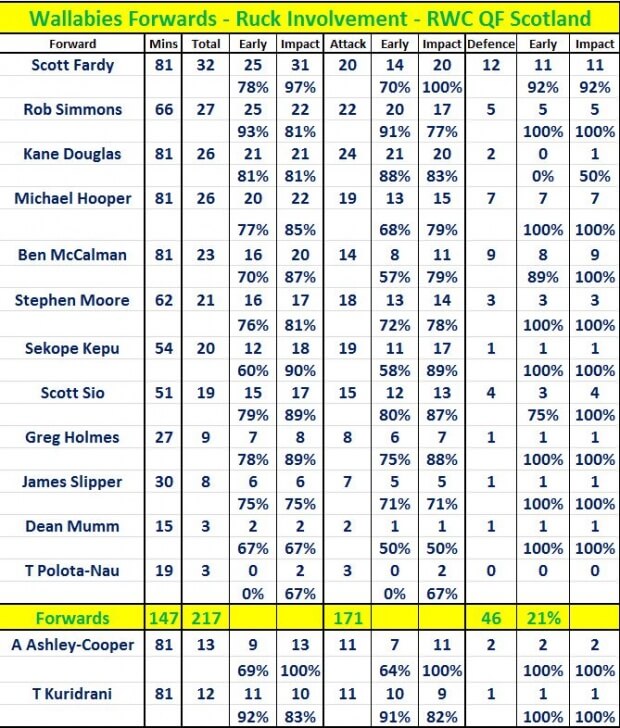 Comments:
As commented upon following the Ireland v France analysis, if the ruck stats during the pool games are "normalised" over 80 minutes, the averages for the Wallabies starting 8 Forwards are as follows:
Pocock – 35
Fardy – 32
Hooper – 27
BACK ROW – 94 rucks (48% of Forwards)
Douglas – 23
Simmons – 22
LOCKS – 45 rucks (23%)
Sio – 19
Moore – 19
Kepu – 19
FRONT ROW – 57 rucks (29% of rucks by Forwards)
Against Scotland both Fardy and Hooper worked at their usual level.
However, there was a lift in ruck involvements by all other players by about 10 rucks over a full game.
McCalman has only had one other full game. His ruck involvements were only marginally below his work rate against Uruguay (26T: 19A/7D).
The improvement in ruck involvements by the Front Row (all to about 30 per 80 minutes. This was equivalent to their best against Wales) raised their contribution of Total ruck involvements by Forwards to 37%.  This is competitive against other top-tier nations.   Scotland's Front Row involvement was 42%.  I have discussed the importance of this aspect previously.
For both sides, the Back Row contributed about 60% of the Defensive Ruck involvements by Forwards.
Scotland's Backs were more involved in rucks with 25% of Total Ruck involvements against the Wallabies Backs 20%.
In Pocock's absence, Fardy had the leading involvement in Defensive Rucks but was generally worked over by Scotland's 2 Open Side Flankers. Both McCalman and Simmons were above their involvement in Def Rucks.
With 2 Open Side Flankers Scotland were more involved in Defensive Rucks which made up 31% of Total Ruck engagements by Forwards. The Wallabies with only 21% were obviously standing off defensive rucks.
The Wallabies had almost double the number of Attacking Ruck involvements which reflects the higher amount of Possession and Scotland's aggressive pressure on the Wallabies ball carriers.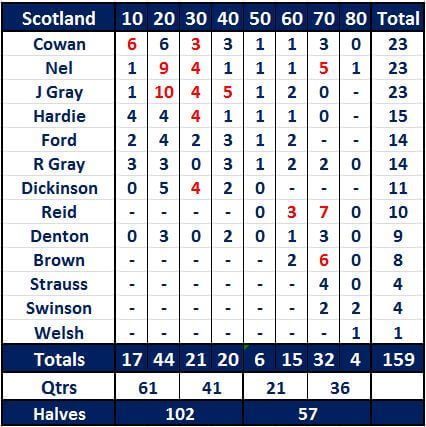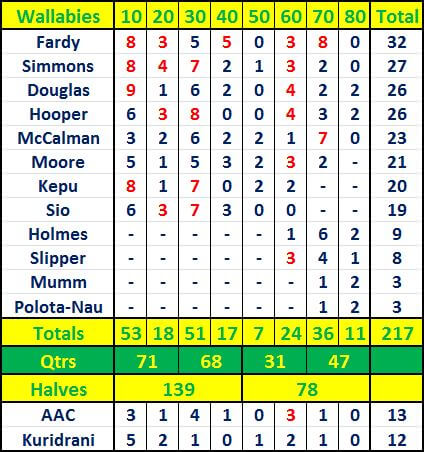 Comments:
The Wallabies quickly adjusted to Scotland's aggression and work rate at the breakdown. However, the Backs were playing very deep and were generally not as involved as usual.  Too often the Wallabies ball carriers were isolated.  Good support came eventually
Both Douglas and Simmons showed an improvement in timely support of the Wallaby ball carriers.
The Wallabies Forwards generally matched their Scotland counterparts during the game with about 35% more Total Ruck involvements.
During the 10-20 minute period Scotland's Forwards really attempted to unsettle the Wallabies with particularly strong efforts by J Gray, Nel, Cowan and Outside Centre Horne who had the leading Ruck Involvements for Scotland (30T:20A/10D & 1TOW).
Looking Forward:
 The Wallabies need Pocock in the Back Row and at the breakdown if we are to go further in RWC 2015.
The Front Row has shown against Wales and Scotland that they can lift their ruck involvements to about the same level as other top-tier nations.
If the Front Row is more active at rucks then not only does it spread the load of ruck involvement but it frees up our Back Row ball carriers to be more creative and involved with the Backs.