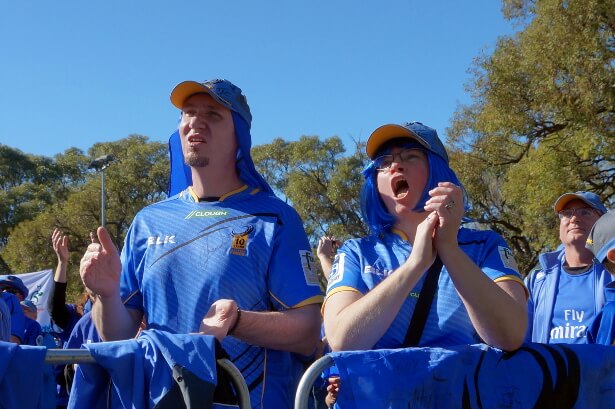 This piece has had several starts over the last couple of months – usually ending in me shouting at the computer, threatening death to social media trolls. Long, angry, rambling rants that go off multiple tangents or just staring blankly into space despondently.
So here we go…
The Western Force was my team, come hell or high water the Force were my team, All Day! Every Day!
As a family we had been there from the start, the first rallies, the first game, the first open days, the first win, taking my young boys to their first rugby games, meeting and making some of my best friends through the Force. (Jan and Lora – I'm looking at you). Touring to the Eastern states, and touring to South Africa to watch the Force play against the Sharks at Kings Park in Durban where I had grown up.
Getting into coaching junior rugby here in Perth and meeting what has become my extended family and having loads of Force players attending and running drills at practices over the years, attending matches with the junior teams and having the kids shouting out for the players that they had met. What it is all about!
As a family we were there at the end – getting ushered out of the Force Field by security 3 hours after the Force v 'Tahs match when Hodgo had finally finished his lap thanking everyone that was there.
It has been a team that has meant so much me – through every up and down – then gone.
But this isn't what this article is about. I love the game of Rugby Union, I love being part of my local club (Perth Bayswater). Don't much care for political, inept and financial or corrupt side of things, more so the rabid tribalism of supporting my team is where you'd find me.
Now, while WA works on rebuilding an elite rugby team – I'm a rugby fan without a Super team.
This is where you come in. The Force players and Coaches have been moved around the country and I'm left wanting every single member of the Force to play beautiful attacking and devastatingly defensive rugby, but battling with being able to support any other team.
Now, yes this opens up the potential for keyboard warriors and social media trolls to do their thing, but figure we are now moving past these types that didn't get enough attention as children, and can have a decent debate on this.
Sell me your team, don't go about rubbishing everything else about every other team.
Remember the good times and why you support, cheer, love your team and sell that to me.