The Brumbies put on a commanding performance at Suncorp easily accounting for the injury depleted Reds for a 29-0 bonus point win.
The Brumbies were cohesive, disciplined, well-drilled, energetic and provided strong support in all aspects of the game.
The Reds' performance lacked any real venom or intensity with some key players being totally out-muscled at the breakdown.  The Reds struggled to retain possession (41%) and make any territory gains (42%) against an effective Brumbies defence.
Remember:
Early means 1st or 2nd AFTER the ball carrier has been tackled and brought to ground.
Impact means active engagement: strong physical contact, changed shape of ruck, clean-out, protecting ball etc. (more than hand on someone's bum or arriving after the hard work has been done).  Yes it's subjective – but as I collect all data at least it's consistent.
Impact DOES NOT equate to Effectiveness. I've concluded that coming up with an effectiveness measure is just too hard in the time that I have available – but open to suggestions.
REDS v BRUMBIES – WHAT DO THE RUCK STATISTICS TELL US?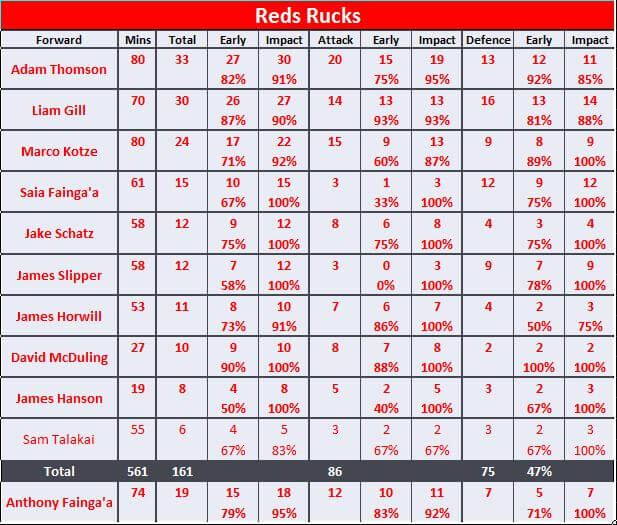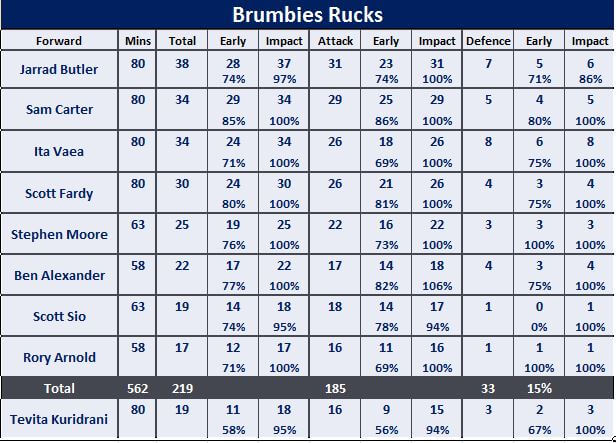 Comments:
Ruck involvement by the Reds forwards appeared subdued as they were generally on the back foot and standing off most of the rucks in defence. Nevertheless ruck engagements in defence almost equalled rucks engagements in attacks.  The Reds forwards still managed to pressure seven turn-overs (two each to Adam Thomson & James Horwill) from 75 defensive ruck involvements.
Ruck involvement by the Brumbies forwards showed very strong support for the ball carrier and intimidating numbers in defence. Brumby Forward rucks in attack outnumbered rucks in defence by nearly 6:1.  However, Brumby forwards still gained four turnovers from 33 defensive ruck involvements.
Jarrad Butler was the standout rucking forward and No7 making a match-high 38 rucks. His ten rucks in the opening ten minutes of the 2nd half led the Brumbies to stifle any Reds resurgence.  He also had an equal match-high 12 tackles (92%); 1 turnover.  Buttler is not a strong ball carrier however with four runs for no metres.
Liam Gill toiled all game but was overwhelmed by the Brumby forward dominance.  He appeared set back by the sin binning but lifted for a desperate last 20 minutes.
Ita Vaea was clearly the stand-out No8 with an 80-minute rucking effort, eight tackles (89%), ten runs for 32m, two defenders beaten, one TRY, 1 turnover.
Adam Thompson outpoints Scott Fardy for the standout No6 due to his team-high ruck involvement in a losing team plus equal match- high 12 tackles (92%), one turnover.
Sam Carter leads the lock efforts with a sustained level of ruck involvement; 1 turnover. Mark Kotze continues to show a high ruck involvement. James Horwill made 6 tackles (86%), made two turn overs but made no carries. Rory Arnold showed the best running game of all the locks with ten runs for 11m.
Ben Alexander the standout front rower for his much improved rucking performance, good running game with seven runs for 17m, two TRIES. Commendable effort by Stephen Moore.
Commendable ruck involvements by backs for Tevita Kuridrani with strong support for the Brumbies ball carriers; Anthony Fainga'a, who works way above his weight, and particularly in defence (12 tackles – 86%); Henry Speight four turnovers; Matt Toomua two turnovers.
THE FOLLOWING TABLES SHOW RUCK INVOLVEMENT FOR EACH 10-MINUTES OF THE MATCH.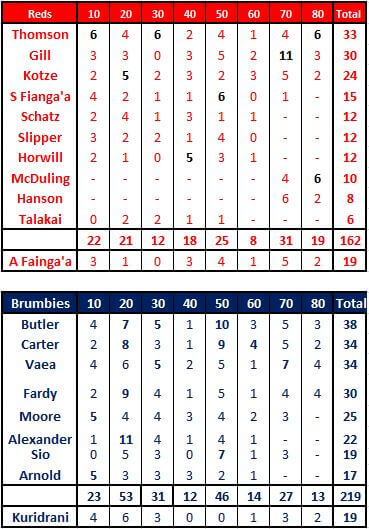 Comments:
Commendable near-80 minute efforts by Butler, Carter, Vaea, Thomson, Gill, Fardy and Kotze.
Some big efforts (ruck/minute) by the Brumby forwards in the 10-20 mins and 40-50 mins when the Reds were attempting to lift.
Outstanding 10-min efforts by Gill, Alexander, Butler, Carter and Fardy.
 Other significant ruck efforts:
Reds                     
Chris Kuridrani  – 11 rucks (72%/91%).
David McDuling (27min) – 10 rucks (90%/100%)
Brumbies           
Smiler (22 min) – 14 rucks (86%/100%)
Leali'ifano  – 12 rucks (83%/100%);