In 2015 it appears that most rugby sites are using the same SANZAR individual player statistics. The phone app Vodacom Rugby Stats appears to have some major differences, but is still the only site which provides running totals for the SXV season.   None of these sources provide any useful Ruck statistics.
Prior to the EOY Tests last year I became frustrated by this lack of Ruck Stats and decided to gather some Ruck Stats of my own.
RugbyReg published these ruck statistics for the Wallabies' EOY tour under a G&GR Bureau of Statistics heading on 3 December 2014.
In 2015, when time permits, I aim to continue to provide Ruck Stats for Western Force games, and for Wallaby Tests in the RC and RWC.
As discussed last year, the system isn't perfect:
Early means 1st or 2nd AFTER the ball carrier has been tackled and brought to ground.
Impact means active engagement: strong physical contact, changed shape of ruck, clean-out, protecting ball etc. (more than hand on someone's bum or arriving after the hard work has been done). Yes it's subjective – but as I collect all data at least it's consistent.
Note:   Impact DOES NOT equate to Effectiveness.  I've concluded that coming up with an effectiveness measure is just too difficult in the time that I have available.
Waratahs vs Western Force – What do the Ruck Statistics tell us?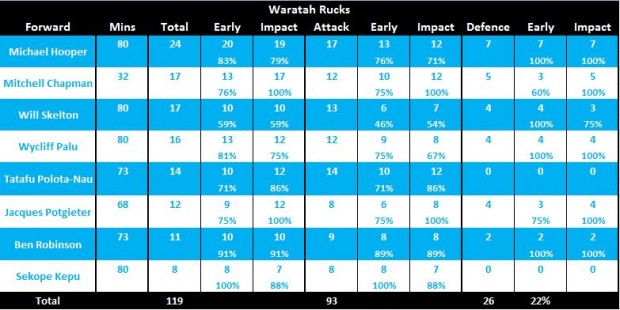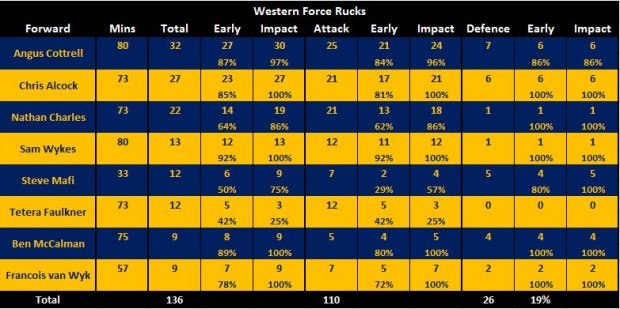 Comments:
Both sides showed the same trend which began in the latter stage of the 2014 RC and continued through the EOY Tests: standing off defensive rucks and only engaging when there was a clear advantage and opportunity to gain a turn-over. For both side's rucks in Attack outnumbered rucks in Defence 4:1.
By any measure Angus Cottrell had the best Ruck Stats from either side.
Chris Alcock outpointed his opposing No7, Michael Hooper, with better early engagement and impact rewarded with 2 turnovers to Hopper's 1.
Nathan Charles put in the type of effort, and strong support for the ball carrier, which helped gain him Wallaby selection in 2014. TPN marginally earlier to rucks but similar impact.
Mitch Chapman's work rate for his 32 minutes was impressive.
Will Skelton is slow to arrive with minimal impact. His solid defensive ruck involvement was rewarded with 1 turnover.
Steve Mafi's stats (33 minutes only) are much the same as Will Skelton's for timing and impact but with higher involvement. Mafi also earned 1 turnover.
Sam Wyke's involvement was comparable to that of Jacques Potgieter.
Wycliff Palu had more ruck engagements than Ben McCalman. However, McCalman arrived earlier, had more impact and earned 2 turnovers.
Francois van Wyk was the best performing Prop (57 mins) with 1 turnover. However Ben Robinson also put in a sound effort.
Sekope Kepu had the least ruck engagements of the Waratah forwards but with better arrival and impact than he showed in the EOY Tests.
Ruck involvement was clearly not a strong point for Tetera Faulkner with slowest arrival and minimal impact.
The following tables show ruck involvement for each 10-minutes of the match.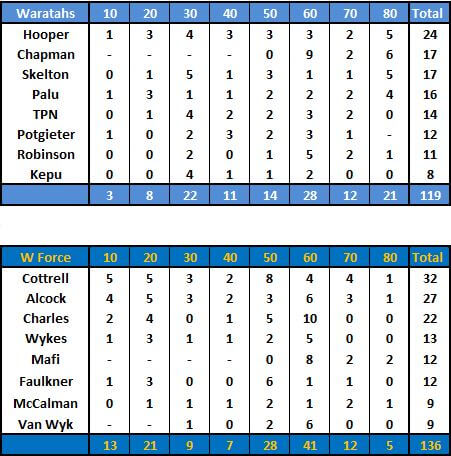 Comments:
With the standing off on Defensive rucks, to some extent, these stats mirror possession.
The Waratahs were effectively "missing" from ruck engagement for the first 15 minutes.
The consistency of players such as Hooper, Cottrell and Alcock is clearly apparent.
Other commendable ruck efforts:
Waratahs       
Horne – 12 rucks (58%/83%); Foley – 11 rucks (100%/100%);
Beale – 11 rucks (82%/73%); Ashley-Cooper – 10 rucks (90%/100%)
Force          
Brache – 11 rucks (91%/91%); Rasolea – 10 rucks (80%/90%)
Coleman (47 mins) – 9 rucks (89%/100%); Ebersohn – 8 rucks (75%/75%)