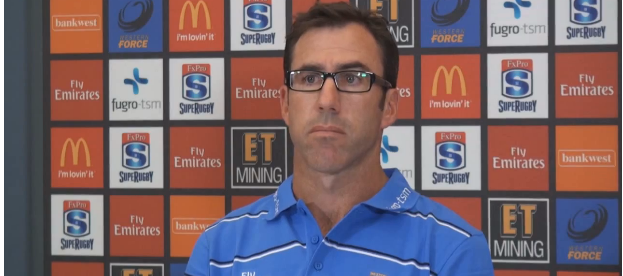 In a shock move, Richard Graham announced his resignation from the Western Force this afternoon.
He will be leaving at the end of this season to join the Reds for 2013 where he'll become the head coach and Ewen McKenzie will take a less hands-on role as director of coaching.
Graham was due to coach two more seasons in the west, but was approached by the Reds to take up the position from next year.
Going from head coach of a struggling team to the defending champions is a step up for Woody, who said: 'As a career coach I felt it was something I needed to do but I wish to make it clear that it is in no way a reflection on RugbyWA or the Emirates Western Force.'
Whatever the reasons, having a lame duck coach for the rest of 2012 can't be a good thing for the Force, who have been in patchy form already this season.
The timing of the announcement is interesting, coming just weeks after the Reds announced a $2 million profit for 2011.
The appointment may well symbolise a shift to a more assertive QRU that now has the cash to appoint who they want, how they want.
Perhaps the most important question is what does this mean for the Wallabies?
Robbie Deans' contract is due to run out at the end of 2013, when McKenzie will switch from the Reds' 'director of coaching' to 'director of rugby.'
With a transferring of power from Link to Graham, it looks a lot like McKenzie is planning to time his run exactly for the next opening as head coach of the Wallabies.
The QRU announcement is coy, simply saying Link will 'take on a broader rugby role and… undertake new responsibilities in managing major rugby strategy.'
I guess Australia is broader than Queensland…
What do you think, is this a good thing for the Western Force – or for the Reds? Does it have to mean change at the top for the Wallabies?
We're hoping to get Woody on the podcast this week, so stay tuned for more developments.
[youtube]http://www.youtube.com/watch?v=_pEd5Xw99uU[/youtube]