The public standing down of Super 14 referee Paul "Skid" Marks this week for "imbalance from a management perspective" seems to have marked a new official openness in discussing referee performance. If that's the case, I'd like like to submit to the SANZAR panel a piece of evidence for long-term referee imbalance that's far more conclusive than the footage of Kurtley's knock on last weekend.
In the table below is a summary of Jonathan Kaplan's Super rugby refereeing history with the Waratahs, together with a few comparisons.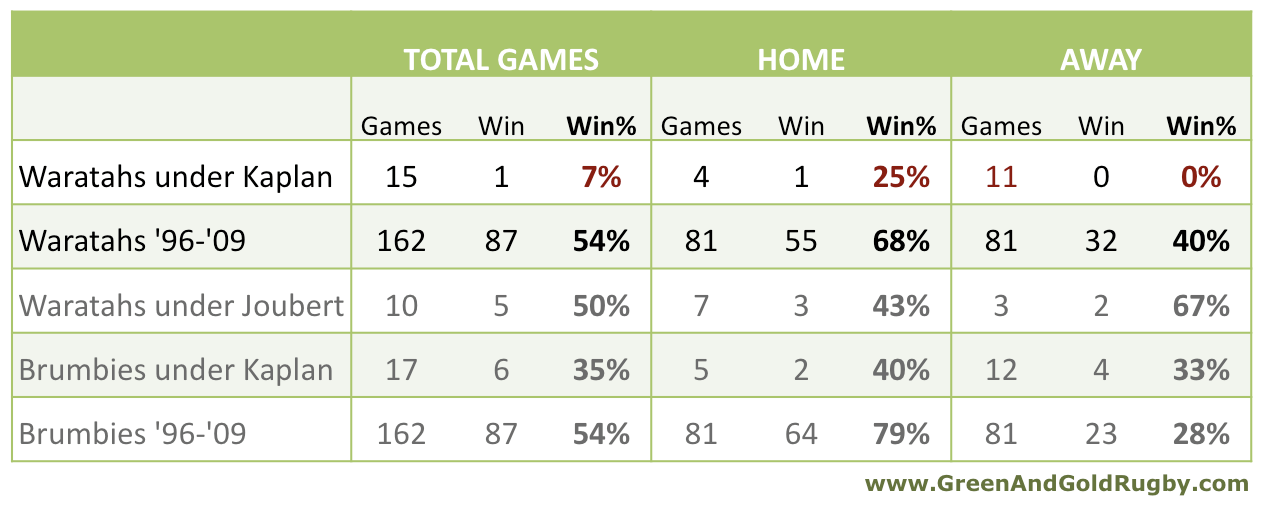 The first thing you'll notice is that with Kaplan having been in charge of 15 Waratahs games over the years, they've managed to win one solitary, game, and that was at home. Compared with the Waratahs win ratio both home and away over this period, this is beyond "imbalanced".
Now, if you take any referee's stats for a single team over a short time (say, less than 10 games) you will find discrepancies – that's just averages for you. Even in the teens, you'll see variations from the norm for all experienced refs (the Brumbies have won 80% of their matches under Stu Dickenson*). But of all the referee historical performances, at these levels, only one is skewed out of balance so remarkably, and it is Kaplan's.
So, if the SANZAR referees are happy to publicly strip a referee of his panel membership over one or two calls that were not straight forward (as the debate on this site has demonstrated), surely they must act where the proof is conclusive and unequivocal?
We look forward to more public and open debate, but aren't holding our breath.
*Note that these will be Australian derbies over a period where the Brumbies were very strong

Addendum
Some commentators have asserted that these stats are skewed because Kaplan could only have reffed Australian teams against New Zealand teams. This puzzles me, because it assumes that all Kiwi teams have been overly difficult to beat, and all South African teams easier to beat. Interesting, considering these comments so far have mainly been from IP addresses from South Africa.
A way to test this theory is to look at all other refs that we have data for over the Waratahs (those refs in the Super 14 as of 2009), especially the South Africans. Here's what you get: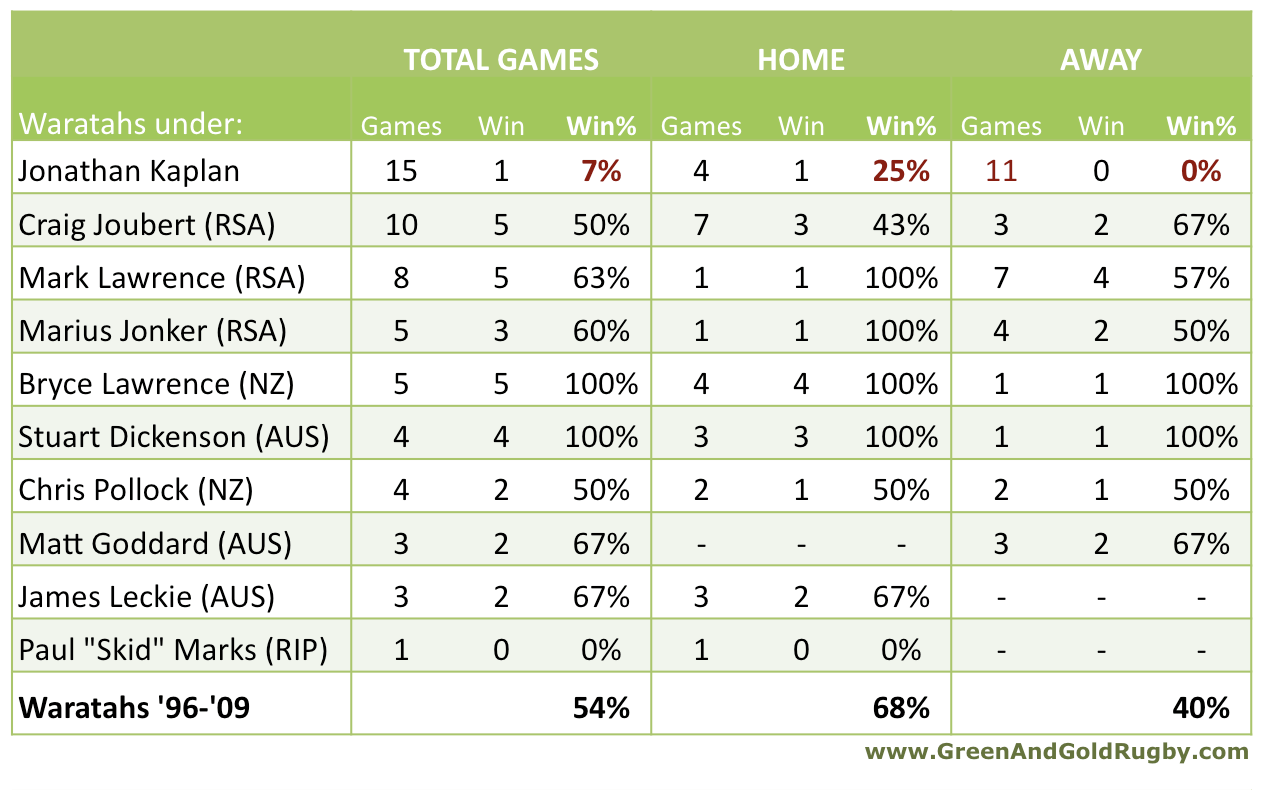 Even though there are very few refs with enough matches under their belts to draw too many conclusions from, I noticed two things:
1- The other South African referees are in line with the Tahs win average, so it doesn't have anything to do with playing New Zealand teams
2 – If it hadn't been for Kaplan, who knows where the Tahs might have got to! (OK, semi-joking).