The first round of the BLK Queensland Premier Club Rugby saw wins by Sunnybank over Souths, UQ over Bond, Easts over Norths and Brothers over Wests. Expect plenty of great action around the grounds this weekend, and here's 5 more things to keep an eye out for.
---
 1. Super X.
Theres plenty of chance to see some former Super Rugby players running around still in the club competition. Kimani Sitauti at outside centre for GPS against Easts was a former Melbourne Rebel and ACT Brumby. Vitori Buatava (pictured  below), a Fijian international who played for the Force, is at scrumhalf for Bond University versus Souths. Up against Buatava, running on at inside centre for Souths, will be former Brumbies squad member, Stephan Van Der Walt, fresh from a season under the guidance of Steve Larkham last year. Tajhon Mailata is another former Force lad who will be wearing the 12 jersey for Norths as they take on University on Saturday.
---
 2. The return of Brisbane's Hero!
The mighty Sunnybank Dragons have a few quality names across their side this weekend, but one that should jump out to many Brisbane City fans is Junior Laloifi. Laloifi is the flying winger, who possesses both the feet AND hair of the Artist formerly known as Prince, who scored a remarkable long range try in last year's NRC Grand Final at Ballymore to secure victory for the home team. Fresh off an off-season of 7s rugby we can expect to see many more scintillating efforts from Junior on the flank for the Bank.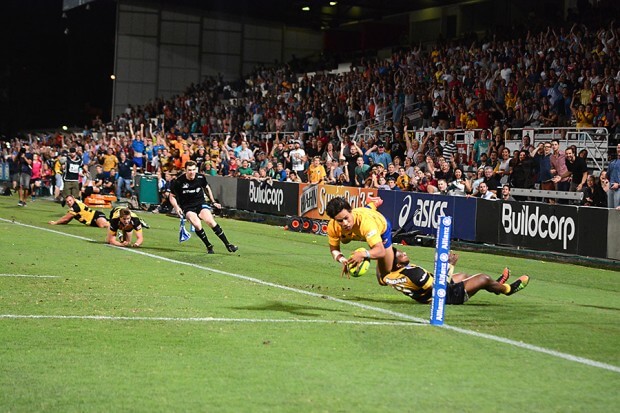 ---
3. Back from the National Stage
Speaking of Laloifi, he's one of many NRC stars that will take the field for their respective clubs this round. From the championship Brisbane team there is Jack Mullins and Toby White from Easts; Souths have David Feao; in addition to Junior, Sunnybank have Matthew Feaunati, Chazz Mahina and Rex Tapuai; and UQ have the Harry Badger (Harry Parker). Meanwhile there's a whole bunch of QLD Country players out there as well including Ryan Freney from GPS; Bond Uni will be running with locks Cam Bracewell and Sam Fattal; Souths have bullocking No 8 James Turner and UQ has Tonga Ma'afu and Jack de Guingand. Nor should we forget Sunnybank flyhalf Henry Taefu who played for the Rams down south in NRC as well.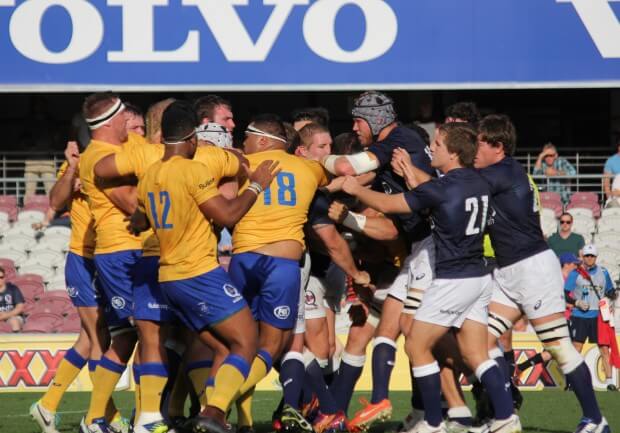 ---
4.The flying Eagle
Veresa Mataitini is back for Norths again this year, and out for his first run with his club on Saturday against UQ. The lightning quick Mataitini blew up Premier Rugby in 2013 by winning the leading tryscoring award in an absolute canter. He showed his abilities last year for Queensland A and his skills were apparent at the higher level.  He's back at his beloved Eagles Nest and his team mates will hope he can scorch the turf a few more times in 2015. If he does, you can expect to see him on the national screen later this year in the next iteration of the NRC.
---
 5. Galloping back to Tigerland
The QRU Match of the Round is, understandably, the 2013 Grand Final replay as GPS travel to Bottomley Park to take on the Easts Tigers in their first hit out of the year. Whilst GPS have representatives galore in the Queensland Reds squad at the moment, it leaves them with a fine balancing act to play with their Premier Grade team. Whilst they went down in a trial last week to a sharp Queensland Under 20 team, new coach Todd Dammers will be itching to get his lads out into real competition after a long off-season at Yoku. Easts won their first game against Norths with one of the stars being former Sunshine Coast and Red Heavy fullback, Elliot Hagen. The Tigers have a long history of exciting runners from the back and Hagen seems to be continuing the trend.
---
The games this round are:
Easts v GPS, David Wilson Field, 3:20pm
Bond University v Souths, Bond Uni, 3:20pm
Sunnybank v Wests, Oldmac Oval, 3:40pm
Norths v University of Queensland, Hugh Courtney Oval, 3:20pm
Brothers– Bye