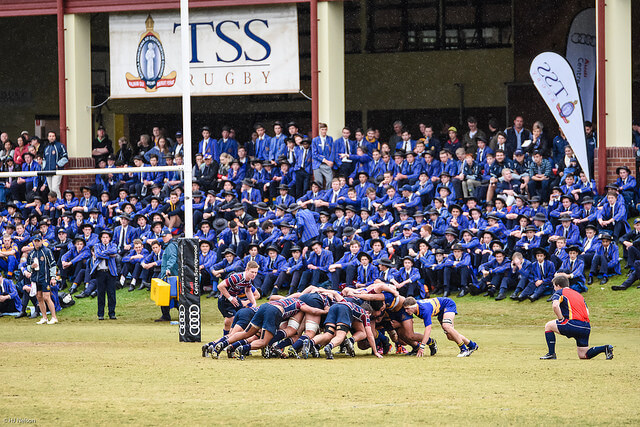 Throughout the week Green and Gold Rugby have interviewed most of the competition's head coaches, and the consensus reached is that 2016 will be the closest season of GPS First XV Rugby in memory.
Never before have the weaker GPS Schools been so close to the traditional super-teams. A stunning seven teams are in the running to win the lot.
The Southport School are 2016's clear favourites after dominant trial form.  TSS are a mostly unknown quality – but coaches know that they'll be the hardest to beat in 2016.
The perennially strong Nudgee College are also without National representatives, for the first time in history. Typically reliant on an arsenal of dominant players, Nudgee will instead have to rely upon it's gameplan to carry them to the top.
State High, who decided 2015's Premiership by knocking off Nudgee at Carina, have a multitude of returning star players and will be ready to retake their place on the GPS Rugby Podium
Also in contention are Gregory Terrace and BBC, the former reliant on a talented forward pack, a superstar flyhalf and the competition's best finisher.
BBC on the other hand boast a signed Melbourne Rebel in the tight five and a coaching brains trust that Super Rugby team's would be jealous of.
The sixth team in contention to win the lot is Toowoomba Grammar, who dominated GPS selections with a high number of returning players and are looking to snap a 57-year Premiership drought.
That's not to mention defending champions, Churchie, who lost the last of their bumper 2014 crop when NRL debutants Brodie Croft and Jayden Su'a graduated. The mission to defend their title now rests upon Australian Schoolboys duo Henry Sharp and Tristan Stanghorn respectively.
Rounding out the pack are the State's two oldest schools, Brisbane and Ipswich Grammar – who will prove no easy beats.
In short, every single school in the competition could defeat any other on their day.
The Premiership is wide open.
State High – In Depth
Last year, State High defeated both first-placed Churchie and second-placed Nudgee, delivering a premiership to the former by stunning Nudgee at Carina.
With seven returning starters from that First XV, State High have the potential to finally pull clear of the mid-table and return to GPS Rugby's podium.
According to head coach Sione Fukofuka, State High is ready to take the next step.
"We've been hoping to continue what we've tried the last three years – to play open, expansive rugby," Fukofuka said. "We've come a long way to re-establishing the identity State High has always been renowned for, in terms of physicality."
"We've got a pretty good balance of skilful, strong ball running forwards and then some speed and footwork out wide.
"Our preparations have been pretty good, but the National Championships threw a bit of a spanner in the works. Having as many players involved in that as we did was an excellent reward for those players individually, but it's obviously had an effect on our trial form."
With an Australian Schoolboy at prop and three more Queensland reps in the pack, a Queensland representative centre and two Australian Schoolboys in the back three, State High will field their strongest First XV since the glory days of 2009-2011.
Fukofuka reserved special praise for Moses Alo-Emile, the younger brother of former Melbourne Rebels prop Paul, who featured for Queensland at the National Championships at just 16-years of age scrummaging against hardened players often two years older.
Winger Jordan Petaia was unheralded heading in to the National Championships with Combined States, but won an Australian Barbarians jersey on merit.
However, the star of this First XV is without doubt electric fullback Murray Taulagi.
The younger brother of former Queensland Reds winger Jamie-Jerry Taulagi, Murray is cut from the same hot-stepping cloth.
With a special ability to beat the man one-on-one, Taulagi will provide the x-factor that might help push this team over the edge.
However, depth has plagued the school in recent years and that has not changed –  an inability to stay healthy might prove a decisive nail in the coffin in a competition as tight as this year's.
"I think most people looking in at State High will have an understanding that we've got a good 16-17 players who I think are First XV players," Fukofuka said.
"This year we can probably stretch to 21-22, but like most schools outside of the Big Three, if we lose someone out of that top 15-16 then the players coming in will do their best but they aren't at the same level," Fukofuka admitted.
In round one, State High clash with Gregory Terrace in the school colosseum in an Old Boys Day celebration.
It's perhaps fitting that in a season that contains the most hope for half a decade, State High will open their campaign on the field that brought so much success in the past.
Ladder prediction: 2nd
Team List
1. Lloyd Gorman
2. Nesta Mahina
3. Moses Alo-Emile
4. Victor Tualima
5. Kurt Kruwinnus
6. Rudi Levi
7. Bryce Luff
8. Patrick Tafa
9. Neal McNamara
10 .Isaac Crone
11. Jared Chambers
12. Quentin Mahina
13. Antonio Pouhila
14. Jordan Petaia
15. Murray Taulagi
Gregory Terrace – In Depth
Gregory Terrace have forged a reputation as a well-structured, well-disciplined team in recent years.
In 2015's competition, Terrace had Churchie on the ropes in the first round and could well have denied the Anglicans their premiership.
Similarly to State High, Terrace have a number of key returning players boosted a generous helping of exciting new talent.
Among them the returners is Australian Schoolboys flyhalf Isaac Lucas, the youngest of Terrace Rugby's Lucas clan made up of Ben (Montpellier), Matt (Waratahs) and Tom (Australian Rugby Sevens).
Lucas is a rare talent with a strong pass and pinpoint accurate kicking game, truly capable of unlocking star outside backs like fellow Aussie Schoolboy Will Eadie on the wing.
Head coach Ben McCormack was the captain of Terrace's last GPS Premiership win in 2004 and can see many similarities between the two sides.
"If we can get the rub of the green we'll put ourselves up there, but you'd a be pretty bold First XV coach to say you're going to win the competition," McCormack said.
"I think obviously you've got the have the talent and the experience and you've got to have a lot of luck as well to win a GPS Premiership.
"In saying that, we have those boys with experience, and there's a really heightened level of enthusiasm around the place which was a key part of our Premiership year.
"I've actually had to stop them from organising extra training sessions because they're so keen, which is a positive."
According to McCormack, Terrace have worked hard in the off-season on core skills and decision making.
"Through positions 1-15, every player in my team can draw a man, catch, and pass. I would hope our ability to shift the ball and find space will set us apart from other teams."
McCormack's Terrace First XV have a number of mobile units in the forward pack, including the conversion of last year's 16As inside centre James Reiser to lock.
While there are a number of returning starters like Queensland tighthead Josh Nasser, centre Bailey Ralston and winger Jordan Rogers, McCormack believes that the new faces in the team will cause a stir in 2016.
Australian Barbarian second rower Harry Wilson, a "no-frills lock/six with a great work ethic" is a capable ball carrier and lineout option who has improved a heap since featuring twice in 2015.
Wilson will combine with Queensland II openside Seamus Tweedy in the back row.
Two Under-16s in the backline, Hoani Ford-Stevens and Byron Ralston, are also poised to make a splash.
Ford-Stevens, a Rugby League/Basketball product who represented Norths Devils in Rugby League's Cyril Connell Cup is an excellent communicator and offloader who slots in at outside centre.
Fullback Byron Ralston is the younger brother of captain Bailey, a strong tackler and pest at the breakdown with a strong kicking game, all wrapped up in a big frame – while "not yet a readymade superstar," McCormack believes Ralston Jr will grow into one by season's end.
Ladder Prediction: Third
Team List
1. Oliver Macklin
2. Harry Birgan
3. Josh Nasser
4. James Reiser
5. Ed Paynter
6. Harry Wilson
7. Seamus Tweedy
8. Harry Webster
9. Sam Kirk
10. Isaac Lucas
11. Jordan Rogers
12. Bailey Ralston
13. Hoani Ford-Stevens
14. Will Eadie
15. Byron Ralston
Nudgee College
St. Joseph's Nudgee College were competition favourites in 2015 thanks to an Australian Schoolboys ensemble that were truly dominant at the First XV level.
All was going to plan until meeting Churchie on Ross Oval, losing a first match before being knocked out of contention by a freak State High upset.
While winning Nudgee's 41st Premiership is still a goal for Nudgee in 2016, head coach Gerard Alexander only passingly discussed the possibility when talking with Green and Gold Rugby.
"My ambition for the team would be to make sure spectators can walk away happy with how the First XV has played," Alexander began. "But broader than that, we'd hope the people who are in the First XV are an example to other people in this school on a daily basis with how they conduct themselves and show character."
While expressing his unhappiness at the structure of the representative season, Alexander wasn't phased by the "up and down" trial form of his side.
Narrow wins over BGS, Churchie and Gregory Terrace were tempered by defeats to State High and a thrashing at the hands of Southport.
"It's been a little up and down but that's not unusual for Nudgee in this year group, so it's going to be a tight competition."
Citing Nudgee's spirit and determination as the side's key strengths, Alexander revealed that the traditional Nudgee gameplan had been given a facelift to suit the needs of 2016's squad.
"We have a different team this year with a different composition of players. This year, it'll be much more of a team effort and carries will be shared around, instead of leaving it to just four or five players.
"Hopefully we'll be able to play a very team based game, so there'll be a little bit of a different style."
Alexander felt confident that his six returning First XV starters, including flyhalf Augustus Rangihuna (Queensland I) and centre/fullback Semisi Tupou (Queensland II) would step up for the regular season, while also highlighting halfback Phoenix Hunt and openside Joe Small as young players who would make their mark on the competition.
Among Nudgee's key players is the younger brother of Melbourne Rebels lock Nick Jeffries, lock Tom Jeffries, who starred for Combined States at the recent National Championships.
Ladder Prediction: 4th
Team List
1. Lachlan Campbell
2. Joseph Cotton
3. Blake Schoupp
4.Thomas Jeffries
5. Josh Dalle Cort
6. Ethan Bullemor
7. Brodie Woodward
8. Joe Small
9. Phoenix Hunt
10. Augustus Rangihuna (C)
11. Joshua Preval
12. TJ Meni
13. Semisi Tupou
14. Ryan Shepherd
15. Willie Malala
Toowoomba Grammar School
In the midst of a 57-year Premiership drought, Toowoomba Grammar will field their strongest team since Jason Gilmore's 2012 superstar team headlined by Jonah Placid.
While head coach Dave Enfantie is playing his cards close to his chest, there can be little doubt that Toowoomba have the cattle to win the competition.
Playing down his side's trial form as "pretty ordinary" and pushing through multiple backrow injuries, Enfantie was modest to a fault during Green and Gold Rugby's interview process.
When quizzed about season goals, Toowoomba Grammar's broad brush approach to GPS Rugby is to take every game as it comes and try their best to win every game they play.
"At the end of the day, we're Toowoomba Grammar and we've got a wonderful culture up here that our boys never say die, we're in competing for everything and that'll continue this year," Enfantie said.
"Our greatest strength this year is that we're definitely fit and ready to play."
Toowoomba Grammar dominated GPS representative teams with seven forwards and five backs selected across three teams.
With six returning First XV reps including Australian Schoolboys lock Matthew Wilshire, Australian Barbarians hooker Matty Faessler and Queensland II halfback Harry Green, Toowoomba Grammar have a large spread of high quality talent.
"Ashton Watson will be lining up for us again this year and he's a wonderful player. He's had a bad run with injury of late over the last couple of years but he's fit and ready to go," Enfantie said.
Even more promising for Toowoomba is their depth.
"We don't have a 1-15 mentality because we've got lots of guys on the peripheral who are all pushing for a spot. What we have is a wide group of players that won't let you down.
We have a strong policy of developing boys, so at the end of the day whenever a spot opens up there are plenty of boys with their hands up."
Ladder Prediction: Fifth
Team List
1. Halatoa Puafisi
2. Matthew Faessler (VC)
3. Flynn Noon
4. Matthew Wilshire
5. Richard Clift
6. Dustin Dingle
7. Thomas Hemmings
8. Tom Cole
9. Harry Green (VC)
10. Harry Leerentveld
11. Ashton Watson
12. Kye Oates
13. Clayton Mack (C)
14. Lachlan Sperling
15. Daniel Cover
Brisbane Boys' College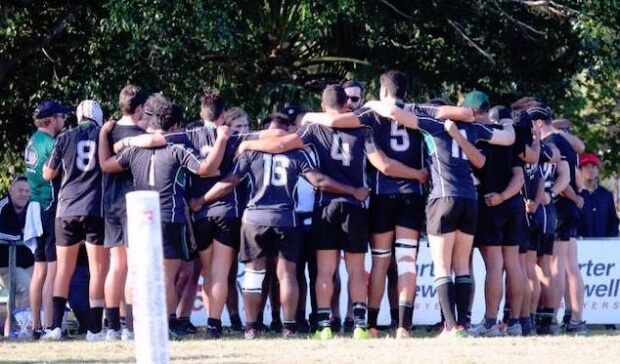 The only team embroiled longer in a Premiership drought than Toowoomba Grammar is BBC, who last tasted a Premiership in the famous four-way-tie of 1954.
2015 was the school's most concerted effort to date, the culmination of a three-year plan that would take an unbeatable 15As through to First XV glory.
Heavy early losses to Nudgee and Southport put an end to that and so it was back to the drawing board for BBC, who finished the season in a three-way tie for third – their highest position since ladders were recorded in 2003.
In 2016, head coach Stephen Phillpots was replaced by former Nudgee College and GPS Ashgrove coach Shane Drahm, supported by a rumoured injection of close to a million dollars in funding to turn around BBC's Rugby Program.
Though Drahm laughed off the $1M claim, pointing out the absence of even a single full-time coach as more than ample evidence against, the stockpile of coaching talent at BBC in 2016 is staggering.
Drahm, a former Queensland Red with two caps for England, recruited Tongan International coach Toutai Kefu, ex-Wallabies fitness guru Steve Nance, ex-Queensland Reds lock Van Humphries and 2015's Ipswich Jets Rugby League captain Keiron Lander to form a coaching group that would turn most Super Rugby outfit's green with envy.
"We hope to win, quite frankly. We've set a high target and we're hoping to win it," Drahm said. "Beyond that, I just want to make sure we build a strong culture first both within the First XV group and filtered down through the school.
"One of the best things about this competition is that it's a very high pressure competition, you know you can't drop any games or you risk the whole season.
"It certainly keeps you on your toes and once you're through the preseason the big challenge is try and motivate the boys for every single match."
With a coaching panel like that barking orders, rest assured the BBC First XV won't be slacking off yet.
"We've worked hard on bashing them in the pre-season so that when the season does come around they're fully contact ready," Drahm said.
"I'm very lucky as a head coach that at the end of the day we can introduce as much as we can as coaches, but the players then have to go on the field and implement it."
With up to nine players with First XV experience returning from 2015's third-place finish, BBC will know a thing or too about the high stakes of GPS Rugby.
Australian Schoolboys hooker Sean Farrell, the twin brother of 2015 Australian Schools openside Jack,  plays his third season of First XV Rugby in 2016.
Defensive cornerstone Len Ikitau, an Australian Schoolboy from 2015, will help marshall a backline containing Queensland I winger Ben Simpson and talented flyhalf Isaac Henry.
However, some of BBC's brightest talent is present in its latest batch of recruits.
16-year-old lock Trevor Hosea stands 202 cm tall and weighs in at 110 kg. He began Grade 11 this year, signing his first Melbourne Rebels contract not long afterwards.
"I think the Rebels probably realised that he'd quickly be off their radar if they didn't sign him, and he's got a family connection to Melbourne so I think they didn't want to risk losing him."
"Trevor's obviously going to be good at the lineout, but probably the most valuable quality he has is that he's very agile for his size.
"He offers a lot in running and passing, but with his size and technique he offers a lot in defence too.
According to Drahm, BBC have 19 genuine First XV quality players vying for 15 positions, with a total squad of 30 who have spent time on the field this preseason.
Until that selection headache is resolved, Drahm will not be naming his First XV.
Ladder Prediction: Sixth

Brisbane Grammar School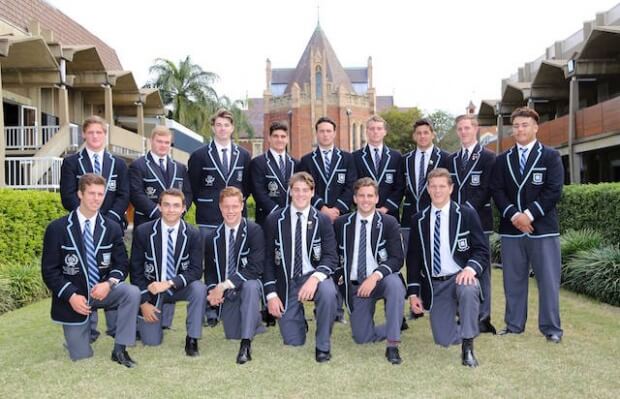 Since winning the GPS Premiership in 2012, Brisbane Grammar School have won just two matches – State High in 2013, and Ipswich Grammar in 2015.
The departure of long time coaching tandem Damon Emtage and Julian Gardner has opened up an opportunity for ex-Munster icon Paul Warwick to breathe new life into the First XV.
For Warwick, a Nudgee College Old Boy, the mission to turn around the First XV will be an uphill battle.
"I've been very careful not to set results based goals, obviously because there are some really strong schools and this year in particular is a very open competition.
"If the boys give it their all, week in and week out, they'll be able to compete with the bigger schools and that would make me completely happy," Warwick said.
To bring BGS back into the light, Warwick plans on bringing back elements of the gameplan that carried Grammar to the top in 2012.
"Obviously we're not blessed with a lot of size like some other teams are, so we have to play the game in a different way and a big part of my role is to find a style of footy that suits the kids in our squad.
"Our gameplay will be based around defence, putting pressure on the opposition and attacking with our defence. Our greatest strength is our commitment and intelligence, so hopefully the boys will be able put their bodies on the line and identify then nullify our oppositions advantages in size or speed by the way we play.
With depth a luxury unavailable at Brisbane Grammar, Warwick makes no secret that Grammar's position as a leading academic school has left him behind the eight ball in the GPS Rugby arms race.
The ace up his sleeve is Australian Schoolboys openside flanker Fraser McReight, who will line up at 8 for Grammar's Round 1 Clash with Nudgee College.
"We've very proud of Fraser, who'll be a key for us and because most games are won in the forward pack, it'll be great to see whether we can match it with other schools because of him.
"He's a strong ball-carrier and defender, but the pleasing thing that I've found is that he's been a real leader, dragging guys along with him."
"Our team needs to be a workman type of team, because we don't have many stars or individual standouts – what we do have is a strong team identity that helps everyone execute their roles to help the team.
Though McReight is clearly the team's greatest hope at competitiveness, Grammar have a few up and comers in the ranks.
Queensland U15s tighthead prop Emile Tuimavave is a new recruit to the school in 2016, bringing much needed size into the forward pack.
Another face Grammar fans will be excited to see in the ranks of the First XV is Queensland U16 State of Origin Second Rower Tom Gilbert at centre, also a member of the Queensland U15s.
Ladder Prediction: Ninth
Team List
1. Harry Masselos
2. Max Eiszele
3. Emile Tuimavave
4. Hugh Arthur
5. Joe Baboolal
6. Ollie Shepherd
7. Harry Devereux
8. Fraser McReight
9. Nick Whip
10. Paddy Hogan
11. Will Ramsay
12. John Shaw
13. Tom Gilbert
14. Josh Baker
15. Andy Traves