With Round Seven officially in the books, South East Queensland's Rugby community mulls over the multitude of scenarios that would result in their team sneaking home with a hand on the trophy.
Nudgee College and Brisbane State High School are in the most commanding positions following wins over The Southport School (22-17) and Brisbane Grammar School (33-21) respectively in Round Six. Nic Darveniza reports on Nudgee's win in Green and Gold Rugby's Match of the Round.
Gregory Terrace's 24-28 banana-peel slip up against Toowoomba Grammar School may have just cost them their shot at the Premiership. New contributor, WBR, files his report from up the range.
Now, Terrace wait in the wings for their Steven Bradbury moment alongside Southport and Brisbane Boys' College.
The fourth match of Round Six also proved an interesting point – despite the loss of superstar outside centre Len Ikitau and Queensland Schoolboys wing Ben Simpson, BBC do still have the firepower left in them to match it with the other contenders. ChekMate covers that match also.

Many thanks to the talented photographers who've contributed shots: HJ Nelson, Holly Hope and SharpAs!
Match of the Round: NC 22 defeated TSS 17
Nic Darveniza
Nudgee College have kept their premiership ambitions alive with a 22-17 win over The Southport School on Ross Oval in Round Seven.
Nudgee capitalised on some uncharacteristically poor play from their guests to snatch a 17-0 lead early in the second half.
Southport, well-versed in fighting back from tough situations in 2016, found their feet to force another epic conclusion to a top-of-the-table match.
Tries to centre Tautau Kapea and lock Jack Butler pushed Nudgee's Old Boys Day spectators to the edge of their seats.
Southport attacked wide in final play for the chance to steal the win but were bundled into touch by Nudgee's Tyrell Douglas-Denduck and TJ Meni in the act of scoring.
"I was a bit concerned for my own health at the end there," Nudgee coach Gerard Alexander recounted to Green and Gold Rugby after the match.
"We played well in patches today and we were in a pretty good position at halftime, but unfortunately we've had four games this year that have been a bit like that.
"It was certainly nice to have a full strength First XV for the first time out there on the park today but we still haven't seen the best from this team.
"The last couple of weeks we've had some real outstanding players but today must be the first time that I couldn't highlight any one player above anyone else.
For Southport, Alexander complimented strong performances from Tautau Kapea, fullback Max Dowd and winger Koen Dovey.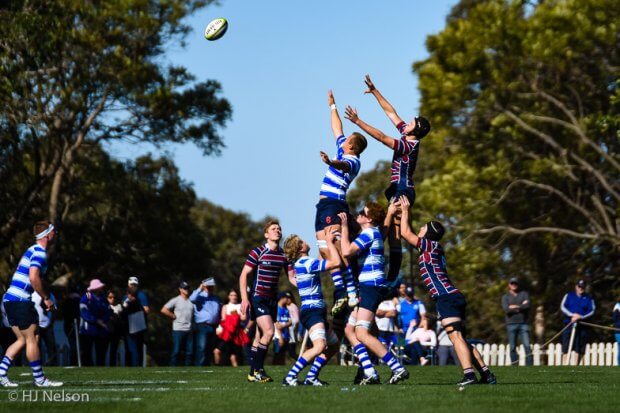 Super Rugby referee Rohan Hoffman's patience was tested early and often as nerves and an excess of enthusiasm forced his hand with the whistle.
Impressive linespeed and physicality disrupted attacking continuity for both sides, but Southport conceded first points to the boot of Nudgee College captain Augustus Rangihuna with a risky breakdown penalty.
Within four minutes of the penalty goal Southport were given an official yellow card warning for continued infringements in the tackle zone.
Nudgee muscled up through the forwards to earn second-year lock Josh DalleCort the chance to score Nudgee's first.
Ahead in nothing but turnovers conceded (10-5), penalties conceded (10-5), turnovers conceded (7-2) and missed tackles (10-5), Southport had dug themselves a fine hole at the half-time break.
The hole got deeper as a Southport set-piece move broke down in midfield, spilling the ball into the hands of Queensland Schoolboys flyer Willie Malala.
Malala kicked into fifth to speed away from the chasing pack to swan dive into the stratosphere before landing between the posts.
Another successful conversion from Rangihuna sent Nudgee ahead 17-10 in just the first minute after half-time.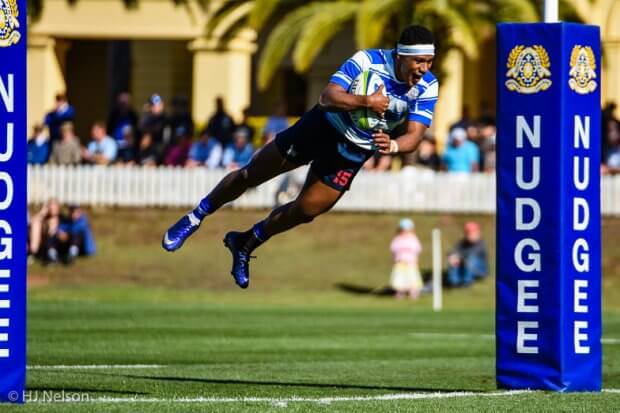 Southport converted a chip-shot penalty goal in the 41st minute to cut the Nudgee lead to 14-pts with 29 minutes remaining.
Excellent kicking from prodigious flyhalf Campbell Parata saw Southport begin to equalise the territory statistics as mistakes began to creep into Nudgee's game.
A barnstorming run from Southport's Tautau Kapea left a trail of beaten defenders in his wake to score his side's first try in the 46th minute.
Nudgee elected to chew time off the clock by keeping the ball in tight for great stretches of the second half.
Building pressure, Southport were stuck in their own 22 for the best part of 10 minutes before Willie Malala struck again.
Nudgee worked the ball to the blindside to hit Malala at pace, changing angle with a right foot step to beat the defence and score.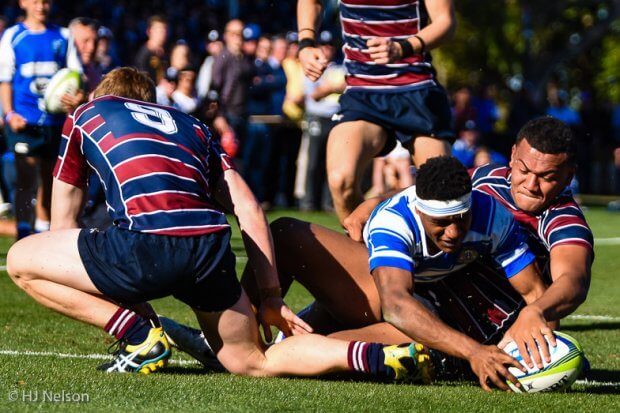 Southport attacked from coast to coast, running Nudgee off their feet with a frenzied blast of running rugby.
Centre Ethan Lolesio exploited an overlap on the left wing with a cutout pass to lock Jack Butler in open space to score just two minutes later.
Parata's sideline conversion was perfect, cutting Nudgee's lead to five points with 10 minutes to play.
Southport's relentless offloading and support play set up winger Koen Dovey on a jinking run from the 40m to the 22m, but a spilled ball ended the drive.
Nudgee cleared, but Southport's counter-attack was shut down by a standout hit-of-the-year contender from centre Semisi Tupou.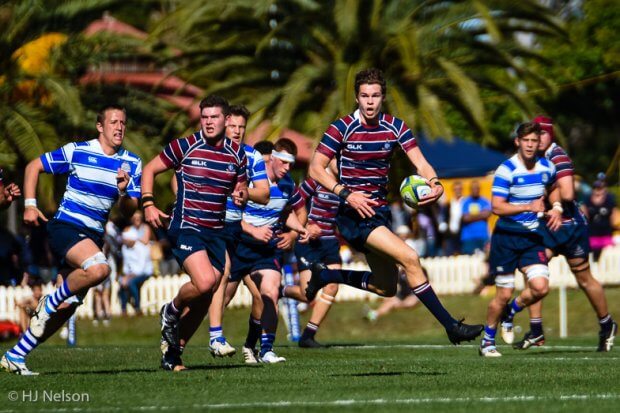 As time ticked down to zero, Nudgee were penalised for obstructing a runner on kick chase.
Southport took the tap 'n go on the 40 and broke the line through substitute flanker Max Marshall, tackled 15 out.
Southport attacked tight before looking left again for lock Jack Butler, eyeing off space in the left corner.
This time Butler couldn't break through the tackle of Douglas-Denduck and TJ Meni, bundled into touch centimetres short of the tryline.
With two tries and some excellent work shooting out of the defensive line in his comeback game from injury, Nudgee fullback Willie Malala is Green and Gold Rugby's Man of the Match.
Nudgee College 22 (Tries: Josh Dalle Cort, Willie Malala (2); Cons: Augustus Rangihuna (2); Pens: Augustus Rangihuna) defeated The Southport School 17 (Tries: Tautau Kapea, Jack Butler; Cons: Campbell Parata (2); Pens: Campbell Parata)
Toowoomba Grammar School 28 defeated Gregory Terrace 24
WBR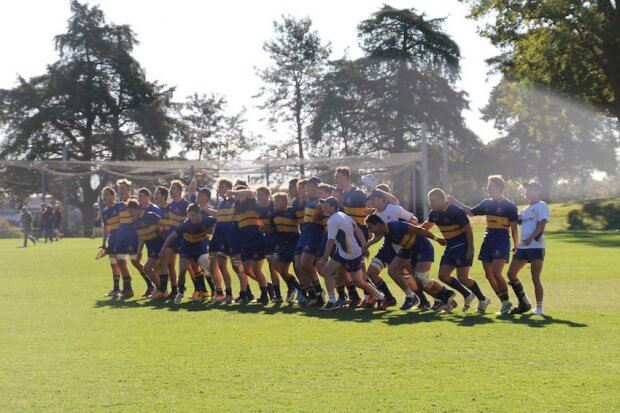 GT started the day in pole position, ready to take one step closer to a premiership and ended the day clinging to hopes of claiming a piece of the silverware. A day up the range saw a back-and-forth affair between 2 evenly matched sides, with TGS mounting a comeback to win 28-24 with a try on fulltime. GT will rue a number of missed opportunities but can be proud of their efforts and will take away some tough lessons on closing out wins. TGS, having already lost 2 encounters by 1 point, made the breakthrough to register their 2nd win of the season, and first big scalp.
GT went to work at the breakdown early, earning a number of penalties through their forward pack, who are well drilled at competing for the ball at the ruck. This facet of the game has been a core reason for their success this year, they are able to soak up defensive pressure and then take away possession & field position at key moments.
A few early GT attacking raids were nullified by TGS before GT capitalised. GT often play a general pattern off the lineout where flyhalf Isaac Lucas hits big ball runners in the middle and then they look to recycle quickly and attack the space out wide the same way. They map across back and forth in this fashion until something offers. With the defence lulled into a false sense of security that Lucas will just pass early, TGS rushed out to take out Lucas's crash man option, only to see Lucas dummy & knife through the staggered line. A pop pass to big man Harry Wilson did not quite commit the fullback to Lucas, but Wilson was able to provide his signature offload back to Lucas who dived over next to the sticks. 7-0 GT. A moment of brilliance from Lucas who picked the perfect time to strike, a reminder to TGS to respect his running game or be prepared to pay.
TGS was able to adeptly defend in stages as well, earning ruck penalties of their own, giving them some quality attacking possession. TGS showed an intent to use the wider channels often, shifting early ball to the midfield where inside centre Kye Oates played runners dropping under or long cut out passes to the wing. After a sustained period of play TGS hooker Matt Faessler showed decent footwork to bust a few tiring defenders and cross the tryline. 7-7.
As the first half progressed, TGS found ways to get their key workhorse winger Ashton Watson into the game. Running back kicks or drifting into the midfield scrum plays, TGS use Watson's power running to get momentum or across the advantage line, eating up metres after strong contact and beating the first defender with footwork. Off a lineout on halfway, Kye Oates put a testing chip kick over which Watson was able to regather and give a one hand offload to fullback Josh Fanning, who ran away to give TGS a 14-7 lead.
Just as TGS were building, a Harry Wilson hit delivered a turnover around halfway. From the ensuing ruck GT attacked the blind side to get winger Johnson Oyelodi in open space who veered inside before putting the in-and-away on the fullback, breaking the tackle on the outside and running around to score next to the posts to tie things up at 14-14.
TGS continued to attack with the short to mid-range kicks, on the stroke of halftime one found winger Lachlan Sperling on the full streaking down the touchline. He found Oates backing up, who put another chip kick in that was fumbled by GT but Oates also couldn't regather. The end of the half at 14-all was fitting but had all supporters in angst as both sides struggled to get the ascendency.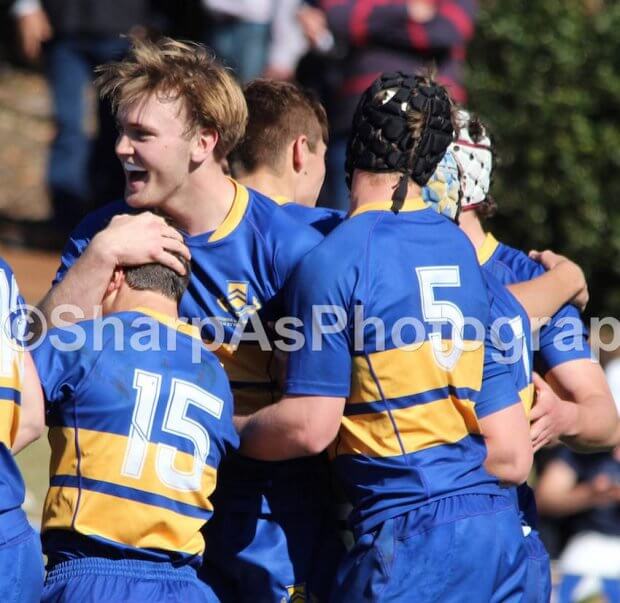 GT started to get on top in the 2nd half, and earned good field position through the other key weapon they have this year; counter-attack. With Lucas dropping back and linking between Jordan Rogers and speedster Will Eadie, the field began to open up. A Lucas break on a kick return led to a penalty in front as a TGS player knocked down the last pass. In a sign off respect, GT opted to take the 3 points opening up a slight led 17-14.
GT continually attacked the breakdown, shutting down a number of TGS opportunities, leading to a period where GT camped down in the TGS 22 after TGS showed an inability to exit. Although TGS survived one goal line defence session, they couldn't do 2, with Wilson scoring on a pick and drive. With a 24-14 lead, this looked like the breaking point, and many other sides would've crumbled.
GT couldn't exit after the kick-off, knocking on in their own 22, relieving significant pressure and giving TGS an attacking scrum 10m out. A standard 8-9 blindside move executed to perfection gave halfback Harry Green a try in the corner, and the conversion reduced the lead to 24-21 all too soon after GT's good control had built a nice buffer.
GT persisted with the counter attack and long breaks from Eadie & Rogers resulted in no reward, as the last pass did not go to hand twice. Last ditch defensive pressure from TGS saved two certain tries. GT went all or nothing, pushing the last pass which came up rocks today but has been diamonds all year.
As the game entered the final stanza, TGS started to get good field position as GT kicked possession away too much, one clearing kick out on the full (outside the 22), a short cross kick to Eadie getting a bad bounce into touch, a grubber kick collected easily. TGS were also no longer playing field position (kicking to GT in space had proven to be a bad idea), and kept ball in hand, although not clinical earned the rub of the green with penalty after penalty giving one final possession inside the 10m.
GT had to defend their line for their premiership chance. TGS had a chance to atone for earlier pain this season. TGS hammered on & GT attacked the breakdown as they have done with success all year. GT on 2-3 occasions stole possession but were penalised for earlier infringements. The weight of possession eventually told, with a shift to right finding hooker Matt Faessler in space, he cut back against the grain beating desperate defenders to crash over in extra time.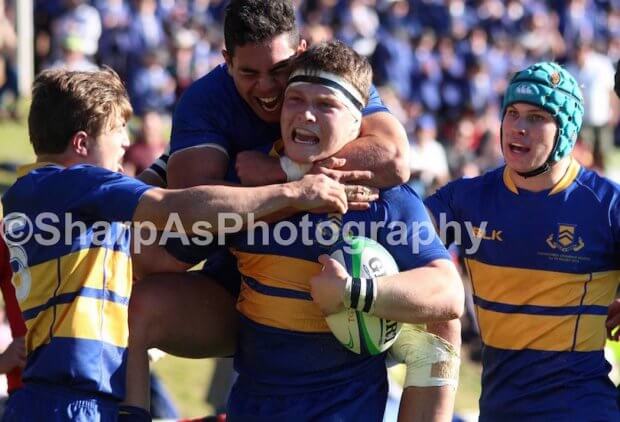 The devastation for GT was palpable and unforgiving, as TGS have already experienced as much heartache. In a sign of unity and shared disappointment the GT team received a warming response from their supporters and held an embrace. TGS shared a war cry with theirs, and a perfect day ended with premiership hopes dashed as TGS played party spoilers.
TGS were deserved winners for showing commitment to the death, and GT would have also been deserved winners for playing the better attacking rugby, but you can't help think better patience & composure for GT would have helped capitalise on a myriad of scoring opportunities had they lived another phase.
Brisbane Boys' College 32 defeated Churchie 14
ChekMate
Picture perfect conditions showcasing Miskin Oval. Boisterous support from both sides of the fence screaming support for their players. The BBC pipe Band continuing tradition by piping the BBC 1st XV onto Miskin. Churchie right next to the BBC tunnel letting all and sundry know that their players have come to play. Players set. Officials ready. Let's get this on.
BBC kick off and it was abundantly clear that Churchie were intending to play down in the BBC side of the field. Immediately Churchie controlled field position and the ruck set piece and patiently went about business as they edged closer and closer to the BBC tryline. It's the 5th minute and after 17 phases of play, Churchie keep attacking the BBC advantage line, compress the BBC defence, the ball is shot wide and the ACGS 6 in Jack Slack goes over and scores. Conversion good and once again BBC finds itself down to an opponent in the first 5 minutes of play. 7 nil to ACGS.
BBC are trying to get back into the game using their expansive attacking style but are hampered by clever kicking by Churchie and unforced errors by themselves. A barnstorming run by BBC 6 in Lonetona Tietie down the left flank gives BBC great field position to attack from. Now it's the 16th minute and BBC are enjoying quality ball through fast ruck recycle speed. The ball is shot out to BBC 8 in Cullen Ngamanu who takes off down the right flank, runs around a Churchie defender, passes under his arm whilst being tackled and finds an unmarked BBC 14 in Finn Mounsey to score. Conversion missed and the score is 7-5 to ACGS.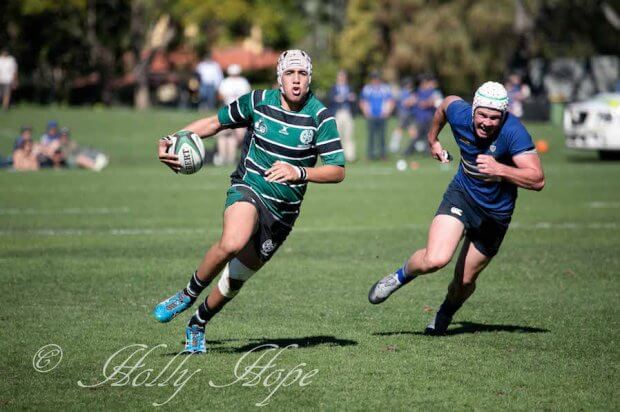 The next 18 or so minutes to half time sees a battle that takes place between the two teams 22m lines. Things are getting a little willing in the middle as both packs collide; Paraka Nii from BBC starting to exert some force but he is not ably supported as BBC are still unable to dominate the ruck area with a number of turnovers to ACGS. Unforced errors and injuries from both sides were now starting to creep into the game. Churchie lost their big lock MJ Havilli who was carted off on the Medicab and we trust that he comes out OK. BBC lost their flanker in Jack Kibble. Both teams were looking for the half time break.
It's the second half and Churchie kicks off. BBC, notoriously slow starters, have come out like a house on fire and everything is just clicking. BBC are now using the tail wind and are kicking intelligently into the Churchie side of the field. It's only the 2nd minute into the second half and consistent, fast momentum now provided by the BBC forward pack. The ball is eventually shot to BBC 10 and Captain in Isaac Henry, who swerves and puts through BBC 12 in Conrad Green through a disjointed Churchie defence to go over and score. Conversion good; the lead changes, the noise on Old Boys Hill starts to get louder and BBC are in front 12-7 to BBC.
BBC continue to use the tail wind and keep belting the ball down to the Churchie side of the field. Using this field possession BBC are now executing cleaner passages of attack play. It's now the 6th minute and the BBC 10 Henry gets quality front foot ball and is able to dance and swerve through the Churchie defence to score. Henry converts his own try. The scoreline sees BBC in front 19-7.
Henry and Green are now starting to revel in the space provided by the BBC forward pack as in the 15th minute Henry gets the ball from fast recycled play and Green is running into big gaps in the Churchie defence to score. Conversion missed and the score skips away to 24-7 to BBC.
It's clear that Churchie have started this second half slow and paid the price but BBC are still unable to take full advantage of this momentum as again, unforced errors from BBC are occurring all too regularly and its now keeping Churchie in the game with a sniff.
It's the 19th minute and it sees Churchie with some good field position. Churchie are playing things tight and choosing their time wisely to shoot the ball wide. Its testing the BBC defence as they scramble from one ruck to another. Churchie launch a raid on their left flank, BBC scramble and are able to hold the player up over the line. The desperation in the BBC scrambling defence is awesome as it has been all season. The ensuing 5m scrum to Churchie sees a Churchie scrum win, two tight forward rucks and then Churchie easily go over to score. Credit to Churchie but that try was too easy and once again BBC are on again – off again. Conversion good and the scoreline is now at 24-14 to BBC and Churchie have more than a sniff.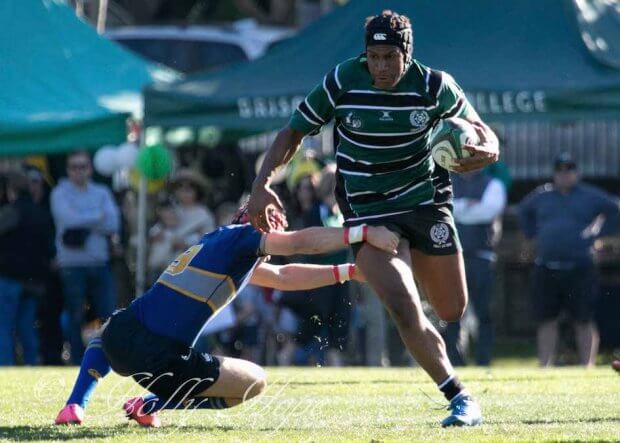 The game progresses and now injuries and cramping are really taking its toll on the Churchie players. The BBC 14 in Mounsey is really stepping up his game with incisive running from the BBC expansive attack. To add to Churchies problems, BBC have now brought on Australian Schoolboys hooker in Sean Farrell who adds another dimension with some aggressive running and defence. Coupled with his mate Chris Yanopa, BBC are really pushing hard.
It's the 23rd minute and BBC are now camped 15m off the Churchie tryline. Churchie's outside center and arguably their best on field, Wilson Sprague has succumbed to injury and he reluctantly comes off. Churchie have the scrum feed but it's the BBC front row that now have a sniff. BBC win the tight head and the ball comes out along the backline, finds the flying BBC fullback in Solomon Stone and he goes over to score. Conversion missed and the score sees BBC in front 29-14 and the game slipping away from ACGS.
The game restarts with BBC receiving the kick off. The story remains the same. BBC playing expansive footy. Churchie giving everything in defence but are now out on their feet. Churchie give away a tired penalty at the ruck. BBC coaches screaming from the sidelines to kick for points. BBC fullback Solomon Stone steps up and slots the goal.
Game over. BBC win 32-14
Final Score:
Brisbane Boys College 32
Tries: Green (2) Henry, Mounsey, Stone
Conv: Henry 2/5
Pen: Stone 1/1
The Anglican Church Grammar School 12
Tries: Slack, ……….
Conv: ……   1 /2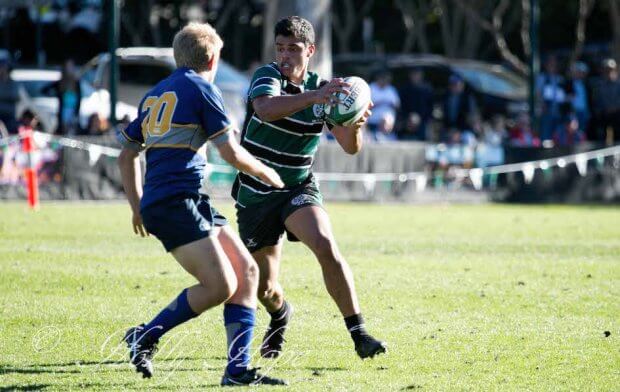 Summary:
Churchie were brave and committed as the 7-5 halftime score line showed, but things started going south when their big lock was carted off in the medical buggy. Their performance in the ruck competition was vigorous, and at more than a few times; superior. Strong scrummaging in the first half and their use of the wind to gain superior field position to attack was clever. I reiterate, this competition is blessed with quality 13's and today was no different in Wilson Sprague as Churchie's best on ground. It was the final nail in the coffin for ACGS when he came off injured before games end. Their depth for the remaining games of the season will now be heavily questioned. Others players to note from ACGS are the 6, 15 & 3.
BBC continued with the seasons theme. "Start slowly – cough and splutter – patches of brilliance – interchange players – come home strong". This game was no different. Partly brought about by Churchie's first half performance, mostly by unforced errors from BBC. Best player for BBC was their 10 in Isaac Henry. He led very, very well as a quality 10 should, since his forwards in the second half gave him front foot ball to work off. BBC 8, Cullen Ngamanu today showed patches of flair that his surname suggests he should. The big BBC 1 in Nii was strong in the pack and in tight. Farrell came on at the later end and proved difficult for ACGS to deal with at times. Other players to note from BBC were the 2,6 & 12.