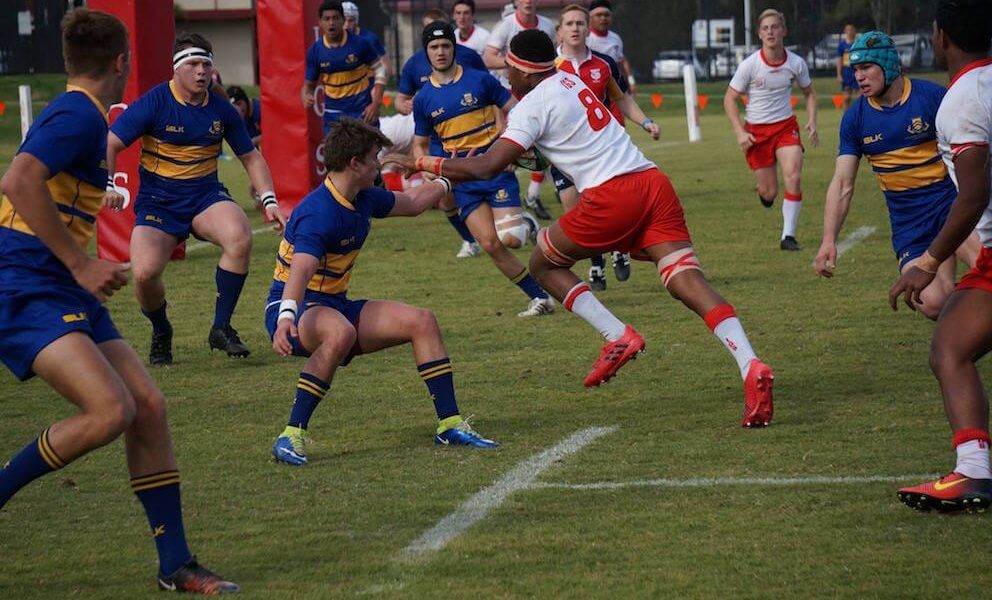 Another round of GPS Rugby has rolled by, and with it, another Premiership contender has fallen.
Brisbane Boys' College were confronted with a must-win away trip to Brisbane State High School, but fell short by a single point in Green and Gold Rugby's Game of the Round. ChekMate casts an analytical eye over proceedings below. Holly Hope Photography provides the excellent photography.
In another must-win game, Toowoomba threw everything they had to usurp Ipswich Grammar's position in the mid-table. Likewise, a last minute field goal attempt and then a missed penalty denied Toowoomba their chance. Nic Darveniza was in attendance and photographer Billy Harsant made his debut behind the lens for GAGR.
In the other matches across the GPS, Nudgee College snapped a three-year losing streak against Churchie with a 38-8 win at Oaklands Parade.
Gregory Terrace demonstrated why they deserve the Premiership-favourite tag with a 74-5 win over Brisbane Grammar that left spectators reminded of Churchie's hatchet job in 2014.
With those results, the GPS Rugby table stands as follows: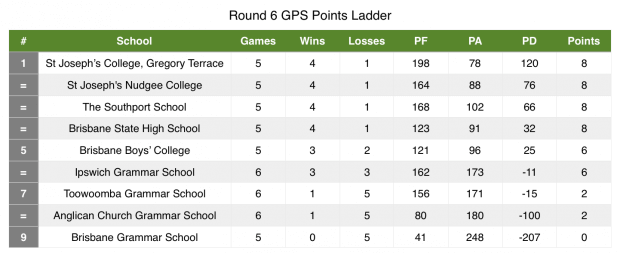 Game of the Round: BSHS 13 defeated BBC 12
ChekMate
Cool and overcast conditions greeted the small'ish crowd at Fursden Rd as both teams ran onto the pitch. From the outset State High looked pumped and ready to play whilst BBC came out rather subdued yet focused.
BBC kick off and their big number 5, using his athletic skills, leaps high above the pack to secure the ball. BBC launch into phase play and it was clear that they were going to play an expansive attacking game. State High on the other hand have watched the BBC – Nudgee match, as it was clear that they were going to play an "up fast" defensive pattern and target the ball carrier to hold them up and force the turnover.
From the ensuing scrum BSHS were full of running. BBC failed to contest the ruck and allowed BSHS to play their natural game of attacking at will. BSHS maneuver their attack play in a manner to allow their gifted fullback Murray Taulagi as much space as possible for him to attack.
Its's the 7th minute and BSHS are packing a scrum on the BBC 5m line. Scrum collapses and BSHS get the penalty. A quick tap from the BSHS scrum half Neal McNamara has the BBC defence disjointed and the big number 8 from BSHS, Patrick Tafa dives over to score. Taulagi misses the conversion but the referee awards BSHS a free kick due to two BBC players yelling "OUT" as the kick was taken. Taulagi misses that kick and the score remains 5 nil to BSHS.
The game teetered back and forth but never really got going as both sides were guilty of unforced errors and poor discipline. The underlying fact and difference between the two teams throughout this period was the superior BSHS defensive strategy of up fast off the line and target the ball carrier, and it was concerning BBC.
At the 15th minute BBC found some field position and using its expansive attack pattern, started shifting the BSHS pack around the field. BBC shift the ball fast to its right flank and out to Ikitau. BSHS knew this was coming and got up fast on Ikitau and pressured him whilst he is receiving the ball. Ikitau skillfully catch passes the ball onto BBC winger Mounsey whilst in the process of being tackled but the ball is ruled to have gone forward.
BBC seemed to have their heads down and once again, coughed and spluttered as the first half progressed. Unforced errors and a lack of urgency at the ruck from BBC were providing BSHS mot of the field position and attacking opportunities. The work rate of the two BSHS props Malolua and Alo-Emile, coupled with the sniping running of McNamara must be noted as they provided the rock for BSHS throughout this match.
The 22nd minute saw a ruck penalty to BSHS for a player not rolling away and Taulagi comfortably kicks the penalty. 8 nil to BSHS.
BBC take the kick off and Hosea collides with the BSHS tight head. The BSHS tighthead recovers but Hosea didn't and would see him replaced.
It's the 30th minute and BBC get a ruck penalty and kick for a lineout. A real opportunity to attack and BBC forwards went basic by picking and driving and were getting over the BSHS advantage line. BBC shot the ball wide and played into BSHS defence strategy and BBC looked shaky at securing their ruck ball.  A penalty is awarded to BBC for a BSHS high tackle right in front of the goal posts and BBC opt for the scrum. Another theme for the match. This punt came off as the ball is shot out to Ikitau who runs around his opposite to score. Conversion missed 8-5 to BSHS.
BSHS continued to launch raids through their right side attack of Taulagi and Petaia but the referee called half time and both teams went to the break with the score at 8-5 to BSHS.
Into the second half and BBC finally with some ball and field position, BBC start with their attack strategy against BSHS and it is clearly better than the first half. Unfortunate timing for an offside penalty awarded to BBC, whilst advantage play may have been a better call, saw play once again stopped. BBC well within kicking range have opted to kick for touch for the lineout. BBC threw in on the lineout but the BSHS flanker in Fenner gets his hand on the ball and tips it to his flanker, and in true BSHS manner, State High launch an attacking raid 5m from their own tryline. The ball is shot wide to the BSHS right winger in Jordan Petaia and he is off and running, who is supported by that man again in Taulagi and he sets off before play breaks down on the BBC 30m line. Outstanding and instinctive attacking bravado from BSHS.
The game continues, stop – start at best. A BSHS lineout overthrow sees the ball somehow get to an unmarked BSHS lineout member, who shifts the ball and BSHS are immediately on the attack. Petaia, who is having a monster game so far, gets between the BBC center pairing defence and has his mate, Taulagi, is supporting and motoring towards the BBC corner try area. BBC and Australian Barbarians left winger  Ben Simpson, flies across in cover defence and takes Taulagi into touch whilst Taulagi is in the motion of placing the ball down for a non-try. Spectacular defence from Simpson and the desperation required from BBC.
BBC have the lineout throw 10m from the BBC tryline. The throw goes to the middle and Fenner from BSHS, who is now really making an impression on this game, steals the ball resulting in the BSHS flanker Bryce Luff scoring for BSHS in the 14th minute of the second half. Conversion missed. 13-5 to BSHS. 
BSHS change their strategy now and do not want to play anywhere near their tryline as minutes later BSHS are awarded a short arm penalty to which they kicked for touch giving the lineout throw to BBC.
This contest lurched back and forth; BSHS launched a raid on the BBC tryline through Petaia and Taulagi. BSHS ruck now 5m off the BBC tryline, the big BSHS lock Taulima runs a straight line that should guarantee a certain try but is denied by a huge defensive shot from BBC replacement Paraka Nii that sent Taulima backwards and once again BSHS denied.
We're into the the 32nd minute of the second half and need to take stock. BBC have already lost their Melbourne Rebel bound lock Hosea to injury, their Australian Barbarians winger Ben Simpson same, now their star center Len Ikitau succumbs to an injury and is taken from the field. If depth was going to be an issue for BBC is was going to get tested here.
BBC respond instantly.
From a scrum penalty, replacement flanker Dom Walton takes the quick tap and catches the BSHS defence unawares. The ball is shifted back to the right and BBC are making inroads through fast phase recycling. Ball is shifted to the left to BBC 8 in Cullen Ngamana who draws the BSHS defence and replacement BBC winger Luke Peel is over to score. Conversion good and the scores are now 13-12 to BSHS.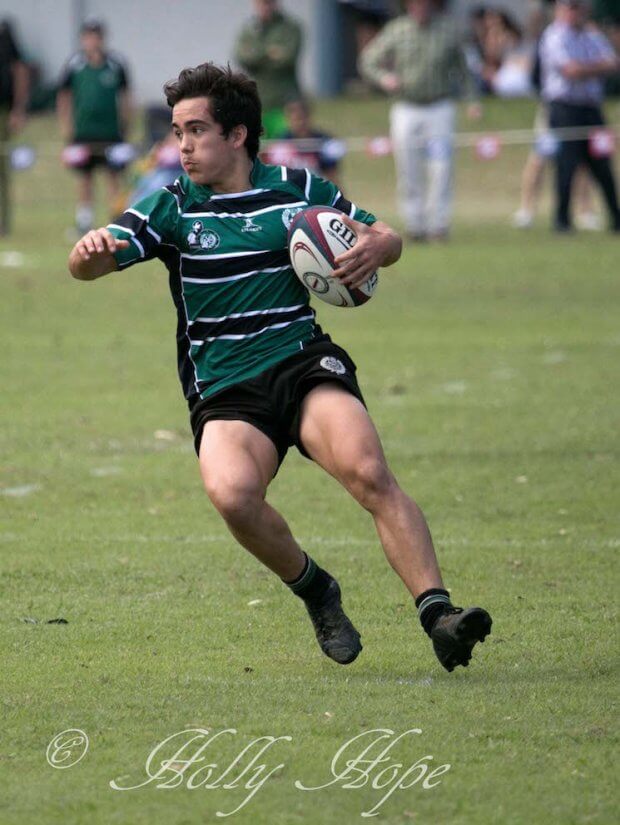 For the first time in this match the crowds are getting excited and vocal. Time must be running out. BSHS regain possession from their kick off. BSHS forwards start picking and driving but lose the ball over the BBC line. Game gets really erratic. BBC get the scrum feed on the 22m line. Get a short arm penalty. Needs patience and ball retention. BBC go the quick tap but lose the ball at the ruck. Game over. BSHS have won 13-12.
Final Score: 
Brisbane State High School 13
Tries: Tafa, Luff
Conv: Taulagi 0/2
Pen: Taulagi   1/2
Brisbane Boys College 12
Tries: Ikitau, Peel
Conv: Henry  1/2
Summary:
The game started off with both sides feeling each other out slowly. Patches of brilliance from the triangular attacking power of the BSHS 12 in Mahina, 14 in Petaia and the 15 Taulagi was the difference. The BSHS backline defence was fast and targeted as was their ruck security.
Nothing can be said poorly about the BBC scrambling defence. It was marvellous. Having said that though their attack most times lacked enthusiasm and direction. Their potency at the breakdown was minimal until the replacements came on. The urgency only really came on with around 5minutes to go.
Victorious coach Sione Fukofuka said: "The boys knew how important that win was, and especially after last week's loss to Ipswich.. To bounce back with a win like this is huge for us.
"This week was more about re-estabalishing what we were good at; physicality, working around the corner and creating options.
"Our forwards worked well together, our backs created really well. It was pretty tight across the board so without sounding too cliched it was just a really strong team contribution.
"We had a few chances at the end to ice the game and we didn't take them, so we let them back in and they scored as all good teams will.
"In the end it all came down to the last three minutes of defence, in which we secured three turnovers, so it was an exciting game for the spectators for sure," Fukofuka said with a laugh.
Players to note:
For Brisbane State High, Jordan Petaia's ability to chime in and attack off the 12  Mahina off the blind side was brilliant to watch. Fullback Murray Taulagi has lightning speed and works well off Mahina and Petaia. Ultimately, inside centre Quinton Mahina was my man of the match. His leadership of his backline in both attack and defence was instrumental in the game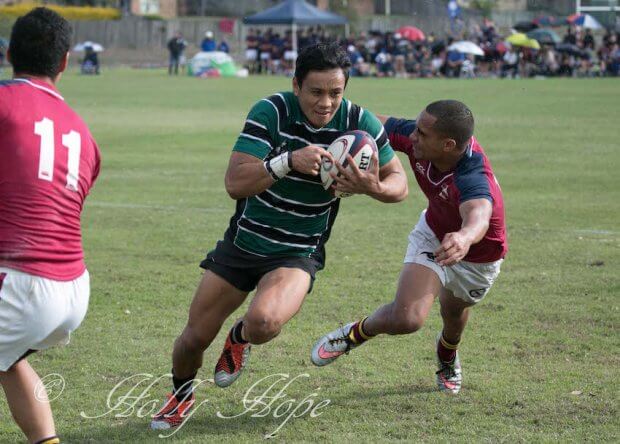 For BBC, Len Ikitau tried, but the ball was passed to him to do something rather than exploit something further. Dom Walton is a left field pick here, but this kid has come on twice as a replacement. His energy and enthusiasm has stirred up the pot and chances were made from that.
At the end of the day, whether it's Chris Yanopa or Paraka Nii, muscle is muscle and it needs to be at the start and either of these two bring this. Today it was Nii, my best on ground for BBC.
Ipswich Grammar School 32 defeated Toowoomba Grammar School 31
Nic Darveniza
Ipswich Grammar School have survived a late comeback attempt to beat Toowoomba Grammar School, 32-31, in the final minute of play at Brassall.
Sales of nail-clippers in Ipswich may never recover as Ipswich Grammar put their supporters through another heart-stopping finish, for the second week in a row.
In a match that proved almost a carbon copy of last week's win over Brisbane State High, Ipswich roared out of the gates before collapsing in the second half, letting TGS back into the match.
With 40 seconds to play, Ipswich flyhalf Cooper Whiteside nailed a field goal from right in front to edge his side ahead.
Ipswich couldn't help but concede a penalty, 40m out, dead in front, to set up Toowoomba with a chance to snatch a memorable second win of 2016.
Toowoomba centre Kye Oates lined up the penalty as time expired but couldn't convert the pressure kick, sending Ipswich into the sheds with back-to-back wins for the first time in years.
Ipswich Grammar's assistant coach Tyrell Barker spoke with Green and Gold Rugby after the match.
"The boys have been working so hard and they've deserved to win more games" said Barker, a Queensland Country representative and the captain of Easts' Premier Grade side in 2016.
"This win gives us confidence because it was well-earned. We knew it was going to be a tough game and Toowoomba should really feel proud of how well they played – They really stuck it to us, scored some great tries and played some great footy.
"Our boys have had a really good attitude all year and they're a really tight bunch of fellas, so to bounce back from those tight losses earlier with back-to-back wins is just great reward for the group."
In a tight field, Barker named double-scorer Job Timi his man of the match at No.8
"Job carried very well and his tackling was outstanding. There were at least two or three tackles he made that directly created turnovers. His work in the lineout was spot on, so he's a guy who's getting better every week he plays," he said.
Toowoomba fed off early Ipswich errors to send debutant fullback Josh Fanning over in the first five minutes.
Ipswich Grammar were starved of possession until an injury forced Toowoomba openside Tom Hemmings off the field.
Gifted a scrum feed inside the 22 to resume play Ipswich worked through the phases before finding Job Timi, slipping between defenders with a left foot step to score an equaliser.
Ipswich's set piece was back in the 22nd minute, punching the home side to the line.
Openside flanker Josh Sheridan seized a chance to dive through soft ruck defence to extend the Ipswich lead to 14-7.
Toowoomba were feeling the territory pressure themselves, pinned inside their 22 for the best part of 20 minutes.
A spectacular passage of play gifted Timi his second try in the 30th minute.
Offloads from all three front rowers, scrumhalf van der Merwe and lock Joseph Faulalo found Ratu Niumataiwalu on the left wing, pushing a sixth offload into the hands of Timi to jog in undisputed try of Ipswich Grammar's season thus far.
Poor ruck discipline from Toowoomba gifted Ipswich a chip-shot penalty in the 35th minute, bringing about halftime with a 24-7 lead.
Winger Ashton Watson showed off both power and pace to hit back for Toowoomba in the second minute of the half, accelerating through the line before tossing aside fullback Callum Hicks to score.
Watson didn't wait long to strike again – a flash of footwork later and three more defenders were sprawled over the Ipswich turf, jaws agape as Watson touched down.
A bungled kick-off put all the good work to waste as Ipswich centre Coen van Dugteren clinically finished a break to score his fifth try of the season.
Ahead 29-19 in the 51st minute, Toowoomba needed to score next to ensure any hope of clawing back the win.
Barnstorming runs from the excellent Will Shelton, Matt Faessler and Richard Clift set the stage for Queensland II halfback Harry Green to snipe from the base of the ruck.
Breaking in to the backfield, Green beat the fullback with a classy one-two step to score between the posts.
Toowoomba erased the deficit entirely from the very next phase as captain Clayton Mack found space on the right edge, lofting a pass outside for speedster Lachie Sperling to finish.
Now ahead 31-29 following a missed conversion, with 15 minutes to play, the battle for the mid-table was anyone's to take.
Ipswich Grammar continued to apply pressure with territory but Toowoomba showed no sign of conceding a try.
As Coen van Dugteren found space on the right wing, flyhalf Cooper Whiteside dropped in to the pocket and hit a sweet field goal to take his side back into the lead.
As First XV Rugby has proved again and again over the years, 40 seconds is plenty of time to snatch back a result.
As referee Damon Murphy's stopwatch chimed full-time whistle blew, Ipswich Grammar conceded a penalty in the breakdown, 40 metres out, almost dead in front.
Kye Oates had the match on his shoulders but couldn't kick sweetly enough.
Ipswich's 21-pt halftime lead proved just enough to hold out Toowoomba, relegating the visitors to 7th place on the ladder.
IGS 32 (Tries: Job Timi (2), Josh Sheridan, Coen van Dugteren; Conversions: Cooper Whiteside (2/4); Penalties: Cooper Whiteside (1/1), Drop Goals: Cooper Whiteside (1/1) defeated TGS 31 (Tries: Josh Fanning, Ashton Watson (2), Harry Green, Lachie Sperling; Conversions: Kye Oates (3/5)