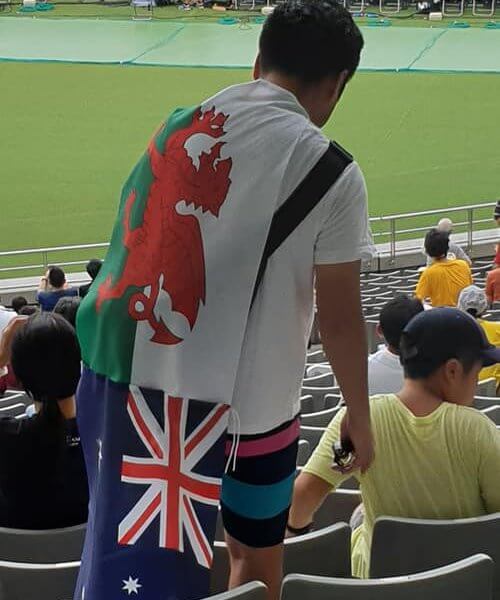 This mornings edition comes to you from the 7:03 Hikari Shinkansen, leaving Tokyo bound for Hiroshima. I was a bit busy yesterday and forgot my commitments. A 4:30 am rising to visit the Toyosu Fish Markets meant I then required a nana nap in the afternoon. My story and I am sticking to it!
Tokyo is an interesting city.  With an estimated population of over 14 million, there are always people. Everywhere. All the time.  So it should be no surprise that the trains to and from the ground were packed. A good reason for arriving early at the ground.  The best reason, however, is for me to participate in one of my most favourite past times  – people watching.
In case you missed it,  on Saturday night the Brave Blossoms caused the upset of the tournament when they beat Ireland.  This meant that there was a lot of red and white jerseys in the crowd. It was hard to tell rightly who was supporting who, but I guess if you have been out all night partying, then "come as you are" is an appropriate dress code. There was a bloke hedging his bets however with both Welsh and Aussie flags. Is it counted as a win if you back both horses in a two-horse race?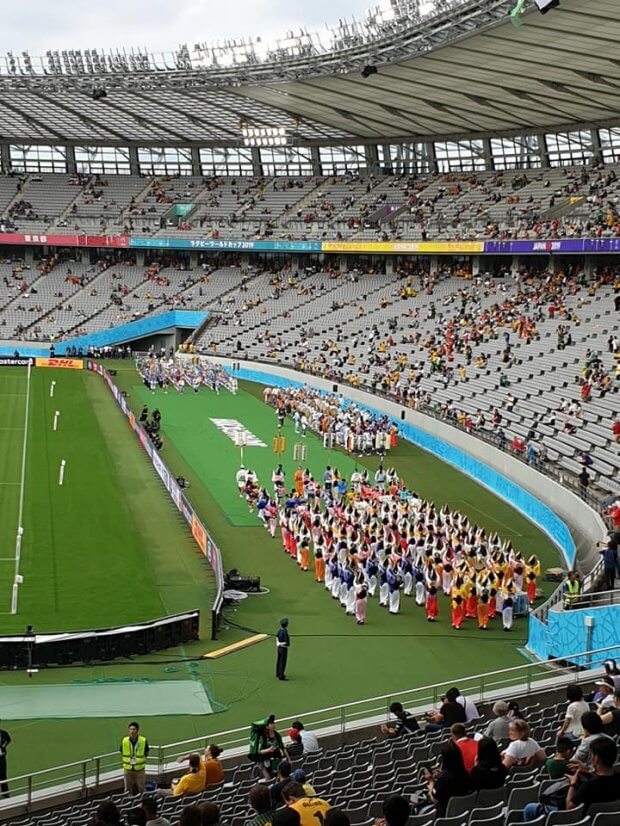 The atmosphere got a kick outside the ground from the brass band and continue to build inside until it was just absolutely rocking just before kick-off.  We even had a marriage proposal, with a bloke literally getting down on bended knee with a ring and everything. I guess she said yes. There was screaming, dancing, kissing and congratulations all round.
The Welsh singing has always given me goosebumps, particular in Cardiff. I think this may have matched that level of goosebumpedness.  At the first game, I was a little surprised that there were no singers of the anthems with just the music being played. This game I appreciated it, as the Welsh in the crowd did a great job. But the Aussies won the anthem singing. What we lack in musical talent we make up for in numbers and volume. We had to win something.
With Alun Wyn Jones playing his 130th match and the Welsh having worked out they could actually beat us last year, this was always going to be the toughest game of our pool. And didn't it turn out that way or what? And they made their intention clear when they scored first with a drop goal in the 40th second. Really boys? A bloody drop goal? Sigh.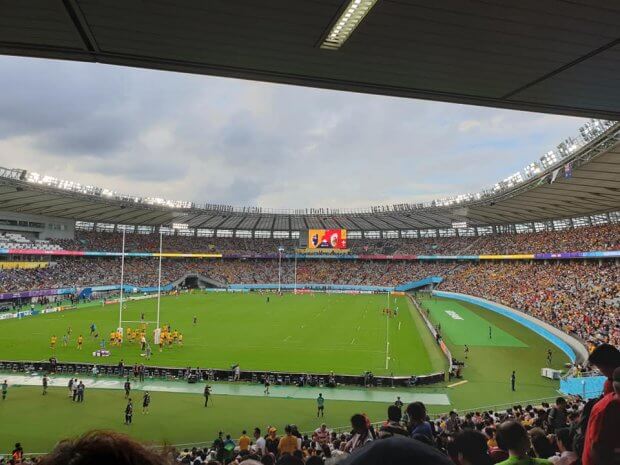 Other observations from the game:
Our kicking was shite in the warm-up and not much better in the game. Do we actually HAVE  a kicking coach still?
Why was Scott Sio selected in the run-on side when we all knew that Poite was the ref? I am not sure what Scotty ever did to Romain but there is some deep-seated level of preconception present there. And while we are on the topic, that was one of the worst displays of refereeing I have seen in a while. The scrum and ruck wheel of fortune was used in good measure until the ruck wheel broke and all bets were off. Although you can not blame the officials for the Wallabies losing,  we had our opportunities, it made the game just that little bit harder to watch. I am not sure who got the biggest boo of the night – Poite when he penalised Kerevi for a great bump or Eddie Jones when he was shown on the screen.
Wales seemed to be reading Genia's passes better than his own teammates at times with incept passes, dropped passes, passes behind the man and any number of other errors. Kerevi was in some obvious need of some ball grip but he wasn't the only one. Swoopy (AAC) did manage to hold onto the ball for one more try to his World Cup tally so he is now only sitting 2 tries behind Drew Mitchell and 3 tries behind the leaders of Bryan Habana and Jonah Lomu. Come on Swoop!
Random observation for the day – Did you know that JOC and Hooper walk and run much alike. See I told you that Hooper should be a centre. Not that JOC is really a centre, but that is a story for another day.
Well. That is all from the Land of the Rising Sun for today. Until Oita, may your beer and sake always be cold and your sushimi fresh. I need a nap.