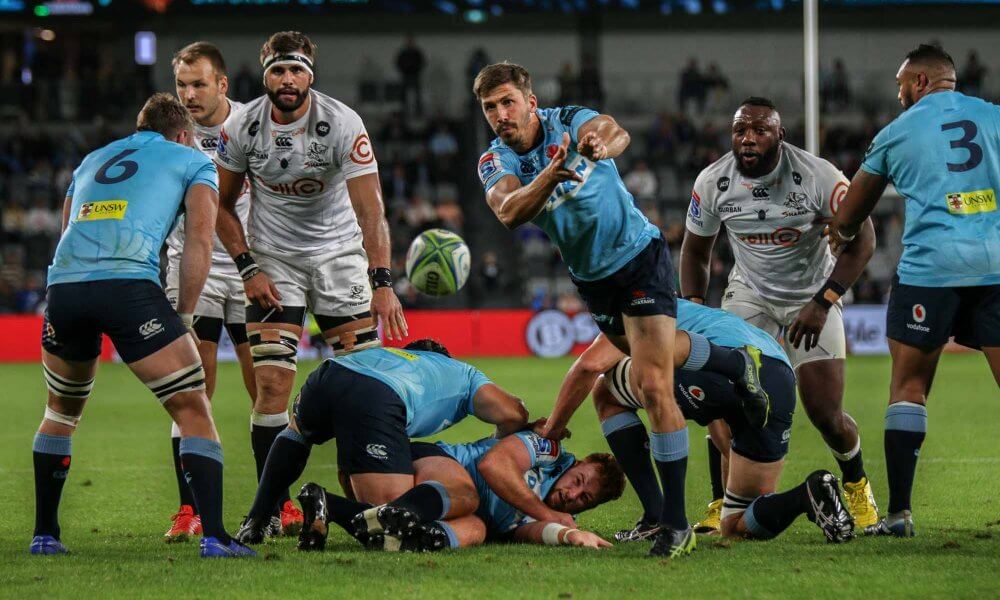 We were hopeful. Hopeful that after a knocking off the Rebels last week, the Waratahs would be able to grab another win at home, start to build consistency and put this yo-yo period of their season behind them. Then this match happened, and they went down 15-23 to the Sharks.
Queensland Reds Prop JP Smith said at the start of this month ahead of their tour of South Africa that Saffa forwards think Aussie forwards are "soft."
"Soft. That's my honest opinion, that's what South African (forwards think) because they try and bully us. If you take that aspect away from them, they don't know what to do.
"If you take their forward play away, they're very niggly off the ball and they like to intimidate you and once they see you give in, they've got you, so it's physical presence from the start — they want to dominate you."
This was clearly the Sharks plan last night, and it worked a treat. This was a straight up bullying. There have been many criticisms voiced about the Waratahs forward pack already this season (by critics, fans and even our podcast), and if anything, this match confirms it.
The Match
A pretty average crowd of 10,605 fans arrived at the new Bankwest Stadium, but it sounded like more. Honestly, the new stadium lives up to the hype. For many of us NSW folk, we're used to watching our footy in a chasm like ANZ Stadium, where you're far away from the action. We were on the highest tier up, and it felt like we were only a few metres from the players as they were warming up. We heard a bloke calling out next to us when Bernard took his first shot at goal during the game, and you could hear it on the highlights replay. It was almost like a mini-Suncorp, and I really hope the Tahs play here more often after this year.
Anyway, enough with the highlight, onto the game.
The first half was entertaining footy, with the Waratahs coming out of the gates strong and pinning the Sharks down in their own half early. This early pressure was rewarded when in the 7th minute the Tahs were awarded an penalty, and Bernard Foley converted to put the Tahs in front 3-0. However, the Shorkies weren't going away, and their forwards got to work on the restart. Seven minutes later, Daniel Du Preez crashed over under the sticks in the 15th minute, and the men from Durban were up 3-7.
The match went back and forth for the next few minutes, with the Sharks forwards trying to outmuscle the Tahs up front and the Tahs backs trying to out dazzle the Sharks out back. It seemed to be working for the Tahs, with several encouraging phases, and brutal defence pinning the Sharks that. Curtis Rona was looking dangerous on the left flank, and would have been best on field if it wasn't for Cam Clark, who produced one of the hits of the season that got the crowd riled up.
This backline pressure was eventually rewarded when Rona combined with Jake Gordon to put the Tahs back in the lead, 10-7. But just when they were starting to look like they were getting on top of the Sharks, the Tahs concede a penalty for a high tackle, and Curwin Borsch nails the penalty goal. The score was now 10-10 which is how it remained until halftime.
However, this was an interesting period of play, where it became clear the Sharks were starting to break the Tahs' forwards. With many tackles, they were increasingly starting to hold players up and force the changeover, as Phil Kearns (god, I'm quoting him) called it post game "rag-dolling." While no points came of it, it was certainly looking worrying how often it was starting to happen.
Halftime Score: Waratahs 10-10 Sharks
The second half got underway, and the first five minutes started out much the same as the last five of the last half, with the Sharks looking increasingly dangerous in the forward pack, but the Tahs still hanging on.
Then, at the 46th minute, Thomas du Toit grabbed Jed Holloway's jersey off the back of a maul, and Holloway elbowed him in the face. I've been seeing people arguing about whether this was a red card or not, even Michael Hooper, who argued it wasn't intentional, so I'll let ref Nick Berry explain his reasoning:
"I know he's held you back, OK, but you've taken it into your own hands, you've thrown an elbow and it's connected with the player – it's a red card."
In my books, he's right, simple as that. And remember this moment, because this is the moment that everything went to shit.
du Toit was also yellow carded for his efforts, and it was 14 on 14. Curwin Bosch stepped up to take the points, but by this stage the crowd was reeling, and you could hear how hostile the atmosphere had become. He missed. Another penalty, two minutes later. Bosch steps up, the crowd gives it to him. He misses again.
However, it became clear after this moment how difficult the game was going to be for the Tahs, when Jack Dempsey was then yellow carded for a lifting tackle. 14 on 13.  It was a pure numbers game shortly afterwards when Andre Esterhuizen bulldozed over and scored to give the Sharks back the lead, 10-17. It was clear now that the Tahs were going to have to pull off a miraculous comeback to win this.
Not only were the Sharks leading on the board, their forwards had worked their magic on the Tahs; nearly every second contact, the Sharks were ragdolling Waratahs forwards. And the Tahs were just… letting them do it! Get in there! Get in their faces! Outmuscle them! But no, they didn't. And it turned from rag dolling to straight up bullying, both in the ruck at at scrumtime.
Bosch nailed a penalty goal from half way in the 68th minute to stretch the margin out to 10, and then was gifted another penalty opportunity when the Waratahs wheeled the scrum. This time the Tahs finally lost their cool and tried to do some push and shove with the Sharks. It was at that point the game was over; the Sharks were in their heads, and had comprehensively beaten them. Bosch steps up, nails the penalty goal; 10-23.
The Waratahs were to have the last laugh, with Bernard Foley crashing over to get the Tahs back to eight. Nail the conversion, and they'd at least finish with a losing bonus point. He missed.
Fulltime: Waratahs 15-23 Sharks
Let's give credit where credit is due, the Sharks played very well. They had a simple South African game plan of bullying up front and they succeeded, and everything fell into place. In a real sense of what goes around comes around, after relinquishing a 15 year dominance at home over the Reds last week, they came over here to prove a point and broke a 19 year drought in Sydney. With only 42% possession they took their chances, managed the game well, and with 186 tackles, defended brilliantly. They bullied and intimidated, and deserve the win.
How do you polish a turd? I'm not going to: the Tahs were crap. Folks will argue Nick Berry had a bad game, but Nick Berry is not responsible for managing the Tah's discipline.
All of the flaws of their forward pack were put on huge display, and when the time came to stand up, they failed to take their opportunities. You'd think that with the likes of Rob Simmons, Michael Hooper and a veteran in Sekope Kepu at their disposal, the Tahs would have known the Sharks were going to employ this bullying approach and come up with a suitable way to counteract it. But they didn't. Instead, they got bullied, bashed up, and resoundingly beaten. I hope Simon Cron gave them a real ribbing after this game, cause, as JP says, this match showed that when push comes to shove, the Tahs forwards certainly can be soft.
The backs had their moments though, and Cam Clark played an outstanding game on the wing. Also, with the team Izzy-less, it was interesting to see them employing their kicking game in new ways, and generally speaking they still showed a lot of competitiveness under the high ball. And in general, the Tahs attack looked good, and they should have taken their opportunities, especially when you have most of the possession.
It's time for the Tahs to do some soul searching, because within the context of their season, this was a critical loss. But to me, this watch is a summary of them: so much potential, so much talent, so capable of being one of the great Super Rugby teams, only to be squandered by stupid decisions and losing all game structure when push comes to shove. I feel for Tahs supporters, because this match sucked, and worst of all, was exactly what we've come to expect from them.
---
The Game Changer
The red card. From then on the Tahs were in disarray, and the Sharks took advantage. Simple as.
The GAGR MOTM
Cam Clark. A really encouraging performance, he's looking more and more dangerous every time he gets the ball. Add to that he produced the hit of the season so far in this game.
Wallaby Watch
Jake Gordon does look to be improving as a halfback, in spite of a mixed effort last night. His try off the back of some brilliant work from Curtis Rona was almost Genia-like, and if he is able to read the game better in coming weeks I reckon he'd be in the mix as a back up halfback. Add to that, Rona himself did have his moments, and had he been able to involve himself more could've grabbed a meat pie for himself.
---
The Details
Crowd: 10,605 pissed off fans
NSW Waratahs 15
Tries: Gordon, Foley
Conversions: Foley (1/2)
Penalties: Foley (1/1)
Cards: Holloway (Red, 46), Dempsey (Yellow, 51)
Sharks 23
Tries: D Du Preez, Esterhuizen
Conversions: Bosch (2/2)
Penalties: Bosch (3/5)
Cards: du Toit (Yellow, 46)