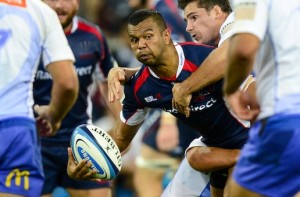 While he sits out an 'indefinite suspension' with the struggling Melbourne Rebels, rumours have abounded that Kurtley Beale has been feeling out a possible move back to the Waratahs.
Would this be a move of genius or disaster? Here are two viewpoints from our forum:
---
GIVE HIM A GO
By Braveheart81
I've always been a bit fan of KB and whilst he has mad several serious off field issues now, he largely stayed out of trouble at the Tahs.
I think Cheika is exactly the sort of coach that KB needs to stay focused and on the straight and narrow.
There needs to be several things happen before this can become a possibility. Kurtley needs to seek attend some sort of alcohol rehabilitation program and receive counselling. It would seem based on past experience that he probably needs to stop drinking if he is really going to be avoid problems in the future.
A combination of anger management and fixing his drinking problem is what is required.
If he can complete these things I think the Tahs should seriously consider re-signing him.
DON'T TOUCH HIM
By Bardon
I vote no because a lot of Cheika's problems at Stade stemmed from disagreements between him and the players. At Leinster he was able to ship out or retire guys who didn't buy into his way of doing things and ended up with a squad that believed in what he was trying to do.
Although I greatly admire KB as a player, at one time he was the undisputed best FB in the world, his off the field problems don't sit well with the changes Cheika is trying to make at the Tahs. It would be a big gamble to bring KB back and if it blows up in his face it could cause major disruption in the squad and potentially cost Cheika his job if there's a split in the squad.
If the Tahs did get KB back it won't be for a pittance. Even with clauses or a handshake agreement about his behaviour there could still be a lot of problems if he misbehaves.
---
What do you reckon – if the Tahs get the opportunity, should they give KB another chance?
[yop_poll id="2″]