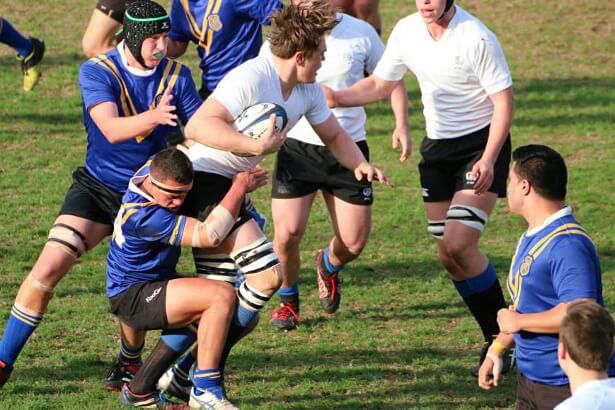 The pre-season trials of Sydney private schools continued and a mix of CAS and GPS schools, plus some from other Associations, fought it out.
There were players missing from all the sides but this did not stop winning teams claiming bragging rights from the other Associations.
Here are reports of some of the games.
Knox v Riverview
By "Waratahs to win"
Can the CAS teams compete against the strong GPS teams? Is the new system of trials and then a one-round competition a good idea?
As the 2016 CAS Champions (Knox) met the 2016 GPS runners-up (Riverview) all the talk was over. In front of a large Knox home crowd, we were about to find out!
First half
It was clear early that the Knox pack was a force to be reckoned with. The Knox scrum was dominant and set a strong platform.
There was a tough tussle in the first 15 minutes. Possession changed hands and both teams enjoyed multi-phase attack. There was little result until the Riverview half-back, Will Grant, sliced through the Knox defence, ran 15 metres and dove over for a classy solo try.
No. 10 Mac Bird converted from in front.

Knox responded quickly with a strong drive by the forwards in a series of pick'n goes. Driving low Knox went over the line and after the referee awarded the try, second rower Nick Frost emerged with the ball.
Flyhalf Woodcock converted to tie the game 7-7.
Riverview responded with good backine hands getting the ball to winger Seb Cameron who ran around the Knox winger, scooted down the sideline, to score in the corner. Bird converted.
Riverview were leading 14-7 and looked ominous profiting from some Knox handling errors and making good attacking metres down the wing.
Half-time score: Riverview 14 – Knox 7
After the break Knox started with some marvellous rugby as they switched play from side to side.
After many phases Frost took the ball 20 metres out, busted a tackle and out-sprinted the defence to score his second. The Woodcock conversion brought Knox level, 14-14.
The Knox pack started to dominate Riverview who were fading, perhaps from their spirited defence. Knox worked the ball up the field again – and who should barge over for another try – Nick Frost – for his third of the game. Impressive! No conversion.
At 19-14 to Knox, the tough tussle continued. Knox contained Riverview with committed defence and deft tactical kicking by Woodcock, that turned them around and parked in their own 22.

Knox fullback Michael Pavalakis darted through for a try which was converted. The game was slipping away from Riverview. Knox 26-14.
The visitors had opportunities late in the second half but the defence of the home team was too solid. However Riverview 13 Angus Bell intercepted a pass and raced 20 metres to score. No extras.
Riverview should have done better after oranges but knock-ons and silly penalties, plus the strong work by the Knox pack, restricted them to just 30% possession.
Fulltime score: Knox 26 – Riverview 19
Knox won, and many of the pre-season questions had been answered. Knox, and CAS teams, can compete against the GPS teams. The standard of rugby was excellent, and the big crowd loved a great day of schoolboy rugby.
Best players:
Knox: Frost, Frear, Pavlakis, Woodcock
Riverview: Bell, Grant, Cameron, Rorke
Player of the match – Nicholas Frost was almost unstoppable today. Named for Australian Barbarians last year, but could not play, he will make the main team in 2017 if he keeps that form in the CAS this year.
Scoring details
Knox 26: (Frost 3, Pavlakis tries; Woodcock 3 cons.) beat St Ignatius 19 (Cameron, Bell, Grant tries; Bird 2 cons.)
---
Kings v Waverley
by "William88"
From the kick-off a Kings' knock on led to a Waverley scrum—a powerful scrum that won Waverley a penalty that sent them to the Kings 22 where they botched the lineout with a poor throw. It was an example of the day to come for Waverley.
In the next ten minutes both sides put on a physical game of rugby including some devastating hits. For Kings Brown (5) and Brown(7) were dominant early, making multiple turnovers through the game, while in the contact. Waverley's Cornish (6) and Moretti (8) seemed to enjoy the tough stuff.

The first try came from a controversial turnover. Some simple hands and offloads later, and Gunstone (8) was in for Kings on the left edge.
Waverley gave some easy metres through penalties and Kings marched downfield, then after a cutting run from Simson(12), Storey scored their second. 14-0.
Soon after Simson made another slicing run to get across for his own try. He will be a force in GPS this year using good lines and powerful running.
Waverley continued their dominance in physicality but kept leaking penalties, allowing Kings to make easy metres down the field.
After another penalty and a driving maul later, Minogue (10) ran across the chalk to make it a commanding first half for Kings.
It almost became routine: Waverley would kick off, give away 2-3 easy penalties, then Kings would keep them stuck in their own 22. It was a dominant first half of rugby.
Half-time score: Kings 31 – Waverley 0
Second half

It was almost a different game after the break, but Kings continued to dominate field position through poor discipline from Waverley and great work at the breakdown.
A strong steal let Kings shift the ball to Williams (14) who kicked through skillfully for Stewart (11) to regather for a sensational try in the corner.
Kings 36-0. Game over.
Waverley managed to get a consolation try later in the game for debutant Towns (12) and won the half 7-5.
Full-time score: Kings 36 – Waverley 7
Kings
They will be happy with the efforts of 7, 9 and 12. Their work on the ground was second to none and caused issues for Waverley all day. The ability for 12 to break the line was a highlight of the day. The passing game of 9 was also a standout.
However they would be disappointed to be beaten so strongly at the scrum and lineout, as Kings are known for their solid set piece.
Waverley
The Waves will be happy with their set piece and their physical performance, but not with their poor discipline. They would have given away over 20 penalties by my rough count.
Their backline also appeared weak and they will be looking forward to some returning players to strengthen it ASAP.
---
Shore v Barker
by Rod Skellet
The opening trial for both Shore and Barker pitched two teams who have struggled in their respective competitions in recent years, against each other.
Weather conditions were perfect for hard, fast rugby and it was clear from the kick-off that Shore meant business.
First half
The Shore forwards lead by THP Luke Edwards and LHP Jack Livingston gave clean set piece possession to a back line that clearly was in sync.
With Max Sinclair (captain and the biggest five-eighth in the GPS) giving sterling service to his outside backs, Shore had Barker on the defensive, and after ten minutes winger Fisher was in for the first try of the game.

It looked all too easy for Shore with sloppy and inconsistent play by Barker gifting penalties to a Shore side that already had 65% possession.
With Shore hogging the ball, the Barker Reds were getting plenty of tackling practice and some of it was inspiring.
Special mention to Barker's Year 10 winger Kyle Galloway who was ironclad, and their front row of Chalmers, Wilson and Melchoir, who ensured the Shore forwards made no ground up the middle.
But Shore scored in the corner after a fine individual effort by centre Dom Walker, who broke a tackle and galloped 35 metres for the try.
Half-time score:  Shore 10 – Barker 0
Second half
Barker started to click in the second half with no. 8  and captain Luke Reimer leading by example. He dominated with ball carries and ripped into Shore up the middle. With Flarherty (4) and Weymouth (6) assisting, the Barker forwards provided front-foot ball to a backline itching to cut loose.
The try eventually came to fullback Andy Lloyd after some excellent passing and support play by the backs; but the conversion was just wide.
From the restart, Barker had their tails up and a similar pattern of brutal running by the forwards produced a handy field position for Ben Bryden (14) to touch down under the crossbar—only to be denied by a knock-on.
An opportune penalty in good field position enabled Barker kick for a handy touch and a clean lineout win by Weymouth (6) followed.  The subsequent rolling maul produced Barker's second try, and the conversion had the Reds leading for the first time, 12-10.

Shore was not giving up, and the restart had them deep in Barkers' half. A simple knock-on by the Reds, gave the feed to a dominant Shore scrum. This time Max Sinclair did the fancy footwork himself, touching down next to the posts. Unfortunately his easy conversion attempt hit the upright, but Shore was leading 15-12 with 15 minutes left.
Both sides were giving plenty, but around the ground Barkers' forwards were in ascendance and the backs were running with confidence.
A penalty to Barker in front of the uprights locked things up at 15-all with about six minutes left on the clock.
Aggressive running by Reimer and Pollard gave Barker good field position. Retaining possession through multiple phases Barker's strong rolling maul close to Shore's line had Flaherty (4) crash over for Barker's third try to break the deadlock.  Neserssian (10) converted.
Barker deserved the win.
Final score: Barker 22 – Shore 15
Best for Shore
Edwards, Walker, Wilkins, Sinclair
Best for Barker
Reimer, Flaherty, Galloway, Lloyd
---
Oakhill v Newington
By "The Cow"
The game was cancelled after 27 minutes due to a serious injury to a Newington player, with New leading 26-0.
Boy, were Newington good up to that time. Although Oakhill weren't bad by any means Newington never let them into the game.
I was commenting to one of the Oakhill coaches at the post-match function that schoolboy rugby has changed so much in the past 5-10 years, as Newington's big forwards had great linking skills in attack.
The best players for Newington in the short time they played were:
#1 Angus Bell, #5 Witeriana Koopu, #12 Saul Lewis
---
Trinity v St. Patricks
By "Snort"
Was at Summer Hill today.- Trinity were certainly the better side (especially in the backs) and won 29-10.
St. Patricks at times showed glimpses and did have some potential. I thought Pats scrumhalf was much better than Trinity's (whom I found out played NSW 16s). The outside backs of Trinity particularly the right winger, were strong and quick, and were ably backed up by the much larger forward pack.
The half-time score was 17-0 Trinity
Trinity could be a surprise in the CAS this year.
---
Other results
Aloysius 57 – Grammar 15.
Kinross 35 – Armidale 9