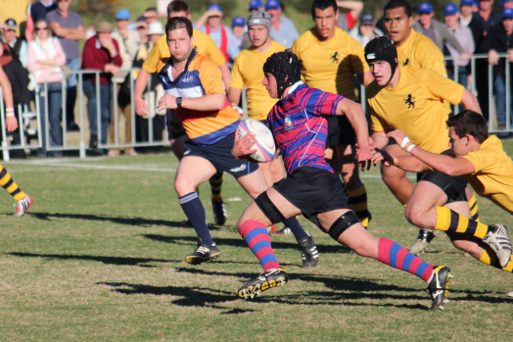 Round 5 marked the end of the first half of the new home-and-away First XV competition, which is proving to be a big success.
At the end of Round 4 Scots was the undefeated team but were facing Joeys who are always tough at Hunters Hill.  Newington, who lost to Scots last week had to beat Shore to keep in touch, but they had been troubled by them at Northbridge before.    To get out of a rut Kings had to beat a young View side, who were playing beyond their years.
---
Newington 37 – Shore 20
at Northbridge with a crowd of 1,800.
Weather: Sunny with a puff of breeze
Everyone was finding it hard to pick this one. Shore has a reputation of being a small but tough competitor, without success to date. Newington had won everything except the thriller last week to the only undefeated team, Scots.
On paper this was the 'David and Goliath' match. With Newington featuring eleven Australian or NSW rep players (albeit two injured) to Shore's two. Injuries had played havoc with the Shore team and five players were not available.
---
The scoring
Almost straight from the kick-off Newington zipped over with tacklers strewn on the ground,.  It was a try well executed try by the Australian Schools' centres, when Tepai Moeroa (#12) offloaded to Taane Milne (#13) to score. Joey Lussick (#9) converted.  Newington 7-0.
Newington was playing with confidence and some domineering attitude off the ball. This behaviour contributed to giving away too many penalties mainly for indiscretions around the ruck and maul.

Shore however came out to play and they were led extremely well by their NSW representative fly-half Jack Clancy. With Nic Clancy playing #12, the two Clancys kept the big New backs guessing most of the afternoon. Through adept kicks that often turned the New backline around, run arounds or switches, the smaller and more agile Shore backs were playing a smart game.
Newington were being thwarted by their persistence with infringements and the ref wasn't going to give up. He penalised and warned them so much that they appeared to become a little 'gun shy'. This was further exacerbated when Taane Milne (#13) was yellow carded for not using any arms in the tackle.  Nobody was surprised.
Shore were working as a team with a plan and they were executing it well. The only time Newington got into Shore's half, they scored. Their second try came after 23 minutes when Michael Kambas (#14) went over near the sideline and Lussick (#9) kicked the conversion.   Newington 14-0.
Soon after the restart Shore's fullback, Hugh Berkman (#15) counter-attacked by running the ball hard back up-field. He linked with his winger, Toby Cooke (#11), then to Nic Clancy (#12) and back to his brother, Jack (#10) who held the pass up to his vice captain Angus Cooke (#6), who then gave it back to Nic Clancy (#12) to score a magnificent team try. Jack Clancy (#10) converted and the crowd sensed we had a game of footy ahead of us.   Newington 14-7
Newington were stunned and played without structure or purpose although their players were working hard. Shore felt the sun on their backs and using it wisely soon were attacking again assisted by some more indiscretions from Newington. They scored after Charlie Oldham (#13) ran 30 metres linking with Toby Cooke (#11) who was dragged down ten metres short of the line. Then the hooker, Olly Stump (#2), with a full head of steam crashed over to score out wide. The conversion was unsuccessful leaving the score 14-12 to Newington.
With only minutes before half time Newington received a penalty 35 metres out, in front, which Lussick effortlessly booted.  Newington 17-12 at oranges.
 Second half
Shore restarted with determination and grit. Flyhalf, Jack Clancy (#10) jinked into a half-gap to be thwarted from scoring only for the No8, Nathan Lucas (#8) to dive over the ruck to get his try. Score 17-17 after the conversion missed.
Shore's game plan of turning the big New team around all day continued. Harry Emery (#9) was effective in this tactic with his astute box kicks from the base of many breakdowns.

Newington's run on flyhalf, Ellis Abrahams #10 was now playing fullback but he appeared uncomfortable in this position allowing Shore to get good field position from their kicks. Another penalty to Shore and Jack Clancy (#10) kicked the goal to put Shore ahead for the first time 20-17.
Newington's Lachlan Anderson (wearing #20 and coming on at half time) sparked the Newington's backline into more purposeful attack. This foray allowed Newington to press Shore's line and from taking a scrum five metres out following a penalty, Anderson linked with his centres to put Simon Kennewell (#11) over near the corner post. Joey Lussick kicked another superb conversion and Newington had wrestled the lead back 24-20 with 15 minutes to go.
Joey Lussick showed his brilliant kicking soon afterwards with a penalty from 45 metres, in front, and another 15 metres out to demoralise Shore.  Newington 30-20.
Taane Milne (#13) then showed his skill and prowess with a deft one handed pass to his winger Sepesa Loga-Tarogi (#15) to score next to the corner post. Joey Lussick, having a golden day with the boot, put the conversion over.
Fulltime: Newington 37 defeated Shore 20.
---
The Players
Shore — The whole team played well with the new guys justifying their promotion, especially Hugh Berkman. But their captain, Jack Clancy guided his team superbly.
Newington —  The 6 (David Morris) & 8 (Lachie Cannel) were the pick of the forwards with Joey Lussick being the difference between the two teams.
---
The Wrap-up
Newington proved they are a class team, and were too strong at the end of the match.  But they probably got spooked in this game by the referee penalising their many infringements, and Shore executing an effective and smart game plan.
Post-match — Lachie Cannell, the Newington captain, showed everyone at the post match gathering his admirable and diplomatic qualities. He seems a fine young man who will represent Australia well.
---
See Page 2 for Joeys v Scots by "Lee Grant"