Scots beat Joeys for the third year in a row in an emphatic display at Bellevue Hill. In doing so they turned their ordinary trial form around and announced clearly to the rest of the competition that there was a new gun in town.
Scots 25 – Joeys 10
The scoring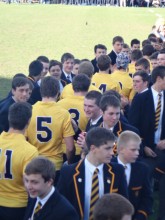 Scots notched a penalty then Joeys had most of the play after that but Scots' defence was too solid against Joeys' trademark pick and drive. They ripped the ball loose a couple of times also. Scot's attack looked more dangerous and only an ankle tap stopped Stewart threatening the line. Next time they put a crisp backline movement where the ball beat the tacklers. After several hands had moved the ball on 15. Kellaway scored. 10-0. Nice try.
Eventually 1. Robertson went over in traffic for Joeys after 7. Murphy had started a series of surges but Scots struck back immediately. Joeys were too skinny on their right hand side when Scots moved the ball there; 11. Holmes, still with a lot to do, ran around some clutching hands of Joeys defenders to score a top individual try under the posts. At oranges it was 15-7.
After the break penalties were swapped and attacks were launched by both sides but sterling defence, sometimes just in time, kept the score difference to 8 points. Then with only a few minutes to go Joeys moved the ball from near their goal line but the ball was stripped by 6. Dunbar, who dotted down. Game over 25-10.
Joeys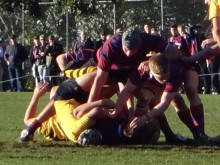 They made inroads with their pick and drive for most of the game but when the backs got it they couldn't penetrate. They didn't have ball runners running challenging lines and there wasn't a lot of deception that that fooled the spectators, let alone the steely-eyed Scots defenders, who were a hard sell. The more the backs failed, the more the Joeys forwards kept the ball.
Their fastest player, 14. Wilde, had one moment of brilliance in the 1st half when he took a planned drop-out and hared up the field to near the Scots' goal line, but soon after a ball was dropped. 9. Curtin dropped the ball over the line in a tackle also.
10 minutes into the 2nd half Joeys raided and were in under the posts for all money but a pass was dropped then too. They took a penalty. The key moment was a couple of minutes later when 12. Pay went on a long run down touch and backed himself to score in the corner rather than step inside, but Kellaway nailed him a metre out and the ball was dropped.
So, Joeys had their chances – but they didn't take them.
I don't think that the blue heeler Joeys forwards could have done a lot more than they did; so I hesitate to name individuals who played well. But as a group the forwards lacked discipline in the first half and dropped too much pill.
Scots
Their forwards were a match for Joeys and had a bit more weight to chuck around. Their young backrow 6. Dunbar, 7. Kamp (both in Yr. 11) and 8. Crichton (Yr.10) played like old stagers around the rucks. With ball in hand Crichton was often hard to stop with his step and fend. Watch this kid.
The big difference was in the backs. The experience of Oz Schools flyhalf Horwitz and his deception, passing chest on and mixing up the play, was influential in the game. His long passes to team mates running onto the ball had Joeys scrambling. Truth be told: they stuffed a few things up, but some of their set moves were done like clockwork. 11. Holmes and 14. Frost both had good moments but the star of the back 3 was 15. Kellaway.
This lad is still in Yr. 11 and plays like Matt Burke at the same age – and what a booming punt he has.
Conclusion
The match was a big set back for Joeys and their season will be defined by their match next week at Newington. They have to get their backs firing silver bullets instead of blanks because there are werevolves in Stanmore.
It was an assertive performance from Scots, who had the bye last week. They will be confident about going to Riverview next Saturday, and everybody will be interested to see if they can play with the same intensity. But take the bagpipes with you lads to get in the mood, just in case.
The Scots College – 25 – Tries: A. Kellaway, D. Holmes, H. Dunbar. Conversions: Kellaway (2). Penalty: Kellaway (2).
St. Joseph's College – 10 – Try: T. Robertson. Conversion: J. Kay. Penalty: Kay.
Referee: Mr. S. Hardy
Gallery
This old post is being used for WordPress exercises
Waratahs – should be favourites to win
Team lists & details
[one_third last="no"]
Waratahs

1. Paddy Ryan
2. Tatafu Polota-Nau
3. Tom Robertson
4. Dave Dennis
5. Will Skelton
6. Dean Mumm
7. Michael Hooper (c)
8. Wyclff Palu
9. Nick Phipps
10. Bernard Foley
11. Rob Horne
12. Kurtley Beale
13. Israel Folau
14. Reece Robinson
15. Andrew Kellaway

Reserves:
16. Hugh Roach
17. Jeremy Tilse
18. Angus Ta'avao
19. Sam Lousi
20. N.Hanigan/J.Dempsey
21. Matt Lucas
22. David Horwitz
23. Matt Carraro
[/one_third]
[one_third last="no"]
Bulls

1. Lizo Gqoboka
2. Adriaan Strauss (c)
3. Marcel van der Merwe
4. Jason Jenkins
5. RG Snyman
6. Pieter Labuschagne
7. Jannes Kirsten
8. Hanro Liebenberg
9. Rudy Paige
10. Tian Schoeman
11. Bjorn Basson
12. Jan Serfontein
13. Jesse Kriel
14. Jamba Ulengo
15. SP Marais

Reserves:
16. Jaco Visagie
17. Trevor Nyakane
18. Pierre Schoeman
19. Marvin Orie
20. Roelof Smit
21. Piet van Zyl
22. Francois Brummer
23. Dries Swanepoel
[/one_third]
[one_third last="yes"]
Details

Date: Saturday, May 14th

Venue: Allianz Stadium, Sydney

Kick-off: 19.45 AEST

Referee: Glen Jackson

Assistant referees: Ben O'Keefe, James Leckie

TMO: George Ayoub[/one_third]
Statistics courtesy of Opta Sports.