After one of the most dramatic rounds of NRC in Round 8 we now run the risk of having one of the most underwhelming. From my count we had three upsets in the first three games last weekend all of which were played on the Saturday.  Queensland Country secured a home final when they became the first team to defeat the Drua in Fiji. Brisbane City were unable to back up the performance of their state-mates as the Rams produced a memorable 2nd half at Ballymore to claim a wonderful win. Next up the Sydney Rays became the first team to defeat the Spirit in Perth this year bouncing back from some poor recent performances. So we get to this round and this is how the table stands.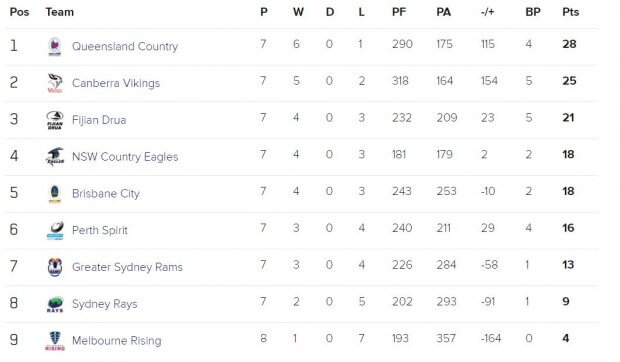 As we enter the final round we still have six teams capable of making the finals. The Rising have finished their season early with the bye while the Rays and Rams can still have an impact on the finals.  There are key games across the weekend as the teams jockey for final positions. It's just a shame that this final round of competition will be robbed of so many of its stars as many have been called into the Barbarians or Australian teams to play in Sydney on Saturday arvo. What it means is there will be a lot of broader squad members, many of whom who haven't played for a while, called in to fill the gaps of key players. The impact on the teams, and the finals, could be immense.
NSW Country Eagles v Brisbane City (Streamed via foxsports.com.au/live)
Saturday 28 October at Endeavour Oval (Orange). Kick-off 1:00pm (AEDT)
Reasons not the miss the match:
This is an easy equation. Put simply whoever wins this game makes the finals – lose and they are gone. Both teams have a chance to make it to third place, for what it's worth, but would be relying on the Sydney Rays pulling off another upset on the road by beating the Drua A chance to go to 3 if Drua lose to Rays. The Brisbane blew their chance last week when they hosted the Rams at Ballymore and were cruising at the half. The Rams came out in the second and took the city slickers out of the game, and possibly out of the competition. Meanwhile, perhaps spurred on by the result, the Eagles did exactly what they needed to do and thumped the Rising for the bonus point win.
Brisbane's Wallaby and Barbarian losses are significant, perhaps more in quality as they are in quantity. The kingpins are captain Andrew Ready and flyhalf Quade Cooper. Ed Fidow (gone to France), Kane Douglas, Lukhan Tui, Karmichael Hunt, Samu Kerevi and Salesi Manu are varying degrees of losses, but when the skipper and playmaker are a tough gap to fill. It largely falls upon young James Dalgleish to fill the QC boots. Dalgleish did the job for Queensland University this year in Queensland Premier Rugby, but the task will be tough considering the wholesale changes forced across the backline. It's really up to the sole international in the team – Nick Frisby, to rise to the moment and lead the team to victory.
The Eagles have lost a few players of their own. Tom Robertson will turn out for the Wallabies while Andrew Kellaway will sit on the bench for the Barbarians with Sam Ward as 24th man (although he has been named on the bench here, somewhat intriguingly).  My question is why isn't Tayler Adams getting a shot? Duncan Paia'aua has been brilliant for QLD Country but at 12. Why is he playing 10? The form flyhalf of the comp has been Adams. I'm not 100% on his eligibility, but he's been playing Shute Shield for three years which must mean he's pretty damn close. As it is it seems like he and Jake Gordon will be back combining and will be the crux of the Eagles attack on Saturday which could be decisive as to how the match plays out.
Form:
NSW Country: L – B- L – W – W – L – W – W
Brisbane: W – L- W – B – L – W – W – L
NSW Country Eagles:
1. Paddy Ryan [c], 2. Brandon Paenga-Amosa, 3. Harry Johnson-Holmes, 4. Tom Staniforth, 5. Ryan McCauley, 6. Rohan O'Regan, 7. Maclean Jones, 8. Nick Kellaway, 9. Mitch Short, 10. Tayler Adams, 11. Alex Gibbon, 12. Tom Hill, 13. Kyle Godwin, 14. Seb Wileman, 15. Alex Newsome
16. Connal McInerney, 17. Matt Gibbon, 18. Cam Betham, 19. Tim Buchanan, 20.Rowan Perry, 21. Sam Ward, 22. Lachlan Anderson, 23. Tyson Davies
Brisbane City:
1 Reuben Leilua, 2 Ryan Freney, 3 Sam Talakai [c], 4 Tevita Ratuva, 5 Dan Gorman, 6 Pat Morrey, 7 Michael Gunn, 8 Michael Richards, 9 Nick Frisby, 10 James Dalgleish, 11 Junior Laloifi, 12 Chris Kuridrani, 13 Maaloga Konelio, 14 Jayden Ngamanu, 15 Jake Strachan
16 Campbell Wakely, 17 Markus Vanzati, 18 Feao Fotuaika, 19 Sam Reiser, 20 Jack de Guingand, 21 Moses Sorovi, 22 Alex Horan, 23 Dylan Riley
Tip: NSW Country all the way on the back of their hard working pack and too many Brisbane stars absent. Eagles by 14
---
Fiji Drua v Sydney Rays (Live on Fox Sports)
Saturday 28 October at ANZ Stadium (Suva). Kick-off 4:00pm (local time)
Reasons not the miss the match:
From a finals perspective this one is also pretty easy as we only have to look at one team. The Drua. The Rays are well and truly out of it, but the Drua are walking a tightrope. Perhaps it's more a plank than a tight rope as their finals spot seems reasonably secure. Basically a win ensures they make the finals in their first year. There is a slight chance of them hosting a final, which has massive implications from a travel perspective for all finals bound teams. If the Vikigs lose to the Rams then a Fiji bonus point win will see them in second spot.
The Rays were bloody excellent last week in nullifying the Spirit who would have expected to continue their undefeated home ground streak. When it looked like Perth would run away with the game, the Rays upped the ante and played relentless rugby. A largely 'no-name' team it was an impressive turnaround for a team that was grossly underwhelming previously. Can the Rays continue to be giant killers this weekend? They have a relatively untouched side from last week which can only serve them well.
It's not just the Aussie sides missing rep players this weekend as the Drua will be without some stars as well. The Fijian national squad have commenced their training preparations for their upcoming international fixtures and have taken some crucial Drua talent along with them.  Overall there are nine changes to the Drua team including key personnel in Joeli Veitayaki, Ratunaisa Nauma, Mosese Voka and Frank Lomani. As far as a player development tool, it's not a bad way to sus out your depth. We'll definitely get a good idea of  the Fijian systems this weekend.
Form:
Drua: L – W -W – W – L – W – B – L
Rays:  B – L -W – L – L  – L – L – W
Fiji Drua:
1 Eroni Mawi, 2. Moses Gavidi, 3. Samuela Newa, 4. Mataiasi Ucutabua, 5. Peni Naulago, 6. Samuela Saqiwa, 7. Vaikali Mudu, 8. Peni Raidre, 9. Sakiusa Gavidi, 10. Kini Douglas, 11. Apete Daveta, 12. Cyril Reece, 13. John Stewart [c], 14. Eroni Sau, 15. Apisalome Waqatabu
16. Semi Keli, 17. Osea Naganilau, 18. Vesi Rarawa, 19.Apisai Tauyavuca, 20. Filimoni Seru, 21. Seru Cuvuilati, 22. Meli Nakarawa, 23. Ifereimi Tovilevu
Sydney Rays:                                                 
1. David Lolohea, 2. Damien Fitzpatrick, 3. Alex Westgarth, 4. Connor Vest, 5. Angus Ryan, 6. Alex Perez, 7. Kawaa Leaumu, 8. James Brown, 9. Harry Nucifora, 10. Bryce Heagarty, 11. Kepu Lokotui 12. Irae Simone, 13. Apo Latunipulu, 14. Rob Buaserau, 15. Harry Burey
16. Sam Kitchen, 17. Tristan Goodbody, 18. Wayne Borsak, 19. Ed Kennedy, 20. James Hilterbrand, 21.Nick Duffy, 22. Sam Lane, 23. Jack Grant
Tip: The Drua SHOULD win this game but it would not surprise me if they didn't. Fiji by 6
---
Greater Sydney Rams v Canberra Vikings (Live on Fox Sports)
Sunday 29 October at TG Milner (Sydney). Kick-off 3:00pm (local time)
Reasons not the miss the match:
The Vikings are in the finals regardless of results so this is all about hosting next week (as well as potentially avoiding a trip to Fiji). All they need to do is win, which is what you'd expect them to do fresh from a well-timed bye weekend. Perhaps gnawing at the back of their mind will be their relatively poor away record this year with just the one win (against the bottom placed Rising) to their credit this year.
Rams produced a massive comeback to defeat Brisbane City last weekend after trailing 19-0 at one stage. It was a due reward for a team that started the seasons strongly but somewhat lost their way in that middle run of games. They suffered some big losses but always competed strongly and they seemed to use these learnings to take it to the all-star Brisbane team at Ballymore. Can they produce another upset of a Super Rugby laden team this weekend? It'd be some season if they did.
The Vikings have come out of the squad selections for this weekend relatively unscathed. Rory Arnold and Henry Speight are back in the Wallabies, which is not a surprise, with Joe Powell getting a run from the bench. Meanwhile Tom Banks will start for the Barbarians, in a wonderful opportunity, alongside Sam Carter. Young hooker Folau Faingaa hasn't been named in either team, which makes me think he MAY pop up for the Vikings (despite not being named) come kick -off time at TG Milner on Sunday. It remains a mighty strong Viking outfit with the type of depth you'd expect from a Super Rugby run team.
Form:
Vikings: W – W- L – L – W – W – W – B
Rams: W – W – L  – L – B – L – L – W
Greater Sydney Rams:
1 Jed Gillespie, 2 Andrew Tuala, 3 Rob Lagudi, 4 Albert Tuisue, 5 Adrian Hall, 6 Kelly Meafu, 7 David Hickey, 8 Jed Holloway [c], 9 Dion Spice, 10 Mack Mason, 11 Ben Cotton, 12 Kevin Fuavao, 13 Denis Piligateau, 14 John Grant, 15 Cameron Bailey
16 Ed Craig, 17 Rhys Brodie 18 Conor Young, 19 Kotoni Ale, 20 Fergus Lee-Warner, 21 Daniel Calavassy, 22 Jai Ayoub, 23 Stuart Dunbar
Canberra Vikings:
1. Faalelei Sione 2. Robbie Abel 3. Joel Penders 4. Darcy Swain 5. Blake Enever 6. Rob Valetini 7. Tom Cusack [c] 8. Lolo Fakaosiliea 9. Ryan Lonergan 10. Wharenui Hawera 11. Lausii Taliauli 12. James Dargaville 13. Len Ikitau 14. Ben Johnston 15. Andrew Muirhead
16. TP Luteru 17. Harry Lloyd 18. Max Bode 19. Dean Oakman-Hunt 20. Angus Allen 21. Pedro Rolando 22. Fred Dorrough 23. Mac Hansen
Tip: Still plenty of class in that Vikings team. Canberra by 18.    
---
Queensland Country v Perth Spirit (Streamed via foxsports.com.au/live)
Sunday 29 October at Ipswich Reserve (Ipswich). Kick-off 4:00pm (local time)
Reasons not the miss the match:
While QLD Country host a final next week regardless of the result the Spirit aren't that comfortable. Thanks to Brett McKay's analysis over at Rugby.com.au we can see that the Spirit don't have it as easy and need a number of other results to go their way, even if they do defeat QLD Country.
I spoke of last week being a huge test for Brad Thorn as a coach as they took on the Drua in Fiji without Duncan Paia'aua and Izzy Perese. Well it's fair to say they passed that test only to have another one thrown at them. As well as missing Dunc and Izzy, they also have to do without Eto Nabuli and Taniela Tupou (both Barbarians), Sef Fa'agase (injured on Tuesday playing for the Barbarians, although James Slipper is a handy replacement) as well as Liam Wright who was called up to the Wallaby squad to train and will sit on the bench Saturday arvo. Country have given themselves somewhat of a buffer at the top there but it's still a shame to see this game devoid of its stars, particularly as the QRU have taken this game to somewhat 'uncharted territory' in Ipswich.
If you thought QLD Country had it bad, then take a gander at that Spirit team. As soon as Alan Jones declared the Barbarians would be a 'Force Tribute Team' this game just smelt like trouble. With Pek Cowan and Isi Naisarani starting for the Baabaas, plus Anuru Rangi, Matt Philip and Kane Koteka on the bench, the Spirit are minus some of their main ball runners. With Billy Meakes finally getting a run in Australian Gold, as Jermaine Ainsley, Ben McCalman and Curtis Rona sit on the bench, the quality of the Spirit backup is going to be well and truly tested. On the back of the loss to the Rays last week, the Spirit have it all ahead of them. Who knows what will happen next year so this could well be the last time we see the Spirit jersey run out in the NRC. It's going to be up to a number of young local players to give it any chance to prolong that farewell another week.
Form:
Perth Spirit – W – L – W – L – W – B – L – L
QLD Country:  L – W – B – W – W  – W – W – W
Queensland Country:
1 James Slipper, 2 Efi Ma'afu, 3, Kirwan Sanday, 4 Phil Potgieter, 5 Harry Hockings, 6 Ted Postal, 7 Tai Ford, 8 Angus Scott-Young, 9 James Tuttle, 10 Teti Tela, 11 Jock Campbell, 12 Hamish Stewart, 13 Chris Feauai-Sautia [c], 14 Filipo Daugunu, 15 Patrick James
16 Sean Farrell, 17 Alex Casey, 18 Richie Asiata, 19, Rob Puli'uvea 20 Tyrone Pritchard, 21 Tate McDermott, 22 Tony Hunt, 23 Conor Chittenden
Perth Spirit:
1. Baxter King, 2. Logan Ede, 3. Shambeckler Vui, 4.Richie Arnold, 5. Ben Grant, 6. Matt O'Brien, 7. Michael Hardwick, 8. Tevin Ferris, 9. Ian Prior [c], 10.Peter Grant, 11. Marcel Brache, 12. Louie David, 13. Alistair Haining, 14. Jordan Luke, 15. Nick Jooste
16. Samo Malolo, 17. Beau King, 18. Kaisa Reidy, 19. Ulrich Engels, 20. Brody Macaskill, 21. Michael McDonald, 22. James Verity-Amm , 23 Brendan Owen
Tip: QLD Country will be too strong for a decimated Spirit team. QLD by 18