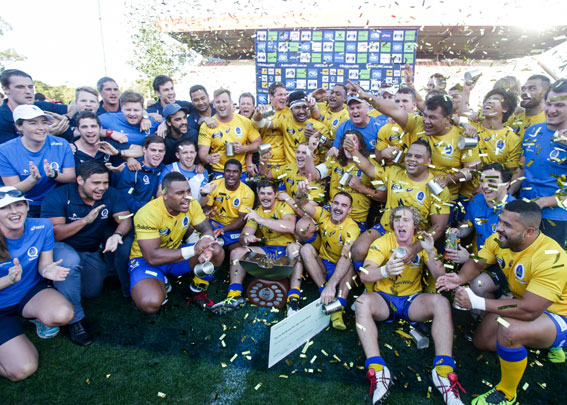 The Buildcorp NRC for season 2015 has been run and won with Brisbane City defeated the Canberra Vikings to win their second successive premiership title. There has been some wonderful talent on show this year which has made it tough to pick the regular Team of the Week for each round. Well that level of difficulty got turned up to 11 when I sat down to pick the Team of the Year. Bravely I struggled through and came up with the below 15 and a coach.
These teams always are the subject of discussion and disagreement, so let me know what you think – who'd I miss and who'd I get wrong?
1. Allan Alaalatoa (Canberra Vikings)
Only four players featured in the GAGR TOTW the same number of times as Allan did this season. Alaalatoa and Vaea, from the Vikings, as well as Brisbane's Gill and Laloifi were each named in five TOTW's so it was only natural for each to grab a spot on the end of season team. Alaalatoa is one that perhaps brings the most excitement with him. The 21 year old is an absolute monster of a specimen and it will be fascinating to see how he develops over the coming years. His scrummaging abilities meant the Vikings could attack opponents on their Tight Head side, and he really made life uncomfortable for Talakai in that first half of the Grand Final. But, as props need to be, he's more than just a set piece specialist. His would around the field was noticeable for both the quantity and quality of his involvements. He's literally a people mover of the rugby field.
Honorable Mention: Haydn Hirsimacki (Queensland Country)
2. Robbie Abel (Canberra Vikings)
Similar to scrumhalf, there were a good number of options to select from for the Number 2 jersey here, but in the end it was too hard to look past Robbie Abel of the Vikings. Abel was central to the strong Viking set piece, leading the scrum and controlling the lineouts, but was another tight five player who showed his abilities across the park. Abel proved a handy one-two punch in attack with Ita Vaea, with a dangerous running game built on his powerful physique and quick feet.
Honorable Mention: Heath Tessman (Perth Spirit)
 3. Sam Talakai (Brisbane City)
Talakai secured a Reds contract on the back of an impressive 2014 NRC despite injury calling a premature end to his season and denying him a Grand Final appearance.  In 2015 he played every game for Brisbane and was a vital component of his team's success.  The cornerstone of Brisbane's strong scrummaging game, Talakai also had cause to show off his broader rugby skills on a handful occasions with effective ball work. Sam's standing within the team was rewarded with the captaincy arm band for one game, their Round 7 annihilation of Sydney Stars. His resilience under pressure was evident when under the pump at scrum time early in the Grand Final, only to fight back and establish that strong scrum base that Brisbane had been used to all season.
Honorable Mention: Sef Fa'agase (Queensland Country)
4. Tom Staniforth (NSW Country Eagles)
Staniforth had originally sought leave to play in New Zealand's ITM Cup rather than the NRC. Credit to the ARU and Brumby Rugby for standing firm and keeping him here and farming him out to NSW Country. Whilst he didn't get his first start for the Eagles until Round 4 against the Stars, it was the last half of the season that he really found his mojo. The 21 year old giant showed an impressive physicality and willingness to get stuck in, whilst catching the eye with a number of strong runs. Wearing the burnt orange and with his blonde hair, Staniforth brought back memories of Paul Sironen in his Balmain Tiger heyday as he found a purple patch of form that saw him named in the GARG NRC TOTW for each of the last four rounds.
Honorable Mention: Blake Enever (Canberra Vikings)
5. Cadeyrn Neville (Brisbane City)
Neville was a revelation for the Brisbane City side this year. Short on lock depth with overseas departure of the class of '14 – McDuling, Horwill and Kotze, Neville's signing with the Reds was a boon for Nick Stiles' squad. But it's hard to say whether even Stiles fully anticipated the impact Neville would have on his side this year. The ex Melbourne Rebel & Rising player showed a work rate and fitness level you'd expect of a former elite rower. More excitingly he also showed off a running game and skillset that perhaps sets him apart from any other lock in Australian Rugby. Had an uncanny knack of producing the big play at just the right time for his team, none more so than his crucial fight back try in the Grand Final.
Honorable Mention: Matt Philip (Sydney Stars)
6. Jordan Smiler (Canberra Vikings)
Jordan Smiler is the Scott Fardy of the Canberra Vikings team, which is handy for Canberra because Scott Fardy is the Scott Fardy of the Brumbies team. Smiler plays a game not to dissimilar to Fardy which is handy for Australian rugby if he wasn't just a year younger than the man himself. Putting that aside, Smiler was brilliant in the NRC in a tough field. Smiler plays the almost invisible game, but you rediscover him as he makes a much needed turnover, big tackle, strong run or important lineout grab. His ability to play lock makes him a valuable asset for whichever team he's suiting up for, but no more than all those skills I've mentioned above. Part of arguably the best pack in the competition, Smiler doesn't have the profile of some his colleagues but was a vital cog in the Viking machine.
Honorable Mention: Jordy Reid (Melbourne Rising)
7. Liam Gill [c] (Brisbane City)
Gill finished 3rd in the unofficial GAGR NRC Player of the Year list, despite playing in three less games than Lance and Vaea. Given he was for a handful of games, and that he scored points in four of the five games he played, there's a fair chance the title would have been his if he had played all matches. And a deserving title it would have been as Gill was nothing short of outstanding every time he put a foot on a rugby field during the NRC. Often it was if someone had tied a piece of string between the ball and Gill's jersey, so close to the play did he always seem to be. We knew of his defensive work, and turnover ability, but it was his work with the ball in hand that caught the eye of most, and his combination with Laloifi for a break out try in that first game of a the tournament being a particular eye-catcher.
Honorable Mention: Jarrad Butler (Canberra Vikings)
8. Ita Vaea (Canberra Vikings)
Whilst Jono Lance was the official NRC Player of the Year, he finished 2nd (by just a couple of votes) in our unofficial NRC Player of the year, when all the GAGR contributors votes for the season were considered. In first place was, yep, big Ita Vaea. Ita was enormous for the Vikings in every way possible this NRC.  Sure he was just an absolute bulldozer in attack and pulled off some massive hits on defence, but he has some real finesse to his game too. Vaea never relied solely on a battering ram game, as he incorporated handy off-loads into his arsenal.  One only has to look at his pass between the legs to Joe Powell in the grand final as evidence of his skillset. Finished 2nd behind Jarrad Butler on the Vikings top try scorers list with 7 tries for the season. One can only hope his game continues to develop in next year's Super Rugby season and who knows where he could end up after that.
Honorable Mention: Jed Holloway (Greater Sydney Rams)
9. Josh Holmes (North Harbour Rays)
Whilst inside centre was a tough pick due to a lack of really outstanding candidates, scrumhalf was just as hard, but for the opposite reasons. Across the competition the 9 jersey was a home to wonderful performances and performers. Ultimately, though, I've gone with Josh Holmes of the Rays for three reasons. Firstly, for his ability to lift his team of relative no-names through continual high quality performances. Secondly, for his attacking intent to run the ball at pretty much every opportunity. Defence never had a chance to rest whenever Holmes was near the ball. Finally, for the best miked up player performance of the year, courtesy of Fox Sports. Brilliant.
Honorable Mention: Ben Meehan (Melbourne Rising)
10. Jono Lance (NSW Country Eagles)
Jono Lance was the official winner of the Buildcorp NRC Player of the Year award and deservedly so. Whilst the Eagles had a solid outfit, they didn't possess the number of professional players to call on that the likes of Brisbane, Canberra, Melbourne or Perth could. Regardless, they just missed out on the final four and much of their success can be placed on the back of Lance's performance at flyhalf. The NRC was a fantastic reminder of Lance's all round skills and abilities in his seemingly preferred position at flyhalf. Lance, week in week out, was invaluable for the Eagles as he was dangerous on attack, controlled his backline, led his team, tackled his heart out and kicked accurately to be a standout player in the competition. With youth inside and outside him, Lance proved a strong leader of men and a consistent threat for the opposition.
Honorable Mention: Jake McIntyre (Brisbane City) 
11. Harry Jones (Sydney Stars)
The young Stars flyer was a constant for Sydney throughout their much improved 2015 campaign. A constant starter, having started in each of their nine games this year, and a constant high performer in finishing the season with nine tries, behind only Laloifi on the end of year ladder. The 20 year old winger already had a reputation in Sydney for his blistering speed and finishing skills. The NRC provided him the opportunity to show his abilities to a wider audience. But it wasn't just his speed he showed off but a whole of game skillset necessary for a modern winger. Not just reliant on pace, he showed an astuteness of decision making and the ability to create as well as finish – whether it by a well-placed kick or a handy off-load.
Honorable Mention: Chris Kuridrani (Brisbane City)
12. Kyle Godwin (Perth Spirit)
The inside centre spot in this team was a tough one to select with not many players really sticking their hand up. There were plenty of solid contributors however it was a spot that seemed to rotate a lot of players through across the competition. The Spirit are famously strong proponents of this, yet despite only starting on four occasions, his performances were enough for Godwin to grab this spot.  The young centre, who this time last year was touring with the Wallabies, showed a full range of skills to prove a dangerous combination with Konelio when finally partnered together. An assured head, matched with strength, astute kicking and a dangerous off-load showcased the class Godwin possesses and that which could once again propel him onto the national stage.
Honorable Mention: Sione Tuipulotu (Melbourne Rising)
13. Maalonga Konelio (Perth Spirit)
This is one of the stories of the NRC in my eyes. Konelio was one of a few genuine unknowns at the start of the tournament, with the competition actually being his first ever taste of representative rugby.  A kiwi by birth, and a leaguie historically, he only moved to Perth last year to play club rugby alongside his brother. From Perth club rugby he claimed a Spirit squad spot and ended up featuring in each of the Spirit's games this year – a remarkable achievement in itself when you consider the rotational nature of the Spirit this season. Konelio alternated between wing and centre, and did so seamlessly proving a constant handful in attack and strong in defence. He finished the season as the Spirit's equal top try scorer and must surely be under consideration for a wider training squad spot with the Force.
Honorable Mention: Samu Kerevi (Brisbane City)
14. Junior Laloifi (Brisbane City)
One of the absolute given decisions for this team. Laloifi stood out from the very first game of the season against the Perth Spirit, where he scored a try and set up a couple of others to light up Ballymore and TV screens across the nation. The Prince of Ballymore would go on to score a record breaking 13 additional tries and secure a Reds contract for next year. It was not just his lightning pace that set him apart, but his innate abilities to pop up in the right spot to either score a try, or set one up. Small in stature, his bravery cannot be questioned as he repeatedly took the ball into contact against larger players and never once shied away in defence.
Honorable Mention: Jarome McKenzie (NSW Country Eagles)
15. Karmichael Hunt (Brisbane City)
Hunt didn't get the Brisbane 15 jersey until Round 4, having started the season at outside centre with Junior Laloifi holding down the fullback spot. That, plus a quiet finals series, almost led me to consider other options for this position, but I couldn't overlook the impact Hunt made this season on his team's run to the finals. Whilst scoring five tries himself he set up countless more with great vision and skill. Add his clear leadership influence and it was enough to stand him apart as one of the most valuable players for his team despite the all-star roster.
Honorable Mention: Tom Kingston (Sydney Stars)
Coach: Nick Stiles (Brisbane City)
Whilst Playford brought some flair, and Brad Harris reinvigorated the Vikings, Stiles was the one that continued to produce the goods all season. The undefeated season is the easiest way to judge it, as his the number of trophies (Andy Purcell, Horan-Little, the Toaster), but Stiles' abilities run more than that. It stars with player selection and let's not forget that Stiles picked up the likes of Talakai, Kuridrani, Korczyk and the likes before they represented the Reds. This year we've seen it again with the astute recruitment of Alex Gibbon. Then look at what he's been able to get out of the club players in Ben Hyne, Matt Mafi, Waita Setu, Corey Thomas et al. All the time ensuring the leaders of the team – the Hunts, Gills, Frisbys, Kerevis and so on are all pulling their weight both on field and off. If the NRC is all about developing the next tier of talent, then what it's doing for our young talented coaches should prove invaluable down the track.
Honorable Mention: Peter Playford (Sydney Stars)
Feature Photo Credit: QRU/Sportography