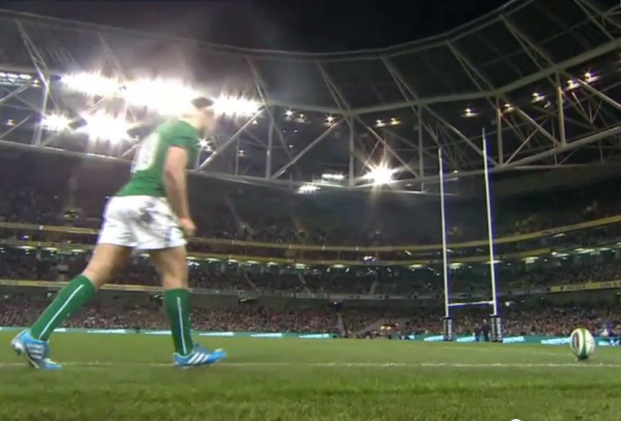 The Six Nations teams will be playing against the raiders from the Southern Hemisphere, starting on the weekend.
On Tuesday we assessed the teams from the Southern Hemisphere; now we look at the northern teams.
Ireland

Ireland have had a good, but not great first year under coach Joe Schmidt, with perhaps the biggest advance being the consistency that they are playing with.
Post BOD
They face the mammoth task over the next three games of identifying a successor to Brian O'Driscoll. With only ten tests until the World Cup Schmidt needs a solution to his centre pairing and fast. The two favourites in the squad are young gun Robbie Henshaw and new Irish man Jared Payne. Henshaw is more a modern type of centre with physicality and pace but his decision making leaves a lot to be desired at times. Payne is more of a distributor, who runs intelligent lines and has a good kicking game. At Heineken Cup level his decision making in defense is almost always immaculate.
Sean O'Brien – is going to be missed by Ireland
Injuries

Every side has them, Ireland just seem to have a truckload at the moment. They are very light at tighthead, lock and flanker without even mentioning the loss of Cian Healy. Healy's absence along with Sean O'Brien is massive because of the amount of ball they carry for Ireland. Both are very destructive ball carriers and the likes of Jack McGrath, Jamie Heaslip and Rhys Ruddock will be expected to step up here. They are also missing three locks that all would have been within a shout of a starting place. Expect to see an exciting prospect from Munster, Dave Foley, debut here at some stage.
Attacking Play

A lot of Ireland's success in the last year has centered upon a rock solid set piece and an unstoppable rolling maul. They need to vary their attacking game more against more aggressive defences and get a bit more creativity into their play. The expected selection of Simon Zebo should help here; Ireland looked a bit blunt when they put the ball through the hands at times and Zebo could add a bit of X-factor into the backline.
Conor Murray – best scrumhalf in Europe
Ones to Watch

Conor Murray – Murray is now the best scrum half in Europe; Ireland will need him at top form to take down the Boks and the Wallabies. He's produced a couple of really good performances against New Zealand now he needs to step up against the other members of the south's big three.
Chris Henry – Ireland's openside will be crucial in how they play the game. Henry had a very good Six Nations and will want to cement himself in the jersey. His work on the deck is very good and he has become one of the best at spoiling opposition ball. Needs to carry more and it will be interesting to see his impact here.
Simon Zebo – Some felt he was unfairly maligned in Schmidt's first year. Injuries have now made him a certainty to start in Irelands first game. He could be the X-factor that Ireland need in their backline however he needs to keep his defensive work rate high.
Expectations

Ireland have yet to beat a side ranked about them under Schmidt, although it is conceivable they could get to a World Cup semi-final without doing so, they need to knock off quality opposition this November. With a fully fit squad Ireland would be after three wins, however factoring in their injuries I'll back them for two.
---
England

The side everyone loves to see lose have had a very strong couple of years under Stuart Lancaster with three successive second place finishes in the Six Nations and the only wins against the big three for the home nations
Backline

England have questions all over their backline with arguably only Mike Brown assured of his place in the starting team. For the most part the backs have been poor under Lancaster and rarely seems like opening up a top side at test level. They've relied heavy on the excellent kicking game of Owen Farrell and Brown to get them going. They need to develop a midfield capable of putting some of their quick outside backs into space, this could mean bringing George Ford into the 10 jersey however he is a notoriously flaky goal kicker which wouldn't fit in with Lancaster's style. They've also selected ex-soldier and Fijian Rokoduguni; although I'm not convinced about his ability he'll get a chance to show what he can do.
England scrum – has been successfully targeted
The Scrum
Contrary to perception England has had a weak scrum for a couple of years now. It has been successfully targeted in the Six Nations by nearly every side and it's been shunted around by some of the Southern Hemisphere teams as well. They need to find a way a tighthead capable to locking the scrum against all comers as in attritional World Cup knock out games they won't win if they are giving away penalties at the set piece.
The World Cup run in

The countdown to the World Cup is in full swing in Blighty which means that they notoriously harsh English media machine will go into overdrive. They'll be looking for any hint of scandal over the next twelve months and Lancaster will want to shield his players from this. They have already been proclaimed champs by some of the hacks on Fleet Street and they'll need to deal with the pressure and expectation. Also if any of the players encounter any dwarfs don't throw them.
James Haskell – looks like a player reborn
Ones to Watch
George Ford – With Owen Farrell suffering an injury ravaged start to the season Ford will see action this November. He is the kind of distributor that help England's attacking game open up, his only glaring weakness is his inconsistent goal kicking. Don't bet on him to land a penalty from the sideline to win the game.
James Haskell – "The Brand" looks like a player reborn this season, after returning from hip surgery he seems to have added an extra level of physicality to his game. He'll fit perfectly into England's aggressive defensive plans and will look to use his athleticism to disrupt as many rucks as he can. Despite not featuring against New Zealand I still believe he has a big part to play in England's series.
Courtney Lawes – Injuries to Joe Launchbury and Geoff Parling have made Lawes England's number one lock this series. He is starting to hit his stride in international rugby after an inconsistent first couple of years. England will want to use his ball carrying and aggressive defence to set the tone for their overall play.
Expectations
England are routinely bullish about their chances and will always look to go four from four. However I can only see them winning twice, at the moment I fancy the Boks and New Zealand to get the better of them.
---