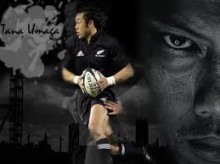 Most Super Rugby teams have one. In the case of the Melbourne Rebels well, they've got heaps. Yeah, it's the veteran class. We're talking middle age here like 33+.
Tana Umaga is the oldest stager in Super Rugby at 37. Crikey, how does his body cope?
But this is not that unusual in European rugby. There could be a reason for that – it's a slower game due to the conditions and perhaps a more conservative playing style.
There's loads of veterans in the UK competitions, usually forwards e.g. Simon Shaw (37) with Wasps, Chris Budgen (38) with Exeter, John Hayes (37) at Munster, Danny Grewcock (38) Bath and Mefin Davies (38) the Ospreys . Most operate from the bench.
Maybe it's a bit like cricket for these old guys. Now that it's a professional game the players want to stay around longer because the rewards are more generous?
The problem with that is Super Rugby is faster than ever, so how do you keep up? Maybe you don't – Carlos Spencer didn't last year – but on a positive note he was also filling a coaching and mentoring brief.
And this is something that's not to be sneezed at. For instance, Umaga was head coach of Toulon for a year or two, so he has more to offer the Chiefs than just as a player. They don't have a back's coach so I gather he's filling this position.
He was dropped from the squad last week after a pedestrian first-up display against the Brumbies but with their form I'd imagine he'll be back in due course.
Is there still a place for veterans in Super Rugby? The risks associated with older players are well known and revolve around injuries and form. Not only injuries per se, but lengthier recovery times and perhaps of the more chronic variety.
There are players who do go on for a season too long. You'd probably be able to name a few. Some would say that this was the case with a few Rebel's signings but Friday's performance against the Brumbies may have put the lie to that.
Greg Somerville (34) was a very solid anchor in a winning pack but probably needs to be managed astutely throughout the season. His stint in the UK for Gloucester was punctuated by injury.
Stirling Mortlock (33) is another whose career looked to be over. But he's fought back gamely from a long term back problem and, despite a poor first up game against the Tahs, improved markedly against the Brumbies.
Although it's early days yet I'd think it unlikely he'll recapture his test form, something we haven't seen from him for at least a few years.
As for Sam Cordingly (35), another Dad's Army recruit, they say he wasn't quite recovered from a hip injury. He certainly didn't look very sharp but he wasn't alone there.
The fact that Somerville, Mortlock and Cordingly are all recovering injuryholics isn't a great portent for the future.
The Red's veteran is Van Humphries. He became a bit of a cult figure for his form last year and aggressive leadership style.
His selection for the Wallabies tour at 34 (he's now 35) was probably the most well-received, showing all and sundry that age was no barrier.
He's come out of the blocks a bit slow this season but that's reflective of a slightly misfiring Reds outfit.
At the Waratahs it's Le Fuse (34). Big Al Baxter has been the form tighthead of the season so far and has outscrummaged all-comers.
Fuse might want to talk about 'a sustainable vision for Greater Western Sydney' to some but he's really more interested in getting his old Wallaby job back.
That might just happen if his side of the scrum keeps staying upright, which it has lately. If Van can do it, so can Fuse.
(Note: I was watching an ARU Smart Rugby DVD recently and the tighthead prop used in the demo was binding on the loosehead's arm – and I thought that was a sackable offence?)
Meanwhile, out West we've got Nathan Sharpe (33) and Mark Bartholomeusz (33). Sharpie has been playing the best rugby of his career during the past 12 months.
I think it's because he's got his old hunger back. He's always been criticised for 'seagulling' but those days seem well and truly in the past.
The mail is that this is his last season. Now that would be a shame with the British and Irish Lions in the offing in 2013. He definitely looks at his peak.
This is Barty's swansong. It's tougher for backs to last the distance. You lose your speed and you're exposed – think Ben Tune in his last couple of Red's seasons.
Barty was a quality utility but father time has probably caught up with him.
Robbie's saying that all positions are open and available. No-one is ruled out. It's good to see that age and experience is still valued, although it needs to be carefully managed.
There's that old saying: "If you're good enough then you're young enough". Or something like that….
Oz 'Gerry Hat Trick' Watch: Player Ratings
| | Round 1 | Round 2 | Round 3 | Round 4 | Round 5 | Round 6 | Round 7 |
| --- | --- | --- | --- | --- | --- | --- | --- |
| Greg Somerville | 4 | 7 | 5 | | | | |
| Stirling Mortlock | 3 | 6 | 5 | | | | |
| Sam Cordingly | 4 | - | - | | | | |
| Van Humphries | 5 | 5 | 6 | | | | |
| Le Fuse | 6 | 7 | 4 | | | | |
| Nathan Sharpe | 6 | - | 7 | | | | |
| Mark Bartholomeusz | - | - | - | | | | |