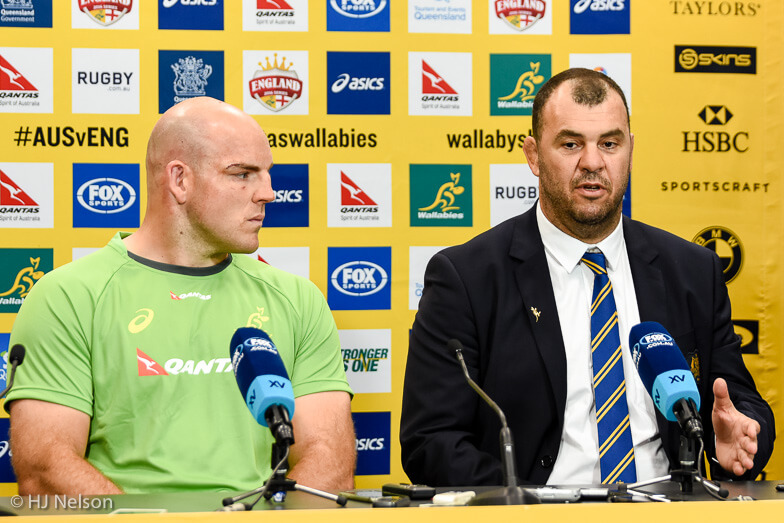 There are three good reasons to think that the wheels have not come off the Aussie-Cheika revival. However, I do think the national coach has missed one trick…
1. England have upped their game
No one thinks otherwise – England are a better team than they were at the World Cup. They are consistent at the core areas of the game, set-piece, kicking and defence and so will squeeze out tough games more regularly.
We could say it's been all up to Eddie Jones and others might say he's simply taken the same bunch of players, kept them fit and given them a few tough love lessons. Cheika could not have influenced that.
2. Australia are in transition
A World Cup often leads to a lull. Players retire or don't kick on.
Cheika knew that his team lacked experience when he went to the World Cup. Hence the inclusion of Giteau and Ashley-Cooper. Now, without those two and with Kurtley injured and Lealiifano not fully back in the fold, the backline has looked a little ragged at times.
This does have an effect and we have seen some rather strange decision-making by Stephen Moore. If he'd had confidence in what was behind him, perhaps some of his calls might have been different.
England haven't really suffered from retirements and many of these players are better off from the lessons learned at the World Cup and in the Six Nations.
So, no coach can magic up experience from nowhere. And certainly not Cheika.
3. Playing momentum
Australia haven't played since the World Cup final. No matter how many camps you have, you need time on the pitch together and under pressure to maintain momentum. Look no further than New Zealand to see this. They have spluttered their way through the test series with Wales, with some uncharacteristic poor game management and decision-making.
Both Australia and New Zealand's inconsistent form in June has meant at times they have both played well and looked dangerous. Other times they have struggled to create sustained pressure or finish off chances.
Cheika can't do much about scheduling.
A missed trick
The run up to the World Cup and the World Cup itself proved why Cheika is a shrewd operator. He shored up areas of weakness (like the scrum and backline direction) and selected in-form players in their positions of choice. The balance just looked right.
The last two weeks lack that previous strain of decisiveness. The scrum looks out-of-kilter. Perhaps he's been unlucky that Kepu arrived late from France, but I would suggest they needed another few pounds of beef in the second row and a more attacking 8 to play off.
The backline needs another playmaker. If you have a runner like Folau at full back, you need a centre who can find him. Alternatively, your full back is a decision maker, like O'Connor (bless his soul) was.
Overall, forget the fog-of-war war-of-words. Michael Cheika should be measured on his on-field outcomes not whether he can hold his own in the press room. Nothing said to a microphone is going change a test match outcome.
Australia have every chance of winning this weekend, as they have done in the previous two. I don't think he's far off the right formula. And he can't be blamed for areas out of his control. I'm happy to cut him some slack (even he beats us Poms on Saturday…)