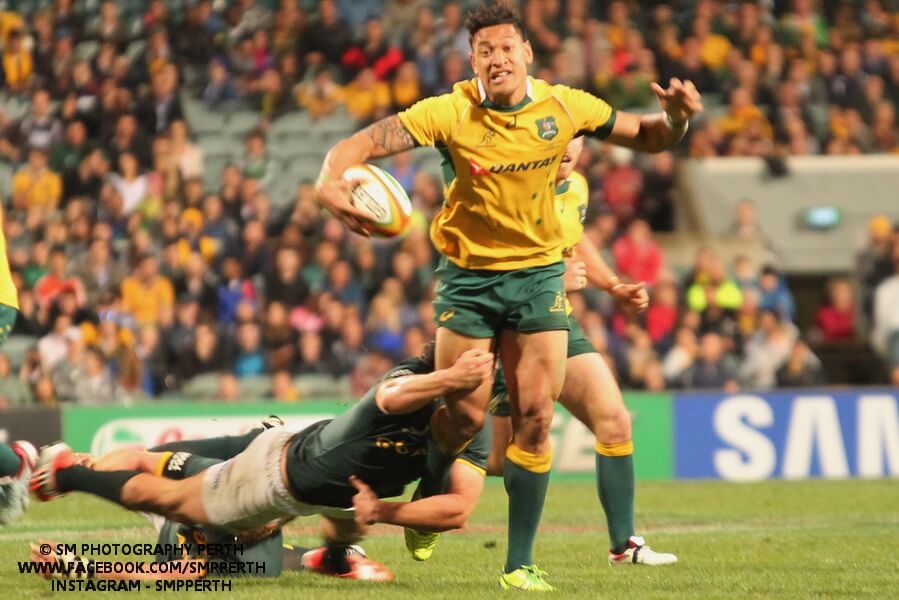 So this wasn't exactly a thrillfest, though it did feature some periods of sharp attack and big physicality from both the Wallabies and Springboks in the first tussle for the Mandela Plate. Hugh has done some general wanging on about the game which is generating some good discussion. No doubt these Wallabies player ratings will, too!
I decided the best method for cold analysis was a simple plus-and-minus chart. When a player does something good, they get a plus, and when its something bad, they get a minus. I then made a point of watching the replay again to see if I'd missed anything, or whether my initial ratings needed adjustment. I also didn't rate anyone under 15 minutes game time.
The nature of the game means many of the players are clustered around the Average-Solid categories. The big factor across the board for me was kicking: with what we had, trying to match the Boks was madness, and in a sense we were lucky our defense was good enough to hold them out.
James Slipper 

Industrious as ever around the park, he was also doing well in the scrum up until a first half injury. From here, he was largely ineffective and was replaced around the 53rd minute after trying to push through. Rating: 5

James Hanson 

A solid game for a guy thrust into the limelight against one of the tougher packs running around. Had some lineout throws stolen that weren't all his fault. Cleaned up some pill on the ground and kept himself busy in the tight. Rating: 5

Sekope Kepu 

Not a standout performance from Kepu. The tight head side of the scrum looked solid for most of the game, and he made a few cleanouts. Nothing special, but no clangers. Rating: 5

Sam Carter 

One that I had to rethink after watching the game again. Yes, a silly penalty for leaving his feet, and must wear some of the blame for the scrum getting pounded at times. Put in a couple of runs but doesn't seem to get a lot of lineout work. Rating: 5

Rob Simmons 

I thought, for someone who was on the improve since late 2013, that this was a massive step backwards for Simmons. His support play was good, but his discipline was terrible and his running of the lineout poor, calling often to himself when heavily marked. Rating: 4

Scott Fardy 

Workmanlike game from Fardy, though he gave away his one silly penalty for advancing in front of the kicker. His support lines were good, particularly in the second half when we started to get a roll on. Would like to see him put more big hits on as a blindside. Rating: 6

Michael Hooper 

Won a turnover, made a crucial hit on Beast, and had some nice runs through traffic. However, as the captain he should have pulled the troops in about the discipline because Morne was killing us. Rating: 6

Wycliff Palu 

Another quiet game from the big fella – unless you're reading the defensive stats where he topped the tackle count. We need to find a way to free him up for attacking duties though, and getting the balance right in our pack. Rating: 5

Nick Phipps 

Despite a few wobbly passes later in the game, really provided the spark to get the ball over the advantage line. Massive improvement in ball delivery over previous games, and deserves to be recognised as such, particularly for an 80 minute effort and his trademark defensive work. Rating: 7

Bernard Foley 

A couple of fairly critical mistakes – missing a conversion, overcooking a restart – keeps his rating down. But he played 80 and was a guiding hand in the positive things. Ran a couple of times when it wasn't on, and general kicking still a concern. He slotted the goals that needed slotting though and provided a lot of momentum with Phipps. Rating: 7

Rob Horne 

The Wallaby wingers didn't get into the game much, but what Horne did, he did pretty well. Scored the winning try, tackled like a madman as usual, took a high ball, but should really not try to kick it back! Rating: 6

Matt Toomua 

Poor execution with the boot at times, and shooting out of the line basically handed the Boks 8 points. He made up for it with some good option taking and playing a solid second hand to Foley. Could improve if he works a bit on his composure. Rating: 7

Tevita Kuridrani 

Its amazing what can happen when you're given some front-foot ball to work with. With the pill moving freely, the big unit swiftly got into the business of making Serfontein a speed hump. He took the right option pretty much every time he was in play and running support off the ball.

Rating: 8 and GAGR MOTM.

Adam Ashley-Cooper 

A quiet game from the veteran. Bombed a try which was down to Willie getting a hand in, and never really injected himself that well. Rating: 4

Israel Folau 

Pretty solid night from Folau, though the instructions to kick it back in the second half didn't work well due to the wind and being pinned against the touch line. Critically, his line breaking ability put the Boks under pressure and he joined the line well for his try. Rating: 6

Pek Cowan 

Turned in a really good performance for someone who has copped criticism of late. His appearance at the 53rd minute had the punters worried, but he stood up in the scrum and did some good work around the park. Rating: 6

Ben Alexander 

More of a cameo from Big Ben, coming in around the 67th minute. Would have liked to see him on earlier to bring his ball running into play. No Rating

James Horwill 

Silly penalty to start with, but Horwill used his almost-20 minutes to good effect, running and offloading. Didn't exactly bust the game open but was part of a bench team that saved the game in the last quarter. Rating: 5

Scott Higginbotham 

Thought he was just what we needed for the last quarter of the game, after the starting back row soaked up a lot of pressure. His wide running suited us at that point and he helped us find winning energy at the back end. Rating: 7

Matt Hodgson 

A nice steal in his 9 minutes on the park and some good work in the dirty areas, helping seal the win. No Rating

Kurtley Beale 

A handy little cameo put just enough doubt into the Boks minds on defence. Took the wrong option once and got isolated. No Rating
DNP: Josh Mann-Rea, Nic White.
How was Pfitzy's first crack at player ratings? Leave your comments below
The patented G&GR ratings guide
10 – A legendary performance to go down in the history books
9 – Outstanding performance: Man of the match shoo-in
8 – Excellent all-round game
7 – Good game with a few sparkles
6 – Solid performance
5 – Average – ho hum
4 – Below par
3 – Had a bad game
2 – Tell your story walking pal
1 – A complete joke