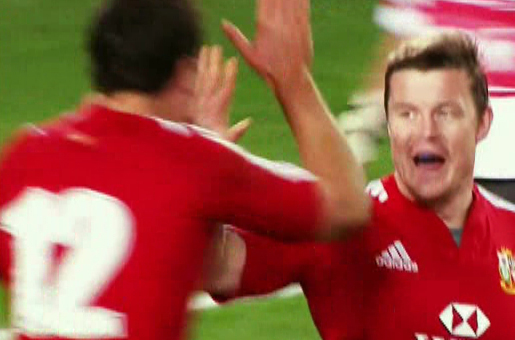 I believe that the selection of the Lions starting centres will tell us a lot about how they intend to attack.
There are four centres in the Lions squad – Jonathan Davies (Wales), Brian O'Driscoll (Ireland), Jamie Roberts (Wales) and Manu Tuilagi (England).
Of those Roberts and Tuilagi are big, powerful men who use their bulk to bend the opposition defensive line whereas O'Driscoll and Davies rely on more subtlety.
There is an expectation that the Lions will choose Roberts and Tuilagi in combination to spearhead a direct, power running game in mid-field. Their selection together would confirm that the attack will be very direct without too much variation.
On the 2009 Lions tour Warren Gatland and Rob Howley were two of the selectors who chose the combination of Roberts at number twelve and O'Driscoll at number thirteen. This provided a balnced combination with power at inside centre and guile at outside centre. Gatland and Howley are the Welsh coaches who combine the power of Roberts at number twelve with the guile of Davies at number thirteen. There is a clear pattern of the coaches selecting a balanced centre combination.
In the first test in 2009 the Lions set piece was unable to deliver much quality ball to attack with but even with disrupted ball Roberts and O'Driscoll caused the South Africans all sorts of problems. They swapped starting positions regularly but the really impressive thing about their play was the combination – it looked like they'd been playing alongside each other for years. In the second test they were again outstanding and on the back of the threat they posed the Lions were well on their way to victory. Then Roberts, O'Driscoll, Adam Jones and Gethin Jenkins all got injured within a relatively short period of time and had to leave the field. Their absence completely changed the match and South Africa scraped home after the siren to win the series.
Despite the fact that there was a lot of Welsh influence on that 2009 Lions team, they played a far more attacking game than Wales and the Roberts / O'Driscoll partnership was at the heart of most of their attack. It worked so well in 2009 on fast, dry grounds that I expect that combination will be continued in the first test against the Wallabies. Their selection together would tell us that the Lions attack will have a lot more variety than many are expecting and increase the Lions threats.
O'Driscoll may be getting on in years but he is so experienced and is not known as the 'Prince Of Centres' without justification. He cannot be given too much space to move – his speed might have come off a bit but his vision and handling skills are still excellent and he creates so many opportunities for players around him.
People often talk about the advantages of a second playmaker at number twelve but O'Driscoll fills that role from number thirteen. After seeing Roberts charging down the 10/12 channel a number of times, don't be surprised to see O'Driscoll pop up at number 12 and use his skills to create a half chance for Roberts at number thirteen or for wider players. Roberts will also be used as a decoy at number twelve with the ball going behind him from Sexton to O'Driscoll who then sets up wider plays.
I think Davies will be the remaining back on the bench as he has also played on the wing for Wales so I expect the following selections:
12. Jamie Roberts
13. Brian O'Driscoll
23. Jonathon Davies
Watch the video below for some examples of what I think we can expect from my predicted Lions centres, then read how I think the Wallabies can counter these threats on page 2.