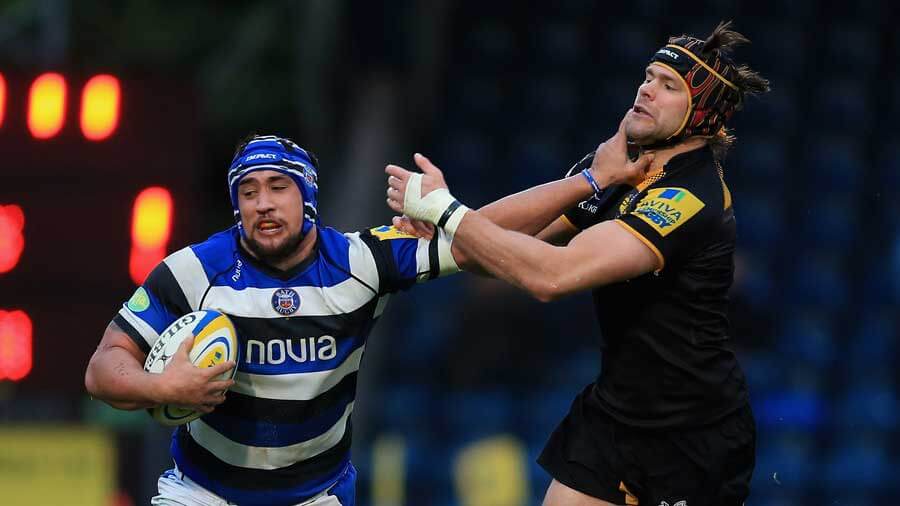 Bam! That's the sound of Michael Cheika dropping the Wallabies squad press conference bomb. There's a few shockwaves, but the biggest one has come in the form of Leroy Houston's long-rumoured return to the Australian rugby fold after 40 – ok, 6 – years traversing the barren wasteland that is English club rugby.
It's a training squad of 39 which will be cut down to 30 closer to game time, so there's a few more developments yet to be had. But having caught the affections of Cheika, it looks like Houston, a man with a name straight out of some alternate reality science fiction in which the South won the American Civil War, is set to stick around for the time being.
So in that spirit, it's time we had a catch-up with what Leroy's been up to since whatever it is happened that made Fox Sports call him "Eddie Jones' Prodigy".
Like half of the current Wallabies squad, Houston was born overseas, in the north island of New Zealand. He skipped over to Australia in 2000, setting up shop in the northern suburbs of Sydney.
He was picked up by the Waratahs as a young 'un, which meant he instantly became the best thing to come out of Hornsby since Ginger Meggs. He made a Wallabies tour when he was just 18, but was never picked. He was like a latter-day David Warner, in playing for Australia A before he had played a Super Rugby team.
Then Houston joined a list of names – to be later joined by the likes of Ben Volavola, Nemani Nadolo and Michael Ala'alatoa – of impressive youngsters deemed not impressive enough to deserve nurturing by the Waratahs. Thus, in between working a year as a labourer, he headed north to Queensland to get some sweet, sweet game time.
At the Reds, he took the chance to make a name for himself, playing 48 games – 48 more than he got at the Waratahs – in three seasons (2008-2011). Not only did he play alongside Clinton Schifcofske, but he had the privilege of working under Ewen McKenzie in the title-winning season.
Having done that, at the end of 2011 he skedaddled off to France to play for Bordeaux. There, he played 19 games in the following Top 14 season, before jumping down to the second division of French rugby to play a year with Colomiers, running out 18 times.
Bath, with all the talent of a veteran prospector, picked up Houston (in actual fact, then-coach Gary Gold was good mates with McKenzie, who advised him to pick him up). It was at this blitzing club – they were the ones that signed Sam Burgess, remember, and Houston himself described it as the "Hogwarts of rugby" when he first arrived – that Houston finally became, as his first name suggests, the king.
Since joining Bath, he's also made 56 appearances and was voted players' player in his very first season. He also became a fan favourite, with the club itself starting the hashtag #EverybodyLovesLeroy. It seems that he's filling the very same hole in fan's and the backrow's hearts that Jacques Potgieter did during his time at the Waratahs.
Anyway, that's enough chit-chat. Be sure to check out the videos throughout this article, as well as highlights package and his Reds unveiling below. There's also this interview he had with ESPN this time last year.
That way, you can a) get to know the new Wallaby better and b) beat Gordon Bray at his own trivia game.