SANZAR must act to stop spectators using lasers to distract kickers.
The remarkable, historic and deserved first Pumas win in the Rugby Championship has once again showed the ugly side of some spectators – or should we say idiots – using a laser pen to distract the kickers. Bernard Foley missed an easy kick in the 70th minute which could have changed the final score. The Wallabies kicker was also disturbed in his two successful conversion attempts in the first half.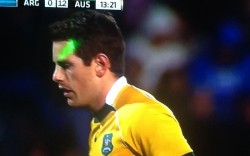 Last year Jaco Peyper allowed Aaron Cruden a second attempt in a win for New Zealand when the All Black five-eighth was similarly distracted. This year Nigel Owen didn't act.
I believe he should have gone under the posts and awarded a penalty try.
Harsh? One-eyed? No, I'll say this under any circumstances. The act was a disgrace by one or two singles, but has shamed a nation of rugby supporters and should never happen again. A penalty try would have set the bar to clear any doubt; these dirty tricks do not belong in the sport.
This should not being seen in any way as an excuse for the Wallabies' loss; but the playing field should be level. We are already used to the typical boos of disrespect during kicks, but a limit should be set and the Mendoza affair has to have consequences.
POLL: What should happen if the crowd uses lasers to distract a kicker?
[poll id="111″]