Tuggeranong Vikings v Queanbeyan Whites at Viking Park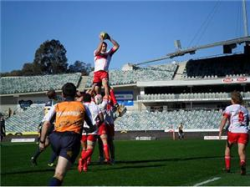 The Tuggeranong Vikings made it six wins in a row on Saturday with a testing 27-10 win over the Queanbeyan Whites at Viking Park.
While the Vikings have been by far the most dominant side this season, they have faced some much tougher battles in the last fortnight.
They were forced into a scrappy win by an enthusiastic Eastern Suburbs outfit last week, and found themselves in an arm-wrestle again this week while still being down a couple of men, including skipper Paula Kaho.
Coach Brad Harris said these more physical contests were only good for his men, and said that further reinforces the strength of the competition.
"We need to make sure that we're on our game and playing and continuing to improve, and working on those focus points that we continue to talk about," he said.
He was proud of his men's effort to seal their win late in the game.
"In the second half we struggled to get any sort of continuity," he said.
"As a result, they [Queanbeyan] fought their way back into the game, and it was pleasing that we managed to close it back out at the end."
Queanbeyan had a solid start to the season, winning their first two games, but have since managed just one win from their past four starts.
While two of those losses were extremely tight ones to the Canberra Royals and Gungahlin Eagles, both of whom sit in the top half of the competition, it is now very important for the Whites to get back on the winners list given the tightness in the middle of the competition.
While they still sit on fourth, Wests Lions and Gungahlin sit right around them, and the Whites will need to string more wins together if they are to break away from this pack.
Coach Adam Fahey lamented his side's execution of late, and blamed this for their inconsistency.
"What we're doing at training is not paying off in the games," he said.
"We've just got to keep concentrating for longer periods of time and once we do that it'll [wins] come."
While Fahey was aware of the benefits of stringing together multiple wins for his men's season, he said he wanted his players to look at one round at a time.
"We just need to focus on the week ahead, and just try and get ourselves back in the winner's circle, and then the rest of the season will sort itself out as we continue to win," he said.
The Vikings scored the bulk of their points in the first half, leading 20-3 at the break.
But Queanbeyan then solidified, and were in with the chance of a comeback when they scored first in the second half and reduced the margin to 10 points.
Most of the remainder of the game was played in tense conditions, and it appeared as though whoever scored next would take the game.
But the Vikings characteristically held their composure, and scored a late try to seal a deserved win.
Tuggeranong Vikings 27 bt Queanbeyan Whites 10 at Viking Park
---
Wests Lions v Gungahlin Eagles at Jamison Oval
The Wests Lions made it back-to-back wins for the first time this season on Saturday, defeating the Gungahlin Eagles 22-17 at Jamison Oval in a very close battle of the middle of the competition.
The defending runners-up now jump to third position on the ladder on points differential, and appeared to have re-discovered their grand final form of last season.
They struggled for points until their last start, where they dispatched the win-less Uni-Norths Owls, but their win over the quality Eagles outfit will be a huge confidence-booster for them.
Coach Craig Robberds was most pleased with his men's defensive effort, and said they marked up very well.
"We made initial, first up tackles, which is a real positive, but we didn't hold onto the ball very well which was a real problem for us," he said.
"I think we defended for 30 minutes each half."
Robberds credited centre Andrew Parsons with having an outstanding defensive game.
Wests had the advantage at half time with a 12-3 lead, but Gungahlin scored the next two tries to make it a five point lead to them.
With 11 minutes remaining, the Lions scored a penalty goal to bring the margin back to two points, and in the dying moments scored a converted try which gave them the final result.
Wests Lions 22 bt Gungahlin Eagles 17 at Jamison Oval
---
Uni-Norths Owls v Canberra Royals at ANU North Oval
The Canberra Royals cemented second spot on the ladder by easily dispatching the win-less Uni-Norths Owls 40-17 at ANU North Oval on Saturday.
The Royals are now equal in number of wins as top-of-the-table Tuggeranong Vikings, who have had an extra bye, and with both sides having four bonus points, the Royals are just one win away from challenging the dominant force should they suffer an upset.
While the win was seemingly easy for the Royals, who were always going to be favourites against the bottom-of-the-table Owls, coach Russell Ingram said the home side still made them work for it.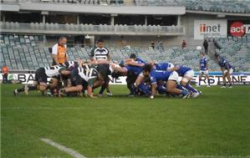 "We worked hard for it. We didn't control the ball as well as I would've liked…we scored six tries, but some of our execution was a little bit off today," he said.
"Credit to Uni. They fronted up and had red hot crack for the full 80 minutes."
"Uni played with a lot of heart. They played for one another, and when they had the opportunities they moved the ball well…they push hard, so credit to them more than us."
The Royals never trailed in the game, and secured another bonus point by half time as they lead with four tries to two.
The Royals managed another two tries to the Owls' one, but could have scored more if some plays had been executed to perfection.
Canberra Royals 40 bt Uni-Norths Owls 17 at ANU North Oval