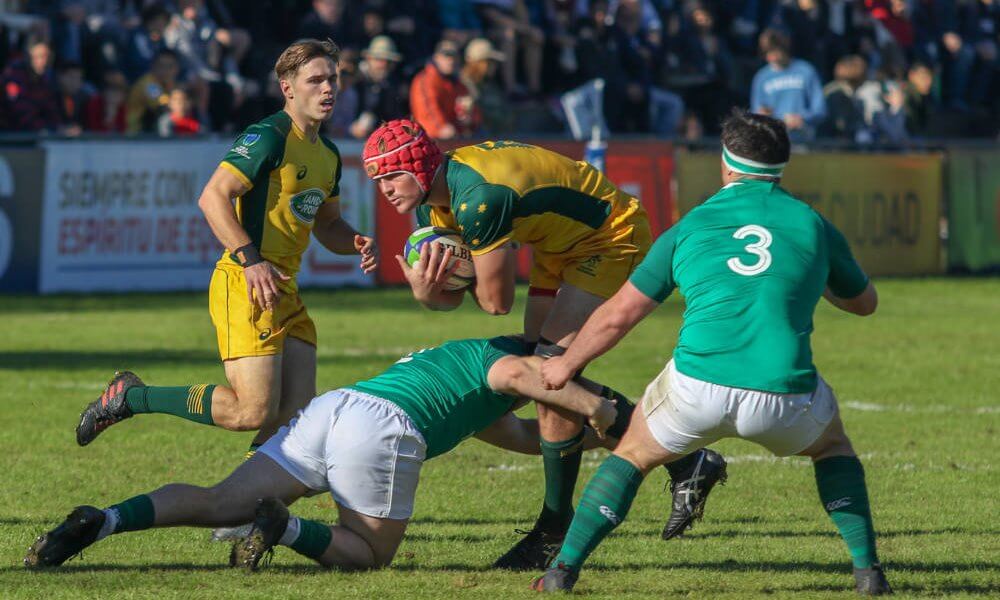 The Junior Wallabies will enter this Sunday morning's (AEST) full of confidence but also with the weight of the nation on their youthful shoulders.  Australian rugby is crying out for international success (well, any success) and it seems so long since the 2016 Olympic Games in Rio. Reigning champions, France, will be no pushover but are the last hurdle before Rugby Australia gets to dust down their trophy cabinet again.
The Journey So Far:
The Aussies began their preparation by taking out the Oceania Championship earlier this year on the Gold Coast. The highlight of the tournament being their memorable victory over the Small Blacks in the last game. Perhaps that win is soured a little by the pour showing of the kiwis in this World Cup, but it was a tremendous confidence builder for the Junior Wallabies. A deposit in belief if you will.
The French obviously competed in their Under 20 Six Nations. The French were runners up to Ireland losing to England and the Irish along the way.
Come the Junior World Cup both teams have had similar journeys, winning their first two games to effectively seal qualifying positions, before dropping their final match.  The Aussies had wins over Italy (36-12) and Ireland (45-17) and lost to England (33-56).  France defeated Fiji (36-20) and Wales (32-13) prior to losing to Argentina (26-47).
In the semi-finals, Australia put the sword to Argentina (34-13) as France defeated South Africa (20-7).
Keep an eye out for:
Card Tricks:
There's been some tricky card play on show this tournament with the Australians, in particular central to the show. The cards have, largely, had a significant impact on the outcome of each game.  Red Cards in three of Australia's games were both significant.  Two were questionable and early (the Irish lock, Baird in the 10th minute and then Pat Tafa in the 2ndminute v England). It made it tough for either team to compete.
The Aussies suffered another red card v Argentina, a fair one to Michael MacDonald after two Yellow Cards, however the team was able to hold on for the win.  France's only loss also featured a Red Card, with their flanker Zeguer being sent from the field after 10 minutes.  Although it was nullified when Argentina had their own player carded soon after.  Nonetheless the cards have been plentiful and impactful.  Let's hope it's not a case come the final.
Next year's Super Rugby stars:
This is a very special team and they've put on impressive performances already this year. Next year we can expect to see some more on them on the big stage.  The Reds have already had Isaac Lucas and Fraser McReight play Super Rugby this season and they will again next year, with McReight pushing strong for a starting spot.  He's likely to be joined by big Harry Wilson who must be the leading candidate to fill Scott Higginbotham and Caleb Timu's shoes.
In NSW, Will Harrison must be a very strong shot at taking Bernard Foley's #10 jersey, with competition from Mack Mason.  There may be spots out wide for the likes of Mark Nawaqanitawase too.  At the Brumbies, they've secured a ready made replacement for the departing Rory Arnold and Sam Carter with the athletic Nick Frost while the sure-running Noah Lolesio may be an option at flyhalf.  The Rebels squad next year looks worrying so any of their 20s could get a chance, with Trevor Hosea and Semisi Tupou ready to step up.
McReight's leadership:
Fraser McReight has been exceptional this World Cup and must be a favorite to take out the Player of the Tournament award.  He's been very well served by his pack that has worked tremendously as a unit.  Its allowed McReight to play his game and he's played it damn well. The number of pressures relieving pilfers has been significant while his powerful and well-timed run have also been regular on-hand when the team most needs it.  But McReight is not just a 'follow me' type of skipper. He's marshalled his team brilliantly, sometimes under the most trying of circumstances; he's handled referees respectfully and appropriately and made astute decisions on the field.
Teams:
Australia:
1. Angus Bell, 2. Lachlan Lonergan, 3. Josh Nasser, 4. Michael Wood, 5. Trevor Hosea, 6. Harry Wilson, 7. Fraser McReight (c), 8. Will Harris, 9. Michael McDonald, 10. Will Harrison, 11. Mark Nawaqanitawase, 12. Noah Lolesio, 13. Semisi Tupou, 14. Triston Reilly, 15. Isaac Lucas
Reserves:
16. Joe Cotton, 17. Bo Abra, 18. Darcy Breen, 19. Rhys Van Nek, 20. Esei Ha'angana, 21. Nick Frost, 22. Carlo Tizzano, 23. Patrick Tafa, 24. Henry Robertson, 25. Ben Donaldson, 26. Kye Oates, 27. Joey Walton, 28. Sione Tui
France:
TBC
Tip:
Of course I'm tipping the Aussies.  I've watched entirely zero minutes of the French and they will prove a worthy contest.  This Aussie team seems special though. And that's enough for me.  Australia by 12.
How to Watch:
The Final will be broadcast LIVE at 4.20am AEST on Fox Sports 506 and Kayo Sports on Sunday 23 June.
Feature Photo: Franco Perego/World Rugby