Fiji 34 defeated Australia 5
Fiji were at their unstoppable best en route to a 34-5 smashing of Australia in the Hong Kong Sevens Cup Semi-Final.
Australia didn't get a look in as the power, pace and skill of the Fijians blasted home five tries and even a penalty goal in a dominant victory.
James Stannard crossed for Australia's only try early in the second half.
Head coach Andy Friend spoke to media post-match.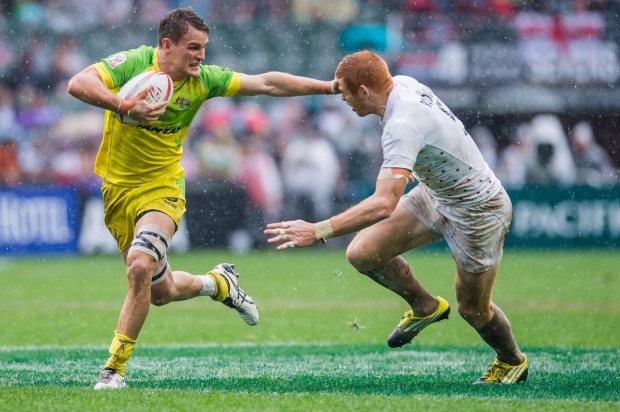 "I thought we were really good this morning, but we didn't do the simple things you need to do to beat Fiji," Friend said.
"We didn't dominate the breakdown, we didn't execute our re-starts well, and when you run in to a red-hot team like Fiji that costs you.
"Some people put their hand up out there today and some people will probably sit there tonight and think "Rats, I should done a bit more."
"12 players have had a chance to show what they have this weekend, but we've got some really quality boys sitting back in Sydney waiting to push their claims as well. What I look for now is in those real big moments, who's going to stand up?
"Rugby Sevens is all psychological because physically we're in great nick. It's just having belief that we're good enough and being able to execute when it really matters, and we're running out of time.
"We don't want to be second, we don't want to be third and we don't want to be fourth. We want the Gold," Friend declared.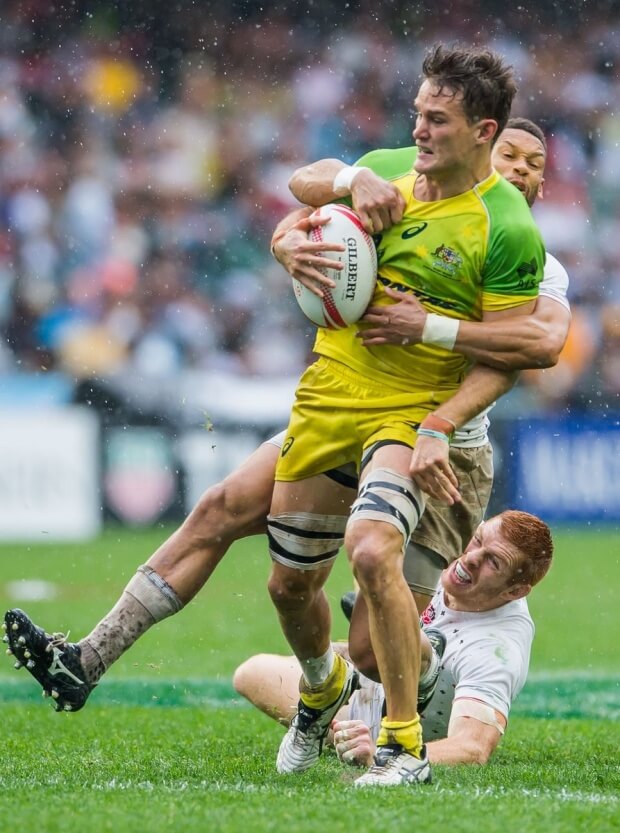 Australia missed just four tackles all match, a stat which boggles the mind considering the overwhelming weight of Fijian posession.
Fiji's average rucks per try stat reveals a far clearer look in to Australia's defensive capitulation.
Demonstrating their world-class ability to move the ball to space using offloads, the Flying Fijians entered just 0.6 rucks per try scored.
With relentless support play, the Fijians didn't make defenders miss – they attacked wherever defenders were not.
It took Fiji just 54-seconds to score their first through Semi Kunatani, slipping a tackle in midfield to jog home the try.
Australia's brightest attacking period soon followed as Cam Clark broke the line before linking with John Porch, only to be turned over.
Fijian winger Jasa Veremalua, replacing the injured Savenaca Rawaca, finished off a spectacular team try that passed through multiple sets of hands.
Little general Jerry Tuwai stepped substitute Stephan Van Der Walt out of his shoes inside the 22 to score Fiji's third try, untouched.
A penalty goal to captain Osea Kolinisau sent Fiji to the sheds lead 22-0.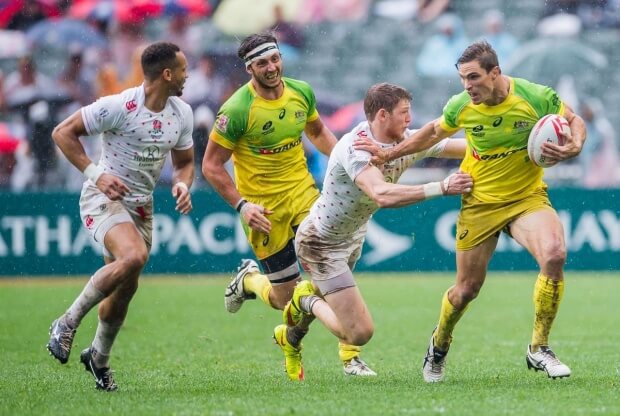 A James Stannard snipe down the blindisde from close range would be all the points Australia could muster in the second half.
Kolinisau soon had Fijian fans cheering again, slipping out of a tackle on the right wing to race away for an 80m effort.
In final play substitute Amenoni Nasilasila freed up Kitione Taliga with a no-look pass on the right wing, streaking away for the final blow to Australia's Cup hopes.
Fiji were majestic at their best and extraordinary at their worst in a Rugby Sevens masterclass.
Australia take on South Africa in the third/fourth playoff at 8:29pm AEST.
Australia 14 defeated England 5
Gutsy Aussies squash English fightback to win 14-5, progressing to the Cup-Semi Finals for the fourth tournament in a row.
A chess-match first half, in miserable conditions, yielded no points until Cam Clark forced through the line to score on the stroke of halftime.
Substitute utility Stephan Van Der Walt furthered the Australian lead to 14-points midway through the second.
From there, Australia's defence ensured England made no headway into a comeback, scoring only a consolation try on full-time.
A strong performance from the bench was headlined by forward Boyd Killingworth, holding up two English tries within 30-seconds to squash any hope of a comeback.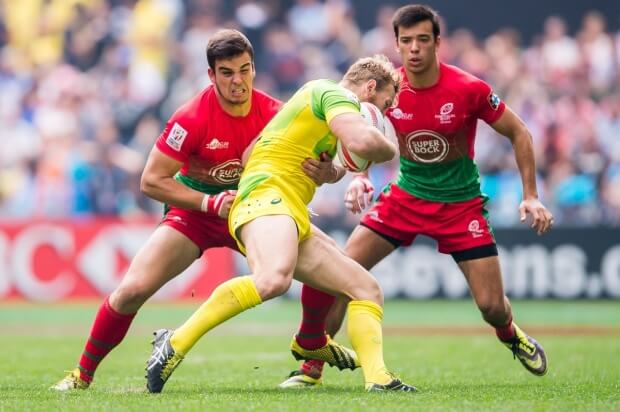 "England didn't really throw anything at us that was unexpected," Killingworth said. "I just think we played our best defensive game of the tournament so far.
"We knew they were a good team with a similar style to us in that they're very structured, so we knew we'd need a big defensive performance to win today and we delivered that.
"Usually we like to get the ball out to the wings in attack but we didn't want to invite any mistakes into our game today. 
"It's all about adapting to the conditions and it becomes a more physical game," Killingworth said with a grin – physical suits him just fine.
Australia started the match slowly in what's fast becoming a recurring trend in Hong Kong.
England targeted the Australian backline with a series of threatening quicks, defused by John Porch and Ed Jenkins.
A raking kick in reply gave England a taste of their own medicine as Porch recovered, only to be denied a try by an incredible chase-down by Dan Norton.
Veteran halfback James Stannard suffered an injury to what looked to be his right ankle upon arrival at the scene but played on through pain.
A run of penalties late in the half created momentum for the Aussies, culminating in a try to Cam Clark from close range.
Stannard converted the try with his bad foot to take his tally to 11/13 for the tournament.
England opened the second half pinned in their own half under pressure, but proved a tough nut to crack.
Substitute Stephan Van Der Walt simplified the attack with an unstoppable dart from the base of the ruck to seize a 14-point lead that locked up the victory.
England launched an all-out attack on the Australian goal-line for the remaining three minutes of the match.
An Australian turnover deep inside their own territory threatened points immediately as a player crashed through the tackle of Boyd Killingworth.
Upon further review, the ball never touched the ground – Killingworth had produced an acrobatic try-saver to hold the ball up.
England packed the scrum and again attacked in tight in the wet conditions.
Another player charged to the line, only to be flipped again by the hero of the hour, Boyd Killingworth, for a second time within 30-seconds.
England chanced their arm with a wide attack and ended up scoring, but time had run out – Australia led by nine-points as the referee called an end to the match.
Australia turn their attention to Fiji in the Cup Semi-Final at 7:06pm AEDT tonight.
Fiji defeated Kenya in a thriller in their Cup Quarter-Final, scoring a 90m try in final play to tie the match, kicking a clutch conversion to snatch the win.
In the other Semi-Final, New Zealand play South Africa having defeated Wales (19-7) and USA (28-0) respectively in their own Quarter-Finals.