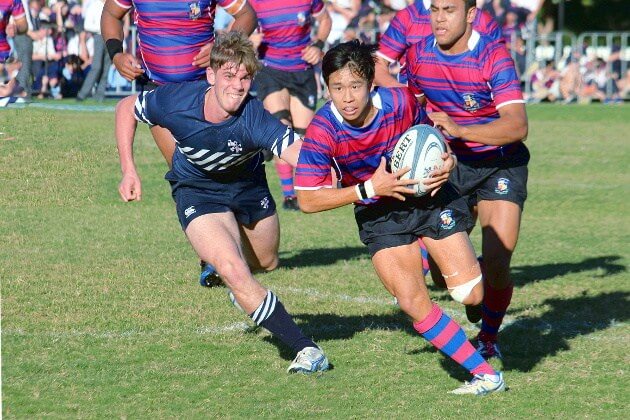 A perfect afternoon for rugby greeted the teams in Sydney for the second round of the GPS 1st XV competition.
It was also the first round of the official Third XV Championship which involved First XV  teams from The Armidale School, Sydney Boys' High School and Sydney Grammar School – plus the Thirds from the other six teams.
See below for a brief report on the Thirds.

Kings v Scots
 by "Azzuri"
A beautiful balmy day greeted the assembled throng out at North Parramatta on Saturday for what was to be a cracking afternoon of Rugby across all age groups and grades.
With the witching hour of 3.15pm fast approaching even the Armani socialites and RMW Country Squires turned their attention from crowd watching to the centre of the prettiest rugby ground in the AAGPS, the JS White Oval, to watch the battle that was about to ensue.
Kings were looking to build on a good hit-out against Newington last week and were also seeking to avenge their 17-10 loss to Scots in the pre-season trial. Scots were likewise looking to leverage their pre-season form and last week's win against Shore.
First half
From a deep Scots kick off Kings 15 Luke Osborne quickly demonstrated the power of his right boot and roosted the ball 50 metres downfield finding touch 30 meters out from the Scots try line. From the ensuing lineout Scots worked their way back up to halfway and following an infringement in general play the eagerly-awaited first scrum was set.
The pre-season trials between the two sides had seen the normally solid Kings scrum under pressure from the Scots at various stages but it became clear quickly that the previous issues had been remedied and the scrum platform was once again rock solid.
Six minutes gone and a charge down of a Scots clearance kick was quickly cleaned up by a Kings' forward and handed off to Kings 10, Steel-Park to charge down field and bag some meat to get Kings on the scoreboard. The extras were added by Kyle Brown for Kings tp lead 7-0.
Scots responded through some solid forward forays and great kicking from their 10 Shannon which found them camped deep in Kings territory. After wave upon wave of pick and drives it was Scots 8 Charlie Crawford, who finally cracked the Kings defence crashing over in the corner to score the first of his pair of pies for the day. The ensuing conversion failed to bisect the big white sticks; so the score was Kings 7-5 after ten minutes.
With the forward packs tearing into each other like wild dogs the game ebbed and flowed. Scots worked their way down to the Kings 22 and a wide floating backline pass was happily intercepted by Kings 8 Dylan Pietsch who ran the length of the field to score under the posts. The try was duly converted by Brown, and Kings were now ahead 14 – 5.
Each side kicked a penalty and Scots were still in the hunt.
Half-time score: Kings 17 – Scots 8
Second half
The game resumed at the same frenetic pace as the first half with monster kicks by Osborne, scything runs by both sets of backs and punishing battles in centre field between the pigs.
Kings third piece of meat came 15 minutes into the second half after great lead up work by the Kings' forwards who were camped on the Scots' try line. The ball finally spat out the back of the ruck to Brown who shimmied across the chalk to take the biscuits. His conversion took the score to 24-8.
Five minutes later it was the Kings' irrepressible Pietsch who chased and regathered a chip kick to bag his second pie for the day. The extras from Brown blew the the score out to 31-8.
With ten minutes remaining Scots replied when Crawford got his second try.
Final score: Kings 31 – Scots 13.
The players
Kings
Pietsch: Punishing ball runner and broken play specialist – X factor player!
Osborne: Kick to him at your peril as he will return it with interest and GST
Kings Piggies: Fast, mobile and hungry for human contact
Scots
Green: Was everywhere and in everything all day; would survive a nuclear holocaust
Crawford: Hard working battering ram; will be used in the next Eveready commercial
Jeavons-Fellows: Plays like cross between a backrower and a Staffordshire Bull Terrier
Scoring
Kings 31 (D. Pietsch 2, K Brown, C. Steele-Park tries; K. Brown 4 cons, pen) def. Scots 13 (C. Crawford 2 tries; Burnett pen.)
---
Newington v Riverview
by "Byron Williamson"
First half
View drew first blood with a penalty from right in front. View 3-0.
Riverview dominated possession, pounding the Newington line. They were kept out until Lenehan (#10) gave a short ball to Smeallie (#15) from a scrum and he barged over for the first try of the match.  View led 10-0.
Newington regained the ball after an excellent kick-off by Simonsson (#15), and finally had some possession, which turned into points from a Simonsson goal when View infringed 30 metres out. Score 10-3 to View after 15 minutes.
Momentum seemed to be shifting Newington's way and they were getting quick ball now.
When Tyrone Taukamo (#12) ran up the middle of the field after a lineout, he drew two defenders before offloading the ball through the contact to Simonsson on the run. The fullback drew a defender and passed to winger Miller, who scored in the corner. With no extras View still led at 28 minutes but by just 10-8.
View's play was slowing down from poor execution, but that changed when Pirina (#11), ran explosively and gave quick ball to Easy (#12) outside him. He popped it back inside to Terry (#13) who muscled himself over out wide for View's second try. View 15-8.
Lenehan (#10) passed a short ball to Rorke (#6) who burst straight through Newington's defence. An spilt offload was dived on and Grant (#9) gave the ball straight back to the improving Lenehan who darted through a hole for a try, which he converted. View 22-8.
Newington struck right back when fly-half James Turner went over for Newington's second try off a rolling maul five metres out from the line.
Half-time score Riverview 22 – Newington 13.
Second half
View made an error from the kick-off and New got a scrum close to their try-line. In a set move Simonsson took on the line and gave a crafty offload for Gilfedder (#11), to score in the corner.
Newington's speed and bashing runs seemed to be tiring View, with players such as Opeti Helu (#3), leading from the front. Another scrum close to Riverview's line led to a good ball to Newington's Duvall (#13), who burst his way over for the second try of the half.
Neither of these tries were converted but Newington took the lead for the first time 23-22.
But Riverview struck back. Lenehan threw a marvellous cut-out ball to fullback Smeallie which put him in open space to score his second try in the corner. No cigar with the conversion, but View was in front again 27-23.
Riverview were back in rhythm now and another incursion by Smeallie led to an 80-metre gain for the visitors. No. 8 Fenn scored in a signature run after a pick and drive ruck and with the conversion Riverview led 34-23.
But Newington were dangerous with ball in hand, and after continued pressure on View, Duvall (#13), scored. New were only four points behind now 30-34.
View also looked dangerous however, and following some scrappy play forty metres out, Lenehan ended up with loose ball on the wing and strolled in for his second try of the match. Riverview were more comfortable now leading 41-30.
Lenehan slotted the last points of the match with a penalty goal.
Final score: Riverview 44 – Newington 30
The players
Riverview:
A good performance from View after their win against Joeys last week: their attack was hard to stop and at times their defence was championship-worthy.
3 points – Tom Lenehan (#10) led from the front scoring 21 of View's 44 points.
2 points – Oliver Smeallie (#15) speed and agility is near impossible to stop, put View on the front foot for much of the game.
1 point – Michael Fenn (#8) his ball-running and defence proved vital for View.
Newington:
After a loss to Kings last week, Newington are now 0-2 and need to put these in the past and focus on the rest of the season. At times they were damaging and should build off that.
3 points – Bailey Simonsson (#15) his elusiveness and ball-running is a beauty to watch
2 points – Nathan Lawson (#8)
1 point – Opeti Helu (#3)
Scoring
Riverview 44 (O. Smeallie 2, T. Lenehan 2, W. Terry, M. Fenn tries; T. Lenehan 4 cons, 2 pens.)  def. Newington 30 (H. Duvall 2, Miller, J. Turner, Gilfedder tries; B. Simonsson pen, con.)
---
Shore v Joeys

  by "Gary Owen III"
Both teams lost players prior to the kick-off. Joeys hooker Angus Vivers withdrew with illness late and was replaced by Angus Burns while a training mishap saw the Shore backline lose its general in #10 Harry Wallace – this lead to a backline reshuffle for Shore.
Who knew this was to be the thin end of the wedge?
First half
After an early scrum after a Joeys' knock-on Shore spun the ball but dropped it.   Joeys #13 Yirrbi Jaffer-Williams picked it up and raced away untouched to open the scoring. The easy extras meant Joeys lead 7-0 in the blink of an eye.
Shore kicked a penalty but soon after the Joeys machine kicked into gear and spun the ball wide for to #11 Lachlan Day to score. Extras added: 14-3.
Joeys were dominating the backline clash and there wasn't much between the forwards. Joeys had a couple of "not straight" throws to the lineout, but their scrum was better than last week.
The first injury of the game was to Joeys #1 Layton Holley who was replaced by the 2nds hooker Alex Crotti – with starting #2 Angus Burns moving to prop.
Injury #2 happened when Shore #15 Luke Rixon was concussed in a tackle late in the half.
Max Ohman came on as replacement in the centres with #12 Hamish Sheehan moving to fullback. This shuffling must have confused the Shoremen as to whom was playing in the centres, resulting in a gaping hole for Joeys #12 Tristan Reilly to stroll over untouched.
Half-time score: Joeys 21- Shore 3.
Second half
It was more of the same after the break. Shore's forwards were doing an admirable job up the middle, but their midfield attack was doing its best "lotto machine" impersonation – the ball is spun a lot but is eventually dropped—whilst Joeys were sharper in their efforts.
Joeys scored two tries through the backs in this half as they created space and numbers which Shore just did not match up to and overlaps ensued. #11 Lachlan Day bagged a second and #15 Matt McTaggart scored also—in opposite corners of the field.
Shore did have some moments and Will Haskins managed to sneak over for a cheeky halfback's try from a quick tap. Extras were added by Max Sinclair.
Unfortunately the game then was brought to an abrupt halt as a Joeys player went down injured with what turned out to be a dislocated hip. An ambulance arrived and the game was called off as the medical staff attended the lad. We wish him a speedy recovery!
Final score: Joeys 33 – Shore 10.
The Teams
Joeys were clinical, their attack was well-structured and they recycled ball well to create multiple phase play that eventually created overlaps which they capitalised upon well.
They will most likely be unhappy with their lineout for the second week in a row. Their injuries will see some changes to their side for next week.
Shore will be happy with their forwards' effort but they desperately need to improve their midfield both in attack and defence. I don't think a ball got past the centres (the wingers must of thought they had the day off) and some of the defensive reads and tackling were pedestrian at best.
The players
Joeys best were:
10 – Nick Wilkinson – the puppet master, brilliant game leading the Joeys attack
13- Yirrbi Jaffer-Williams – some big runs and was part of at least 3 tries
7 – Joe Feltis – massive respect and a brave effort – and reserve hooker Alex Crotti, who played a blinder in the 2nds then strengthened the Joeys lineout when he came on.
Shore – their best were:
9 – Will Haskins – Good pass under pressure and sniped a nice try
7 – Charlie Joyce – was busy all game pulling off some big plays
1 – Luke Edwards and 5 – Rory Suttor – couldn't split the workhorses of the Shore pack – both had strong games.
Scoring
Joeys 33 (L. Day 2, Y. Jaffer-Williams, T. Reilly, M. McTaggart tries; L. Day 4 cons) def. Shore 10 (W. Haskins try; M. Sinclair con, pen.)
---
Third XV competition

  By "Huly"
Round 1 of the 3rd XV competition kicked-off dramatically with some exciting encounters and upsets.
Newington v High
High began their GPS season against Newington at Stanmore in what promised to be a evenly matched encounter. With the majority of the game played between the 22-metre lines, neither team tested the opposition, but Newington gained the upper hand at scrum time and were slightly more effective at the breakdown.
High defended bravely, but numerous handling errors restricted their possession of the ball. Two early penalties however gave the Newington #15 Kah two easy shots at goal, putting his team 6-0 up heading into half-time.
Both teams kept each other scoreless in the second and Newington came away with a close, yet oddly comfortable 6-0 win over a courageous High side.
Armidale v Grammar
Up in Armidale, Grammar struggled to click against a dynamic TAS outfit. TAS exploited Grammar's poor broken play defence, coming away with an impressive 35-0 victory over a team many tipped to be competition favourites.
With two long term injuries to key players, and a difficult road trip up, beating TAS at home was never going to be an easy task for Grammar. However the final scoreline speaks considerably of an Armidale School side with plenty of ticker.
Joeys v Riverview
At Hunter's Hill, Joey's extended their undefeated run starting in 2015 with a 27-17 win against rivals Riverview.
Kings v Scots
King's upset a traditionally strong Scots side 17-12.
Photos Shore v Joeys by "Lee Grant"