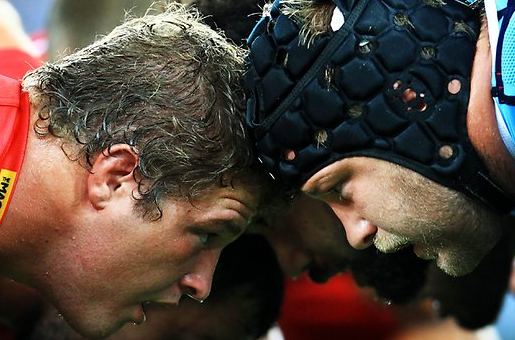 The first round of the Festival of Hate is coming up on Saturday night, and as usual it has divided the nation (excluding Victoria, WA, ACT, NT, SA and Tassie).
What better way to get the festival started than with a G&GR Face-off, where two opposing sides are debated in the one article and you, the devoted reader, get to be the judge? This week I sat down with leader of the G&GR Reds Cheerleading Brigade, Sully, to go toe-to-toe in a good old-fashioned donnybrook.
Have a look at our arguments and judge for yourself:
---
NSW are going to win
The Tahs are going to win on Saturday night. It's a pretty simple point to argue, made even easier by the fact that, unlike other years, 2013 is the year of the Tah. In previous years a post such as this would have descended into a barrage of cheap insults and bad stereotypes. I would have called the Queenslanders inbred, ill-educated banjo-playing hicks who struggle to see any rugby out their solitary eye, with their only semblance of balance coming due to the fact that they generally have chips on both shoulders. Mean, I know. Spiteful, even. But that isn't going to happen this year.
Why? It's simple: look at that line-up. That juicy, delicious collection of names that are waaaay too good for any domestic opposition. The forward pack is actually a little too good for my liking, so Michael Cheika (praised by thy name) has thrown in Jeremy Tilse just to even things up a bit. What a gentleman. But after the front row it ain't looking good for our northern cousins. I feel sorry for Ed Quirk (who?) and Jake Schatz coming up against Dennis and Palu, as it could get embarrassing. Especially if it rains and the game slows down. It will be a slog, but in the cricketing sense — that is, the Tahs will slog the Reds over the bowler's head onto Vulture Street (this game is at the Gabba, right?).
And then we hit those backs. Bernard Foley has been firing on all cylinders, although that is pretty easy when you have Carter and AAC outside you. The 13 match-up is reminiscent of a pre-Botha SBW fight — I'm pretty sure Chris F'Sautia still has a day job as an accountant or something. Up against the Wallaby incumbent in AAC? Three words: first round knock-out. And I haven't even brought up the great shining light for our code, the appropriately named one who will lead us to the Super Rugby promised land — Israel Folau. No more needs to be said really. Tahs by 30.
Queensland are going to win
They're kidding, right? Michael Cheika wants the Waratahs to learn to hate Queensland? Our hate started generations ago and is handed down to our children and their children like a valued artefact. To be cherished and polished until the perfect moment arrives and we can take it out and slam it down on a beer-sodden table for all of NSW to see! They can't match us for passion, they can't match us for pride in our state, they just can't match us.
They're looking at our side and seeing big names missing. No Horwill! No Genia! No Samo! Higginbotham's gone south. But no Queensland side is just a few names. A Queensland side is a team where the sum is greater than the parts! A Queensland team soaks in the atmosphere of Lang Park where they know others choke (yeah, I said it!). They choke on the oppressive barrage of 50 thousand banjo-loving, XXXX-drinking (yes, XXXX is back!), Daylight Saving-hating Queenslanders cheering the Reds home on a wave of man-love and emotion.
Long gone are the days of the Reds being easybeats. This Queensland Reds side knows how to win — without star players and without a lot of fuss. These Waratahs are a group of individuals in matching shirts and socks. The only culture they know of is the Lactobacillus they had on the orange and pomegranate muesli they had for breakfast. Washed down with a half-caf, half-mocha skinny latte with a twist of lemon.
This will be a train wreck! Move along. I said MOVE ALONG, NOTHING TO SEE HERE! Except another 'Year of the Waratahs' going down in flames. But we've seen that before haven't we. Reds by 60
---
So whom do you give it to?